A Reliable Partner in the Workplace
Professional team organization
PChome offers a diverse array of positions. We welcome with an open mind all talented people regardless of age to join us. We do not discriminate on the basis of gender, age, race, religion, marital status, or political belief. As of 2021, we have 1,903 employees, 10 of whom are disabled (accounting for 0.5% of all employees) and 54 of whom are indigenous peoples (accounting for 2.8% of all employees). More than 50% of our employees are aged 35 or under, most of whom are affiliated with the E-Commerce Business Group and the Technology/ Big Data /Artificial Intelligence Center. This shows that during employee recruitment, we focus on the innovative mindsets and practical creativity of younger employees. Team members can freely express themselves in the workplace, as we allow them to participate in various projects and perform their duties. This allows younger employees to enhance their practical experience, nurtures enthusiasm in their work, and uncovers their developmental potential. In response to the ever-changing nature of the e-commerce industry, PChome also values highly a uniform growth in the employee gender ratio. To achieve this, we offer comprehensive and equal promotion opportunities to our employees. Thanks to our inclusivity efforts, female employees constitute around 60% of PChome's workforce, with over 50% having supervisory duties. We hope our female employees utilize their professional competence and characteristics to the fullest, bring forth their advantages and capabilities, and continuously enhance our business operations.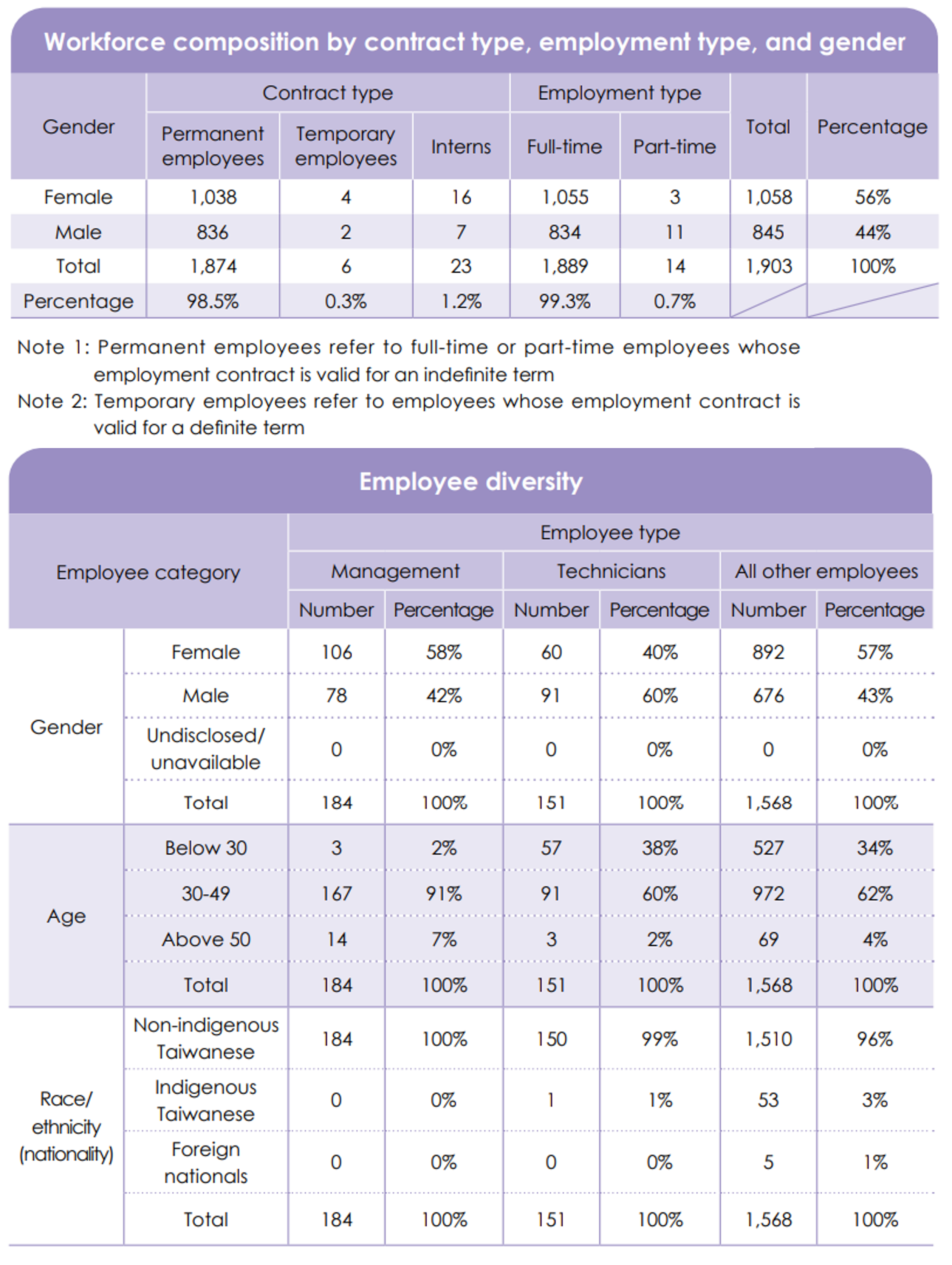 Statistics of newcomers and former employees
Global e-commerce has grown extensively in recent years. In light of the vast potential for development in the local e-commerce industry, PChome has consistently recruited talented people skilled in IT development, product marketing, video editing, marketing planning, big data analysis, operations management, and logistics management. At the same time, we implement internship programs with the aim of developing e-commerce talents among students. We engage in industryacademia collaborations with 15 universities in Taiwan, in which we offer one-year internships to students from various departments. We welcome young talented people with innovative mindsets and passionate work ethics to join the e-commerce industry. In 2021, we welcomed a total of 594 newcomers, accounting for 31.2% of our workforce. Regarding the turnover rate, there were 430 separated employees, accounting for 22.6%, and 418 voluntary separations, a rate of 22.0%; there were 12 involuntary separations, a rate of 0.6%.