A Sincere Partner in Governance
Business Performance and Risk Management
Taiwan has been impacted by COVID-19 for over two years, and PChome began facing a new challenge after entering the post-pandemic era in 2022. Compared with the high base of 3C and epidemic prevention supplies during the pandemic, consumption trends are returning back to normal. Consumers are paying more attention to physical health in the post pandemic era, they are beginning to travel and choose trusted brands. As a result, healthy food products, e-tickets, and travel products have shown significant growth. We are working even closer with major brands and growing our brand together with supply chain partners. All employees are on the same page as the Company and focus on the core value of "putting users first", while exerting every effort. We are also strengthening the foundation of our business by improving operational efficiency and examining the reasonableness and efficiency of expenses. Aside from our e-commerce business, PChome is also actively adjusting the structure of subsidiaries and combining resources to create greater synergies, in which FinTech and cross-border e-commerce services have both contributed to the group's profits. PChome's consolidated revenue was NT$46.1 billion and consolidated net income after tax was NT$43.59 million in 2022. Details on the financial data can be found in our Annual Report (please see the Investor section of PChome's official website for details).
PChome upholds the principles of transparency and responsibility in tax governance and creates a tax governance culture in line with local tax regulations as well as global antitax avoidance efforts. We implement regular transaction principles, refrain from aggressive tax planning, and disclose tax information to stakeholders in financial reports in an effort to enhance overall information transparency.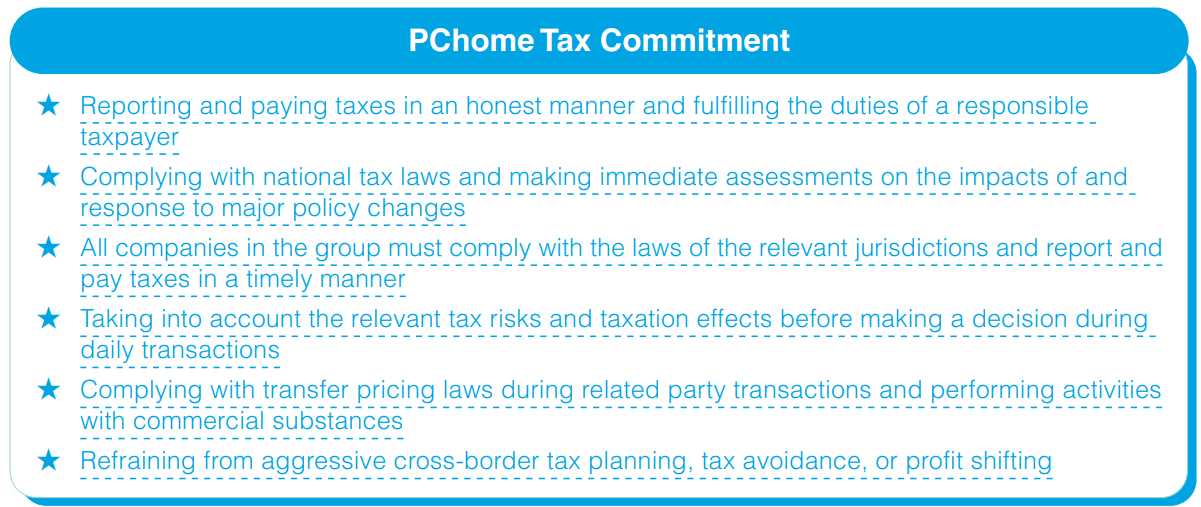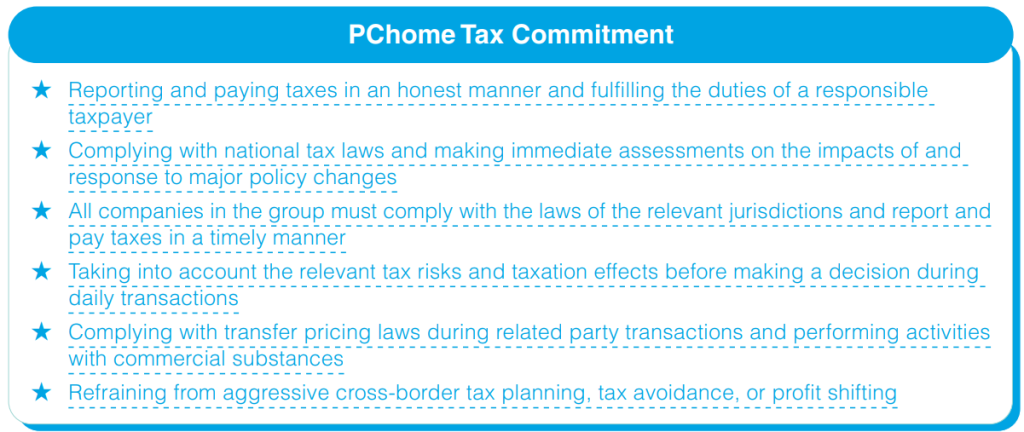 PChome's Finance & Accounting Department has a tax unit responsible for tax management and related affairs, such as tax operations and tax risk management. If there are any legal concerns when handling taxes, the unit actively contacts tax authorities and appoints an external professional tax consultant for assistance when necessary. The tax unit cooperates with requests from tax authorities to provide information, and submits documents and provides explanations within the time limit. The tax unit also regularly reports practices and results of tax management at each business location to management, so that the Company's management team is up-to-date on the implementation status of the Company's tax policy.
Country-by-Country Report
PChome submits required business information in its audited consolidated financial statements to the Country-by-Country Report System according to the agreement signed between the R.O.C. government and OECD. The information is only preserved by the tax authorities.
Robust Operational Risk Management
The key to corporate sustainability lies in the identification and management of risks and opportunities. Failure to identify risks or implement risk mitigation measures could be detrimental to a company's ability to prevent major losses and flexibly adjust business strategies. The CEO of PChome serves as the convener who oversees the risk management planning and implementation of the entire Company. Each business unit is responsible for handling all of its own risk management and response measures. To build a robust risk management system, PChome has analyzed related laws and responded to potential events that affect our business goals and objectives, including the accuracy of financial reporting and fraud risks. Our risk management policies primarily cover the early identification and accurate measurement of risk and plans for effective risk mitigation and control to develop an appropriate risk management-oriented business model that keeps risks within an acceptable range. Based on risk assessment outcomes and existing regulations, the Auditing Office devises an Annual Audit Plan and Audit Methodology tailored to industry standards. The main goals are to control and manage the underlying risks in respect of business management, health and safety, and information security, as well as report the outcomes to the Board of Directors on a regular basis.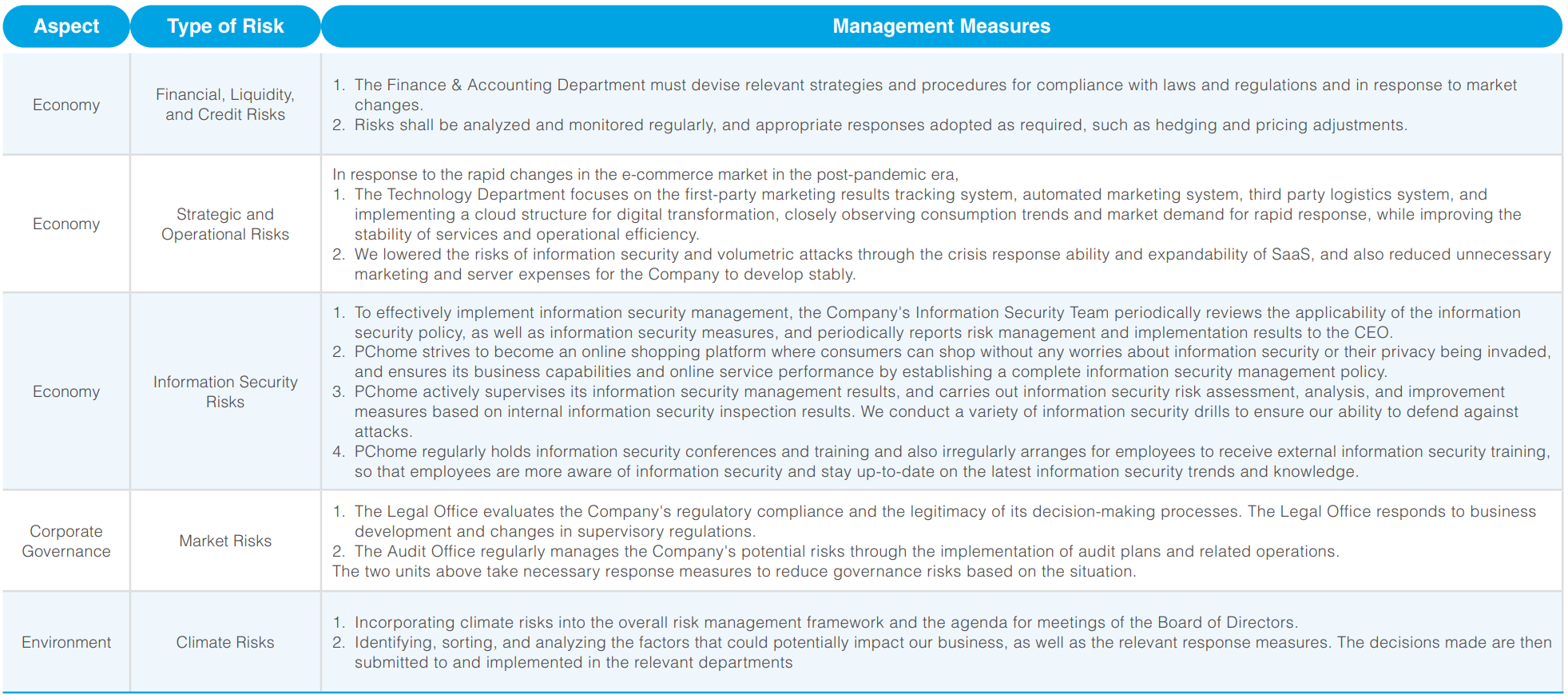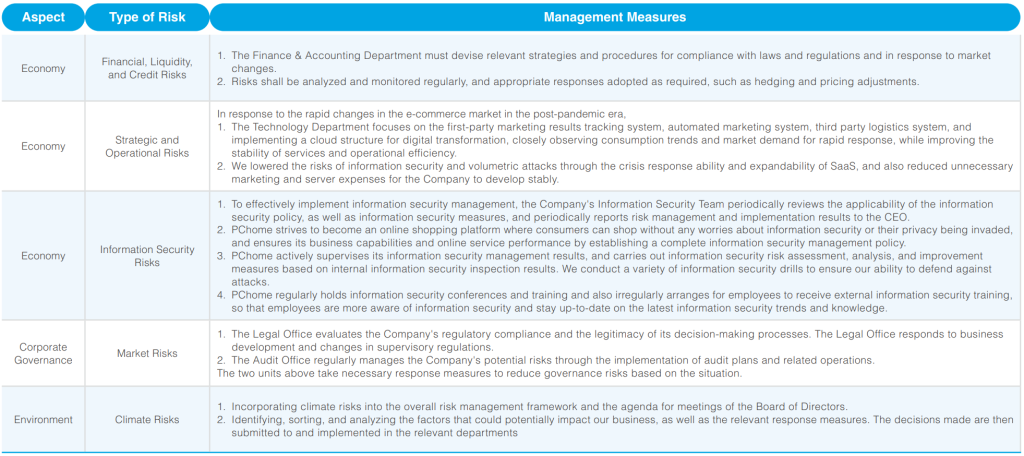 The Audit Office is responsible for PChome's internal audits and internal control tasks, and is an independent unit subordinate to the board of directors. It carries out supervision and review to ensure the effective operation of the internal control system. The internal audit supervisor effectively fulfills the functions of the Audit Committee and must regularly report to this body based on the Annual Audit Plan. A routine annual internal risk assessment is conducted by the certified public accountant, and the outcome is reported to the Board. The internal audit supervisor must also submit an audit report.
(1) General audits: To understand and report the actual status of all business tasks in the audited department. The auditee is subjected to at least one general audit per year.
(2) Special audits and investigations: To understand and report the status of the audited department in handling a particular business task or general task. A special investigation is conducted immediately when necessary.
(3) Follow-up audits: To supervise the audited department in redressing the drawbacks highlighted in the two previous audits. Follow-up audits are conducted from time to time.
With regard to the implementation of internal audits in 2022, 55 internal audit plans were submitted to the board of directors and approved. Audit results are periodically reported to the board of directors and management, and improvements to deficiencies and abnormalities in the internal control system are reported to the competent authority in accordance with regulations.


The Legal Office handles all affairs pertaining to PChome's legal compliance mechanisms and legal risk management. It also assists the senior management and other business departments in understanding statutory revisions and regulatory assessments while organizing and formulating relevant legal training to enhance legal compliance within the organization and execute ethical and transparent corporate governance measures. PChome added announcements and graphics to the back-end to ensure that vendors comply with regulations. The BSMI label is also directly adjusted through the system. PChome immediately takes necessary improvement measures when it is notified of any violations. If it is related to suppliers, we immediately forward the notice and recall products or make corrections to contents that were found in violation.
The following is an overview of the aforementioned social and economic violations in 2022:
Type of Violation
Number of Cases
Type of Penalty
Subsequent Corrective Actions
Violation of regulations regarding marketing communications
(including advertisements, promotions, and sponsorships)
21
・20 Warnings
・1 Fine (NT$100,000)

Remove products
Violation of regulations regarding the information labeling of
products and services
24
All warnings
Remove products
Violation of regulations regarding the health and safety of
products and services
109
All warnings
Remove products
Violation of the Occupational Safety and Health Act
0
No
No
Violation of the Occupational Safety and Health Act
0
No
No
Violation of the Personal Data Protection Act
0
No
No
*A major violation of labor laws is an incident that resulted in a fine of over NT$1 million.
In Service Training Programs on Legal Affairs
To improve our employees' general knowledge about law and implement ethical and transparent governance mechanisms, PChome regularly organizes internal lectures and courses on knowledge and practice in various fields of law. By doing so, we ensure that our services and overall operations are deemed reliable by the market and meet industry standards. New employees of the E-Commerce Business Department are all required to receive a certain number of hours of compliance training, which covers the Copyright Act, Trademark Act, and Fair Trade Act. Fines that the Company received are immediately communicated to remind employees of the regulations involved. 
There were 6 two-hour courses held in 2022 for new employees in each department of the Company, and covered the Copyright Act, the Trademark Act, and the Commodity Labeling Act. The employees took a test and participated in review after the courses, which give employees basic legal concepts when performing routine tasks, preventing infringement on the rights and interests of others and lowering the Company's operational risks.
Intellectual Property Management
PChome Online is the leading brand of general online services in Taiwan, and provides excellent e-commerce, online financing, and logistics services. PChome officially introduced the Taiwan Intellectual Property Management System (TIPS) in 2020 and received the Level A certificate from the Industrial Development Bureau in the Ministry of Economic Affairs on January 24, 2022. PChome once again passed the certification at the end of the year and received a TIPS Level A certificate. This reflects the high level of importance we attach to the quality of our intellectual property management and corporate governance. PChome strengthens its Business Performance and Risk Management through big data, and combines AI and automated warehousing with an incentives policy for patents, in order to link intellectual property goals to its business strategies.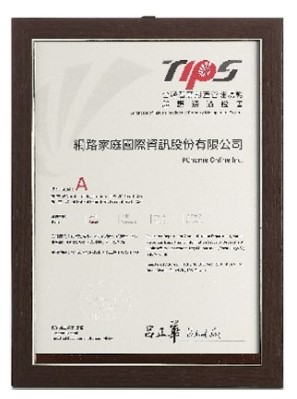 Intellectual Property Management and Protection Measures
To strengthen its industry leadership and protect advanced technology results, which were not easy to produce, PChome's intellectual property strategy combines its business goals with R&D resources to develop a model that creates value through intellectual property rights. It not only protects the Company's freedom of to operate, reduces operational risks, and maintains innovation capabilities, but also enhances competitive advantages and helps the Company profit and achieve business goals.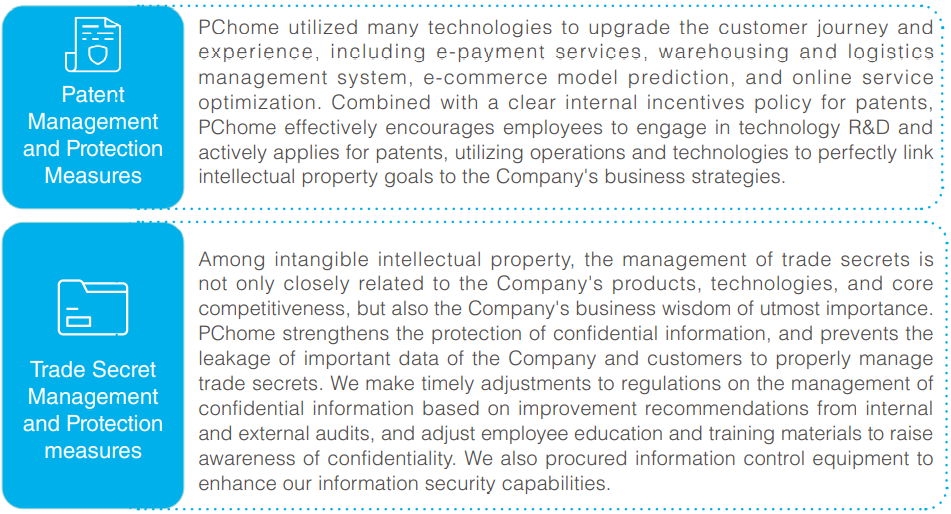 Intellectual Property Risks and Responsive Measures
Internally, PChome established confidential information protection mechanisms to improve employees' understanding of intellectual property management, in order to systematically manage intellectual property, and create a corporate culture that emphasizes innovation. PChome responds through the strategies below:
☆ Reinforcing employees' in-service education on intellectual property protection and patenting.
☆ Revising relevant regulations on the management of confidential information.
☆Procuring the required software and equipment to improve our information security protection.
☆ Organizing employee in-service education on the duty of confidentiality.
☆ Arranging in-service education on patenting for R&D employees.
Intellectual Property Management Outcomes
PChome is focusing on service innovation and continues to increase its intellectual property capabilities and output. As of the end of 2022, PChome has obtained a total of 43 patents, including 15 invention patents, 27 utility model patents, and 1 design patent, and 574 trademarks. Main efforts in recent years include: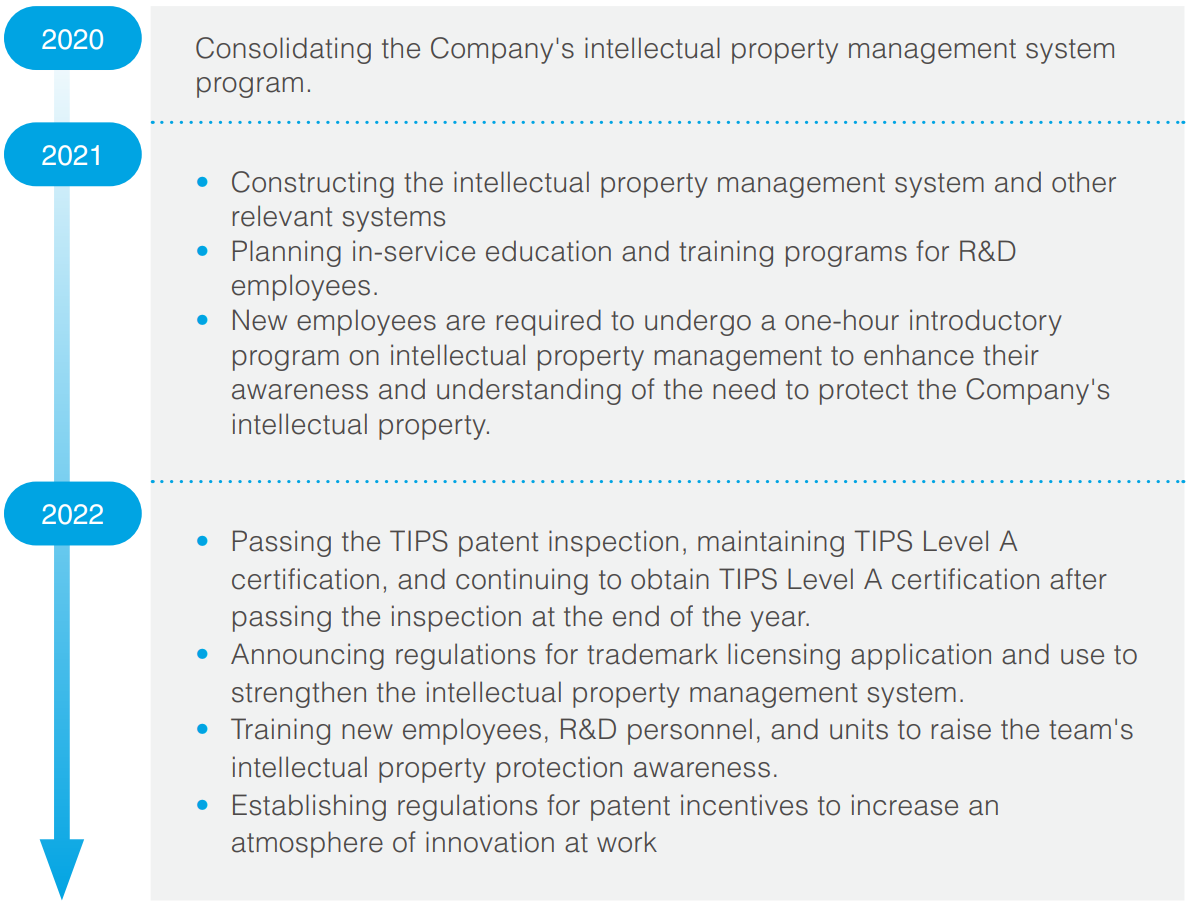 In-service Training Programs on Intellectual Property and Patents