An Innovative Partner in Retailing
Comprehensive High Quality Products Purchase
PChome has integrated services in the group based on its current brand, and is actively developing FinTech services to create the One PChome ecosystem that can meet different customer needs. Over ten-million members have benefited from having direct access, and can easily log into all ten of our affiliated service platforms to enjoy the full range of products available. Furthermore, we are utilizing FinTech to provide a safe and convenient FinTech collection and payment method across all channels. We provide PPoints to reward members for their loyalty. The coins can be used to deduct daily life expenses and build closer connections to consumers, creating a new consumer experience for a wonderful future.
Combines supplier development and management, product information management, cash flow, and customer services, a breakthrough in the conventional retail industry's business model. PChome 24h shopping provides over 5 million products for food, clothing, housing, transportation, education, and entertainment. Products are delivered anywhere in Taiwan within 24 hours. PChome 24h shopping has the highest stock among all shopping websites in Taiwan. When the website receives a purchase order from a customer, the warehouse will directly deliver the products, significantly reducing the number of layers between consumers and suppliers, lowering operating cost and sales prices, and allowing consumers to enjoy an efficient online shopping experience with high quality products at an affordable price. We hope to meet consumer demand on products ranging from 3C home appliances to daily necessities, from physical products to services, from online to offline, and 360 degree daily shopping needs, actively extending one-stop shopping service scenarios. Furthermore, under PChome Online Inc., we have Ruten, a C2C auction site, and PChome Store, a B2B2C online business startup platform, to provide consumers with a variety of shopping choices.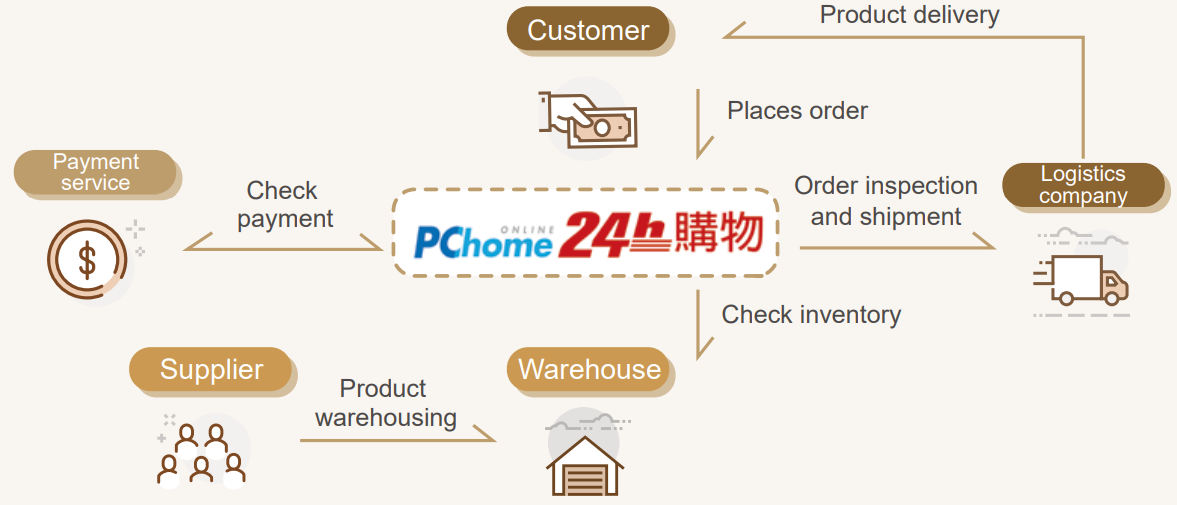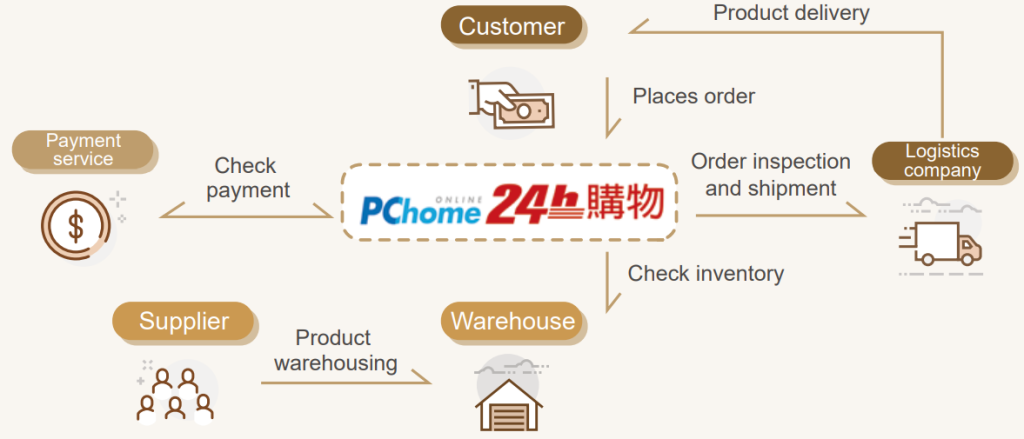 Overseas cross-border shopping has become an integral part of Taiwanese people's daily life due to the pandemic in recent years, and the frequency and scale of cross-border shipping are both rapidly growing. To meet the growingly diverse cross-border shopping demand, PChome's only subsidiary to provide cross-border bidding and purchase of Japanese products – Bibian launched the new "Bibian Drug Store", which has a Chinese interface and over 10,000 of musthave products in Japan's drug stores at local prices, rapidly attracting the attention of consumers. Bibian further announced that the drug store will be upgraded to "Bibian Japanese Products Store" to provide Taiwanese consumers who favor Japanese products with a convenient cross-border shopping experience with no time difference.
PChome Thai has been developing Thailand's e-commerce market for years, and expanded its two-way cross-border e-commerce in 2022, selling popular brands and products of Thailand back to Taiwan. In March, PChome Thai formally announced its new service of directly delivering products purchased in Thailand to Taiwan, and provides the industry's lowest shipping fee, zero exchange rate loss with all products priced in NTD, and customs duties included in the prices, striving to make PChome Thai the number one choice for Taiwanese users to purchase products in Thailand.
PChome Online provides an integrated service portal of the group in response to the dependence of modern people on the Internet in daily life, including stock, news, personal news, Youtuber unboxing, travel, food and life, car information, prize winning invoice numbers, horoscopes, and public opinion. It also provides employee welfare committees on the business end with corporate services, including procurements, buying URLs, sending large numbers of SMS messages, buying virtual servers, and digital certificates. The portal website not only provides the above mentioned information services, but also provides online advertisement purchase services to vendors of PChome 24 shopping. PChome Online will continue to optimize channels to provide an online service experience aligned with the latest trends.
PChome Online introduced a business team that consists of strategic investors, such as China Development Financial, Chunghwa Telecom, and 21st Century Digital Technology , through private placements in 2021, and utilized the strategic investors' development experience and resources in financial services, big data, and AI technologies for data-driven FinTech development. In 2022, PChome's subsidiary 21st Century announced a strategic merger with Cherri Tech, Inc. Its TapPay is a payment gateway product, and it launched the first cross-site technology without redirecting, striving to develop a safe and fast payment experience for online stores and consumers. It also develops cuttingedge AI equipment using fingerprints for identification and monitoring to prevent fraudulent credit card transactions. 21st Century will utilize the technology leadership of Cherri Tech in the cash flow services market and actively expand FinTech services, such as third party payment, mobile payment, and cardless installment, in order to provide more convenient and safer omni-channel FinTech products for vendors and consumers, jointly expanding the FinTech market.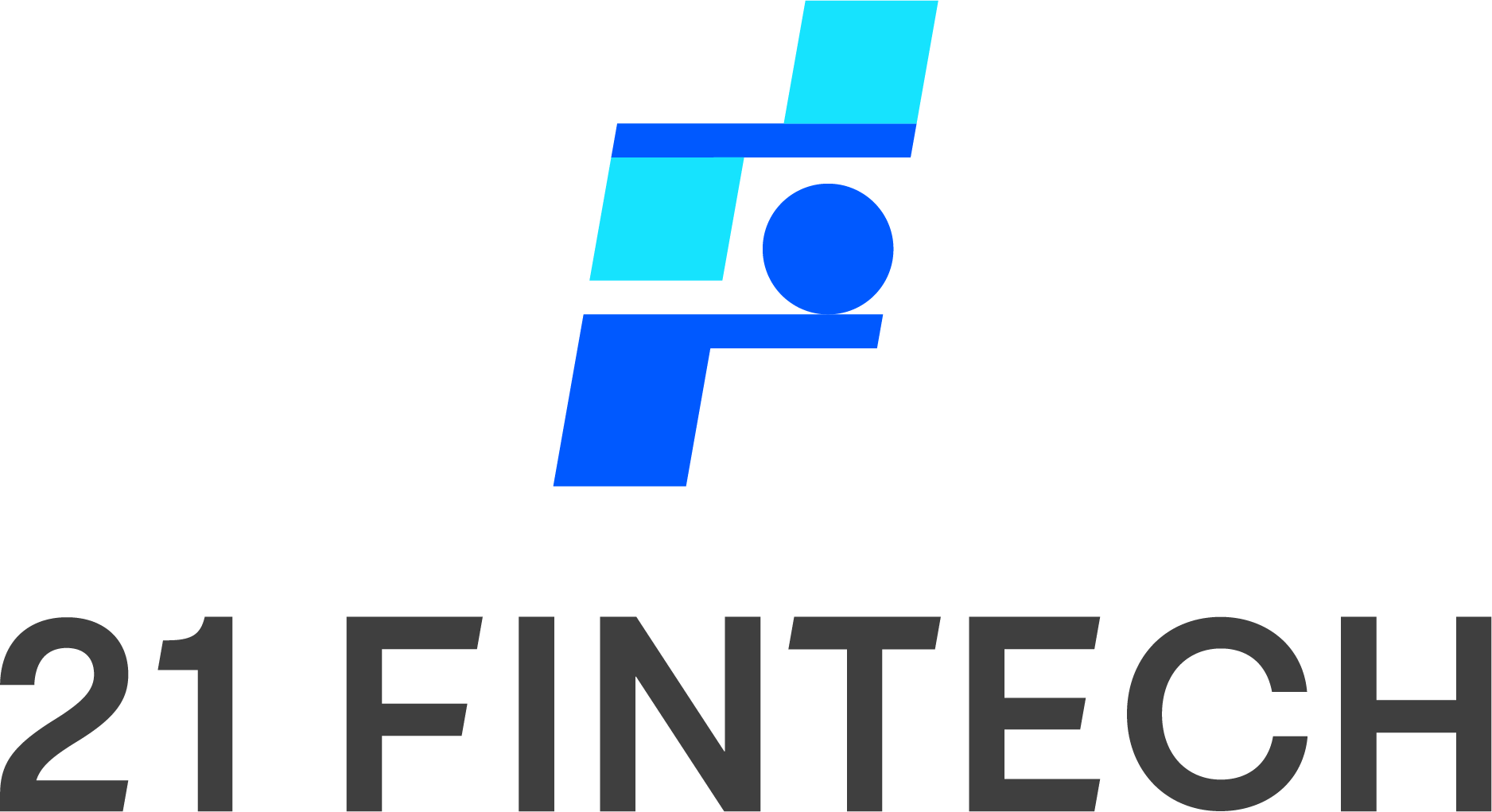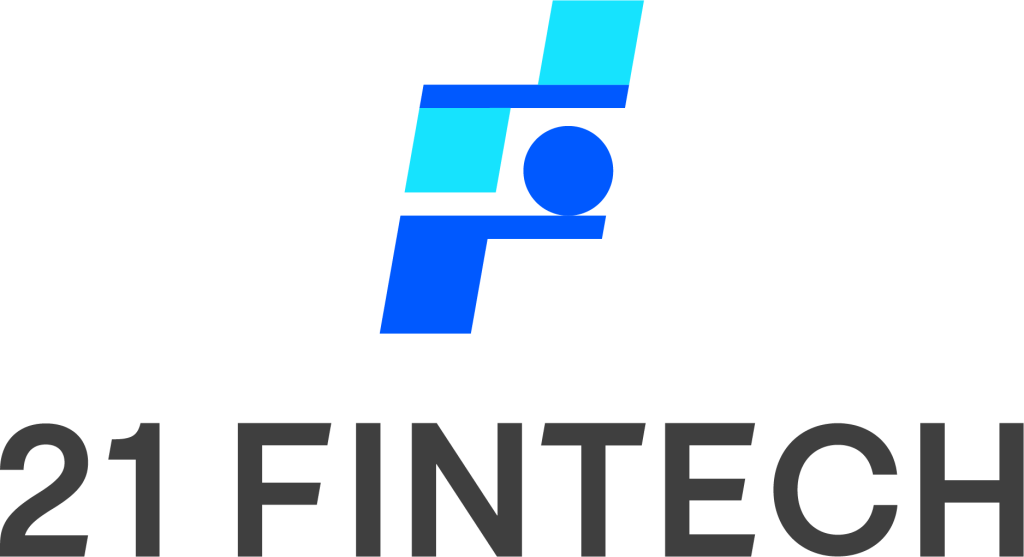 Upgrade 1, PPoint Daily Life Ecosystem
PChome integrates services across fields and deeply embeds mobile payment into consumers' daily life, allowing use of the Pi Wallet for various services, enjoying quick web finance services, and experiencing more convenient mobile services. We have successfully built a PPoint ecosystem that covers the basic human requirements for food, clothing, shelter, transportation, education, and entertainment. To reassure users of the safety of the Pi Wallet, we continuously focus on developing more convenient and secure payment services that allow consumers to complete various transactions through mobile apps. Pi Wallet currently has over 1.5 million members and can be used in over 380 thousand stores, including parking fee payment services, convenience stores and supermarkets, department stores, general lifestyle, cuisine, leisure and entertainment, daily payments, transportation, drug stores, and online shopping with over 99% coverage around Taiwan. Members earn PPoints when they make purchases and continue to expand the PPoint ecosystem.
To reassure users of the safety of the Pi Wallet, we continuously focus on developing more convenient and secure payment services that allow consumers to complete various transactions through mobile apps. We currently provide individual and company transactions. Consumers can begin transaction after registering with the Pi Wallet mobile app. User accounts are also secured through a two-step verification mechanism, and each transaction is compliant with the Payment Card Industry Data Security Standard (PCI-DSS).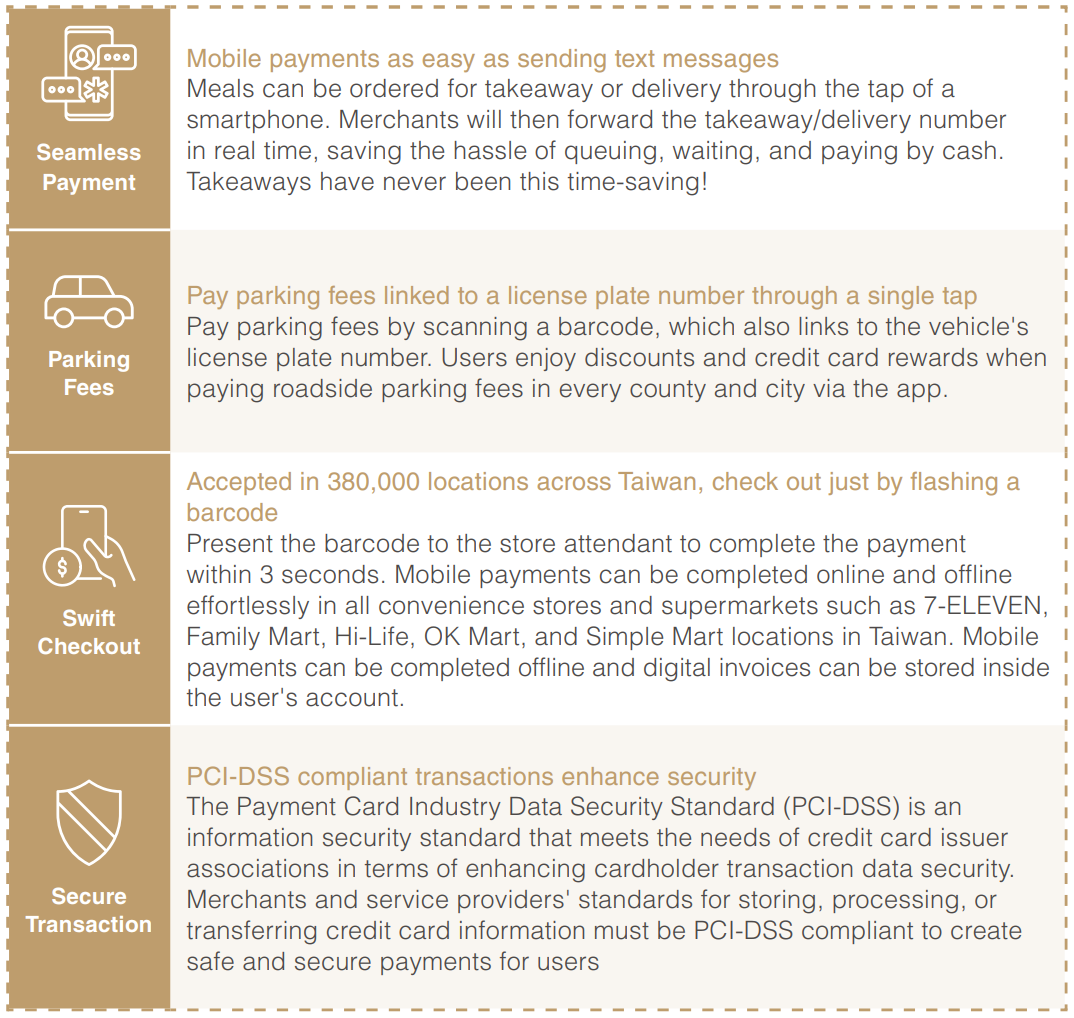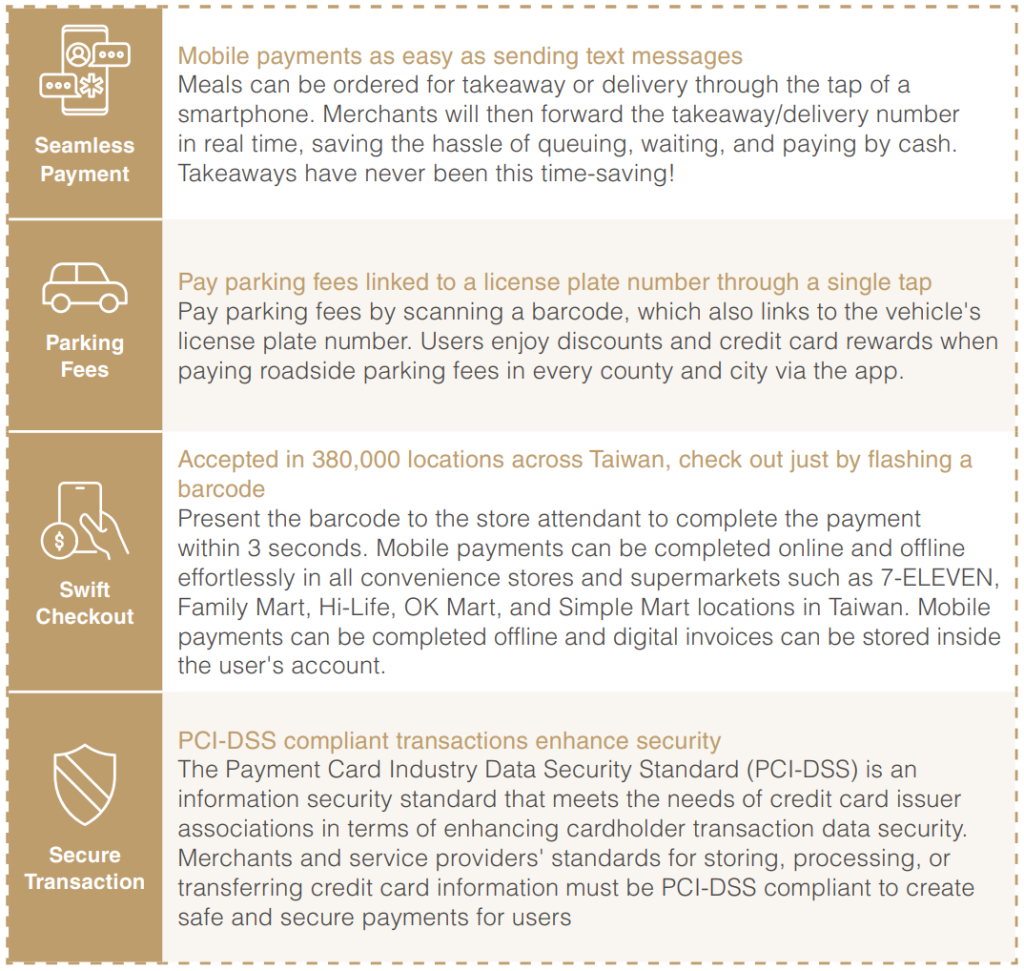 Upgrade 2, CTBC All Me Card
PChome formed an alliance with CTBC and Chunghwa Telecom in offering the first three-party co-branded card "CTBC All Me Card" in Taiwan in July 2022, making a breakthrough in the difficulty of converting reward points across industries. The card establishes a new reward point framework in the industry, and allows reward points to be accumulated and redeemed in Pi Wallet and Hami Pay, while providing rebates of up to 12% in different consumption applications across e-commerce, telecommunications, the four major convenience store chains, and payments in daily life. The card enjoys discounts on PChome 24h shopping, Ruten, PChome Store, and PChome Travel, and PPoints are also Hami Points and can be used at over 380 thousand stores around Taiwan through Pi Wallet. Comprehensively upgrading the service experience of the PPoint ecosystem.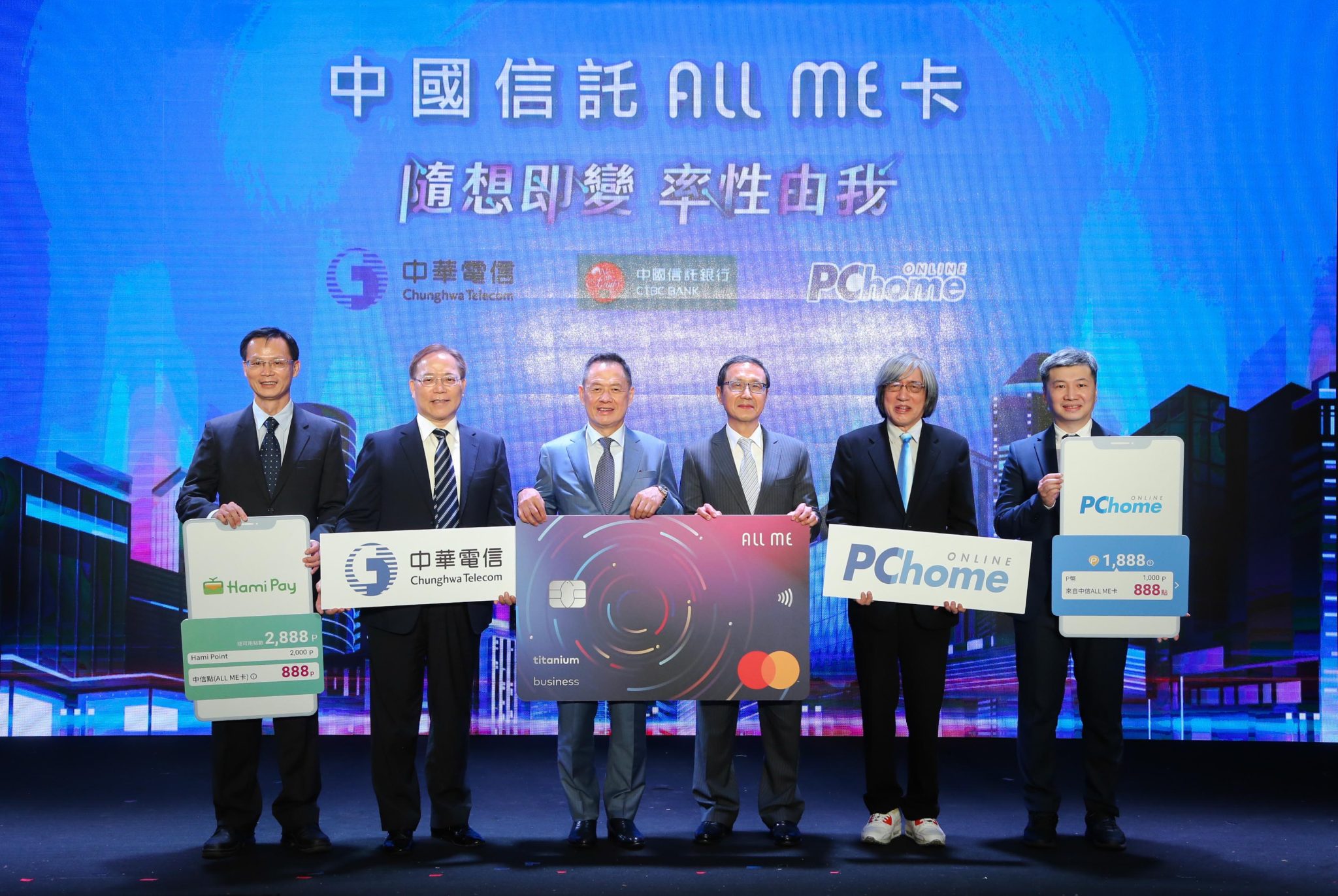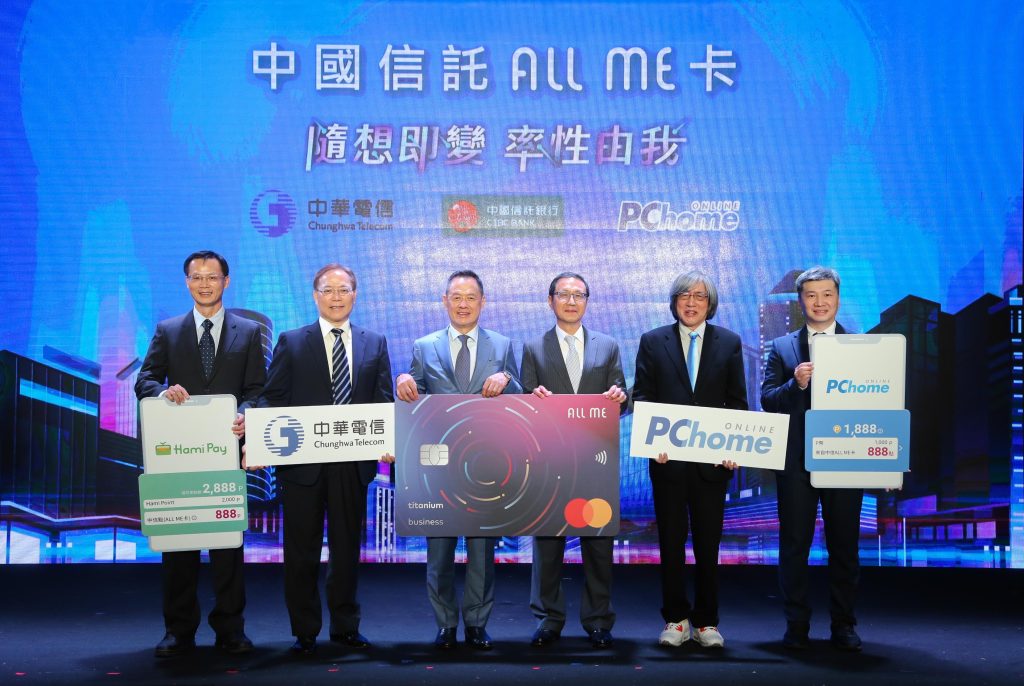 Upgrade 3, PChome Loan Helper
PChome and Standard Chartered Bank jointly launched the service "PChome Loan Helper" in February 2022, which uses innovative technology along with a big data processing module and AI preliminary review mechanism to meet the immediate financing needs of PChome 24h shopping suppliers. The service realizes inclusive finance and accelerates business development while creating employment opportunities.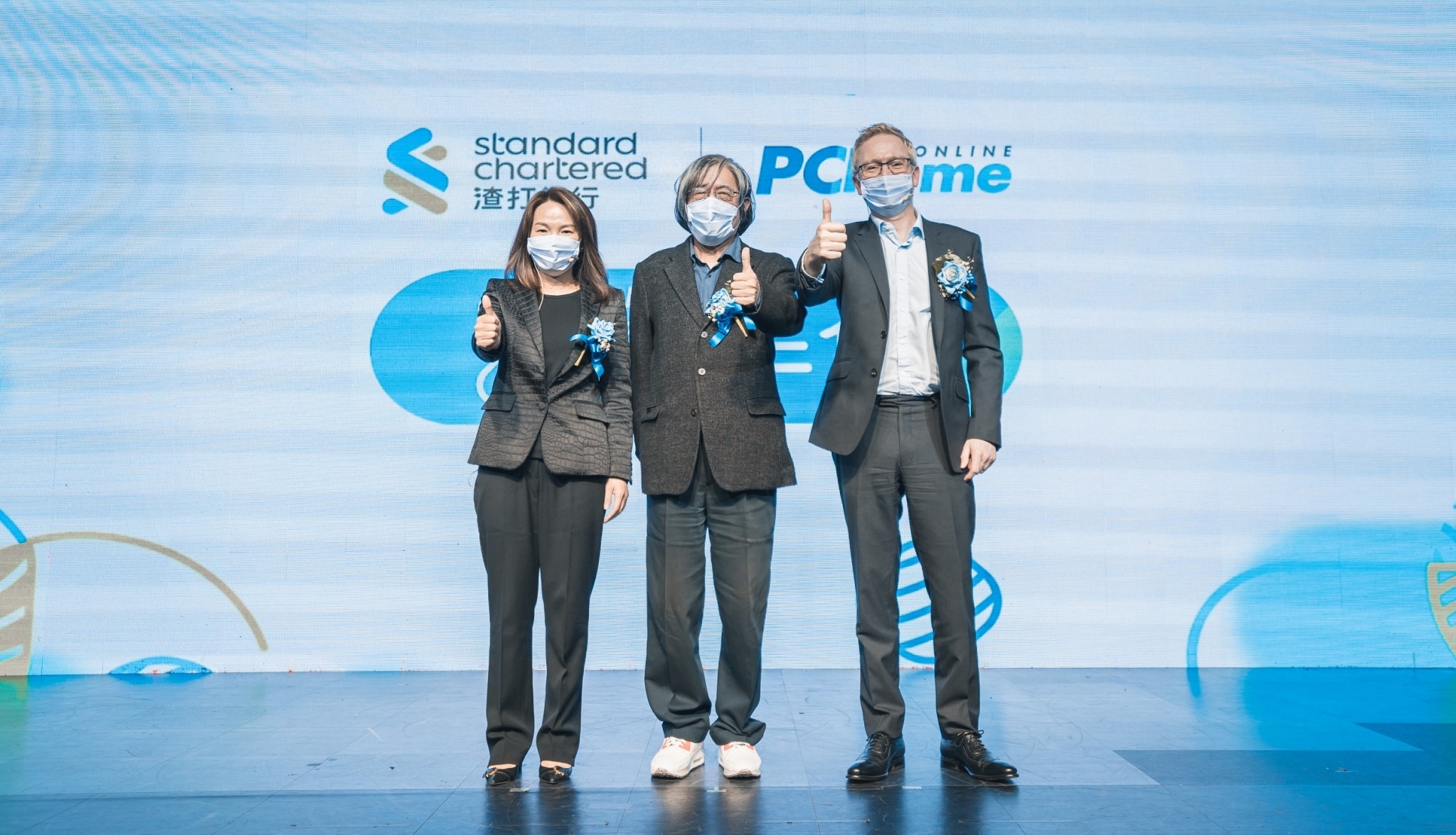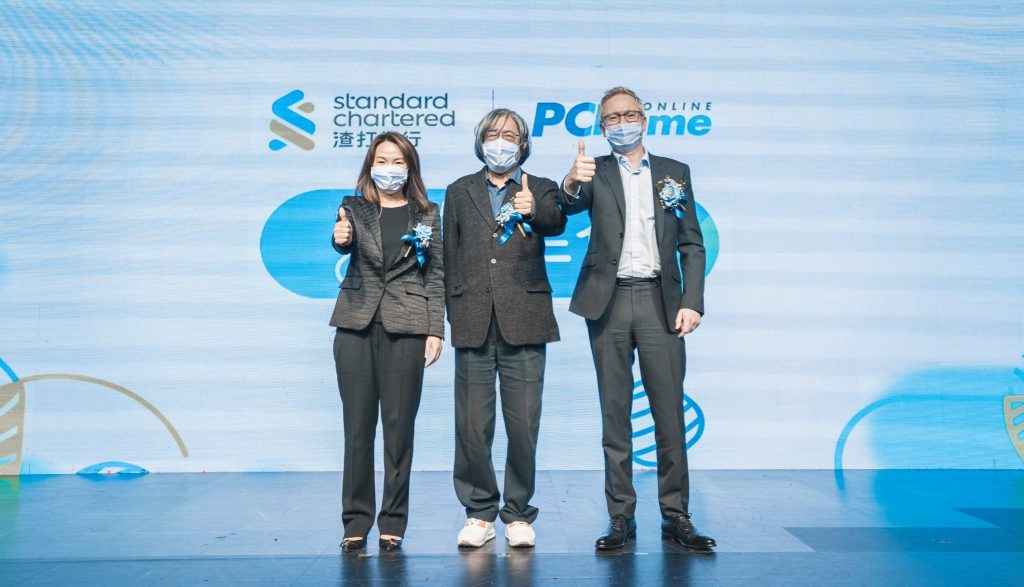 Upgrade 4, Cardless Installment
PChome launched the industry's first "Buy Now Pay Later" (BNPL) service in Pi Wallet in April 2022, providing Taiwan's first innovative financial service that links third party payment, cardless installment, and mobile payment services. The differentiated payment service, extensive online and offline application scenarios, and circular applications that combine PPoint rebate and ecosystem not only upgrade the scope of cardless installment product applications and service experience in Taiwan, but also provide Pi Wallet members with a wider range of digital financial services.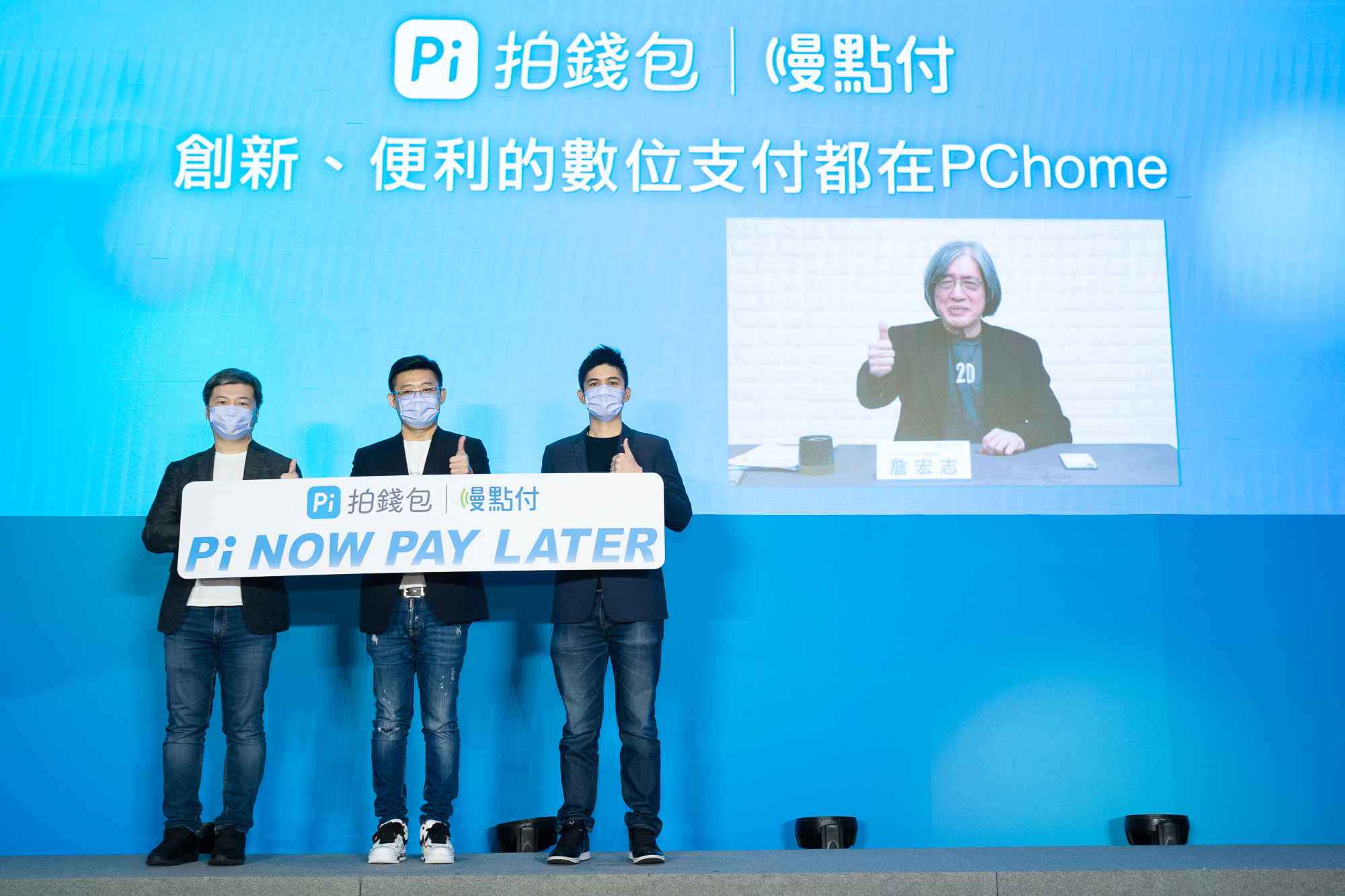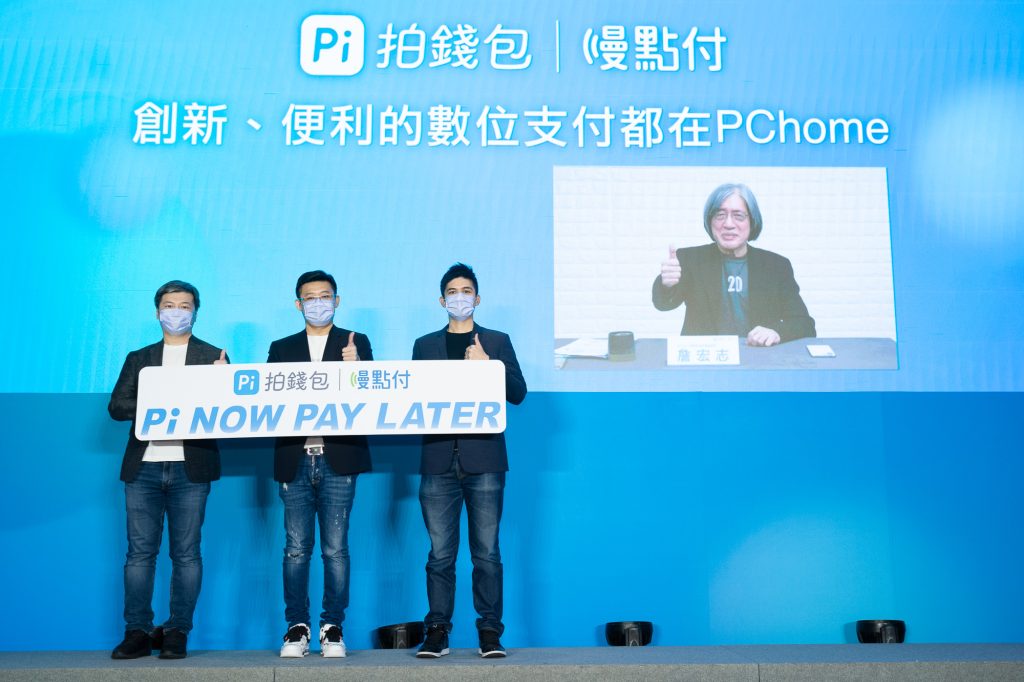 Upgrade 5, iPhone Subscription Plan
As the only e-commerce company in Taiwan that is an authorized distributor of Apple products, PChome and the cardless installment payment service – GoGoPay and online insurance service – e-Insure Inc. jointly launched the exclusive "iPhone subscription plan" in September 2022, featuring "0 interest rate and low monthly payment, no prepayment and deposit required, exclusive insurance, greater freedom when the plan expires, and replace a new phone every year".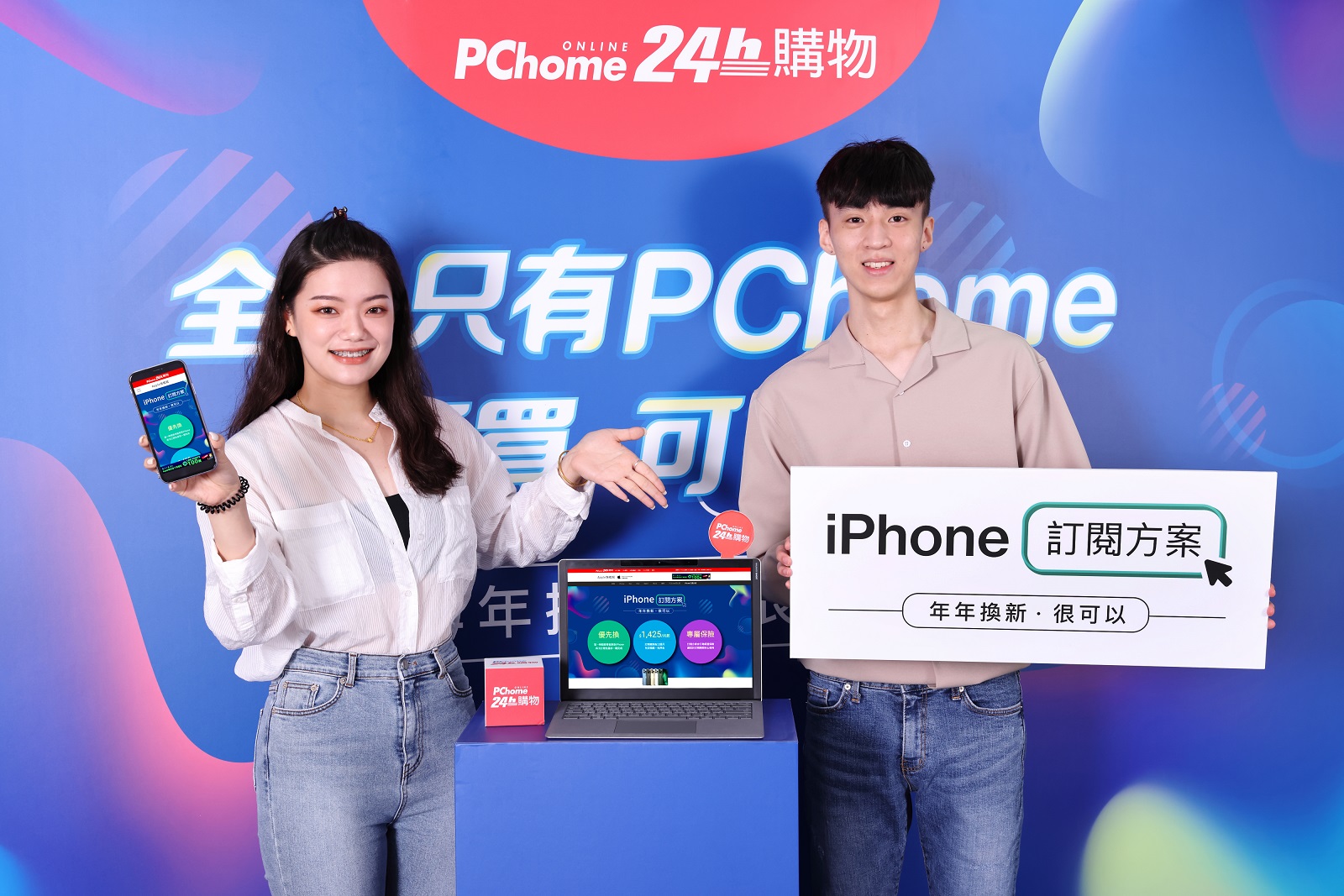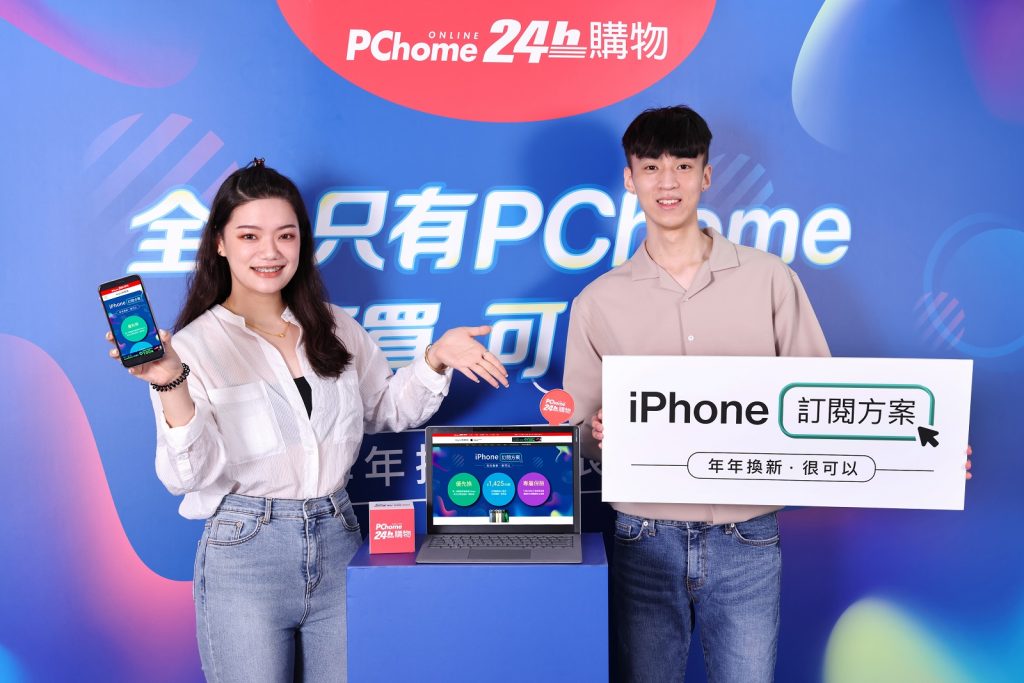 PChome 24h shopping joined forces with FunNow to provide "eat, drink, and be merry" reservation services in October this year, combining e-tickets with immediate booking functions, and offering over 5,000 products and services to meet consumer needs in all aspects of daily life from online to offline.
Responsible and Sustainable Shopping
To ensure that consumers can purchase the highest quality products, we have consolidated products from major global brands into our brand flagship store on PChome 24h Shopping, or provide consumers with the most reliable products directly supplied from the manufacturer. Following the rising environmental protection awareness of consumers, PChome supports many environmental protection initiatives, actively develops eco-friendly and energy-efficient products, and provides a wider range of eco-friendly options to our consumers. Furthermore, we co-organized a series of activities with partners to advocate for eco-friendly actions during Earth Day and Earth Hour, in order to expand the influence of sustainability products and create a force for the common good of humanity and the environment.
The increasing number of buying channels and the overabundance of online platform information have made it difficult for consumers to distinguish the authenticity of products sold online. PChome 24h shopping created an exclusive "brand flagship store" authorized by major brands, and sells products that have obtained many quality certifications, enjoy a warranty period, and come with complete after-sale services to eliminate any concerns that consumers may have about online shopping. PChome irregularly provides discounts and guarantees delivery within 24 hours anywhere in Taiwan, and delivery within 6 hours (trial operations) in Taipei City, creating a convenient shopping environment where consumers do not have any worries.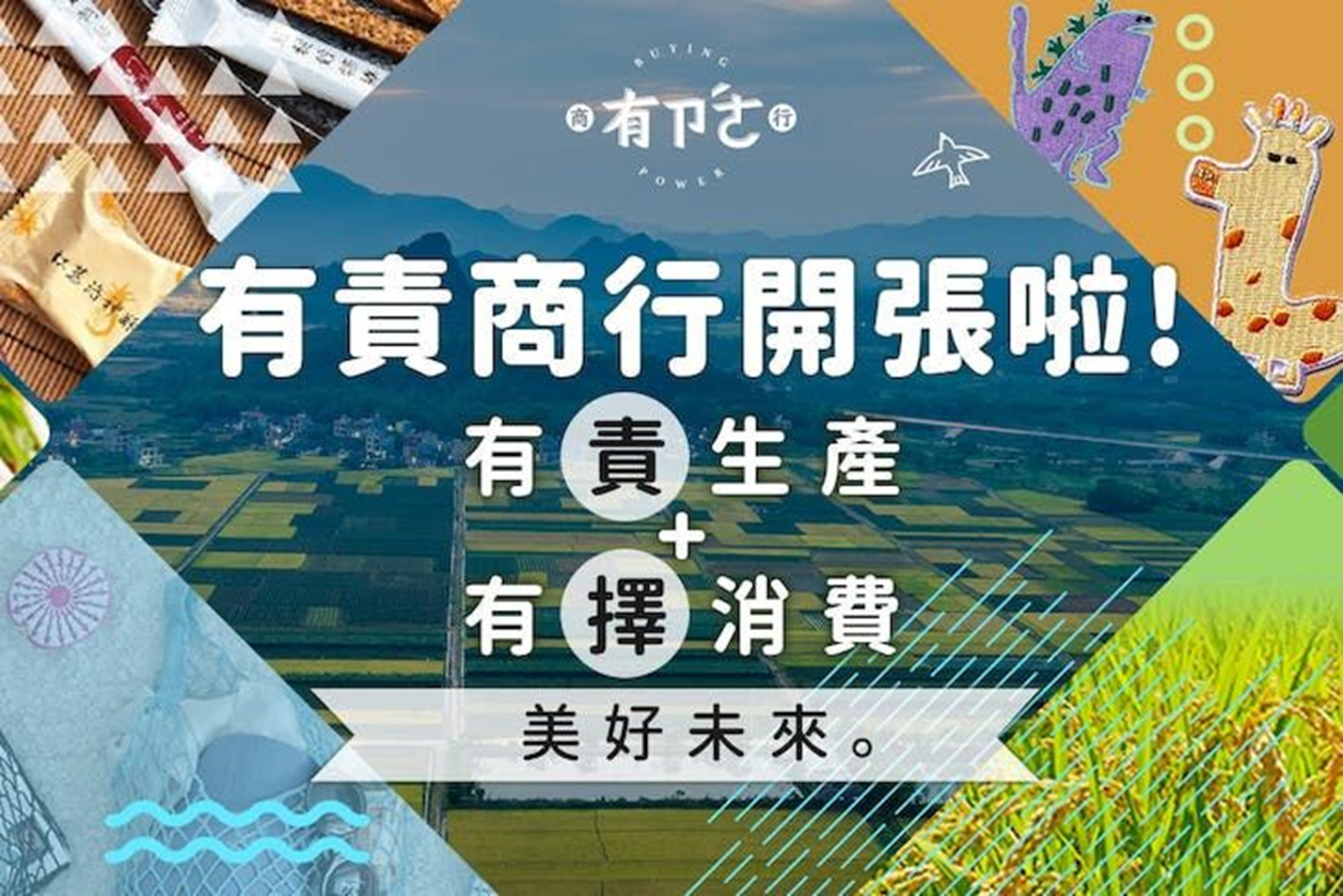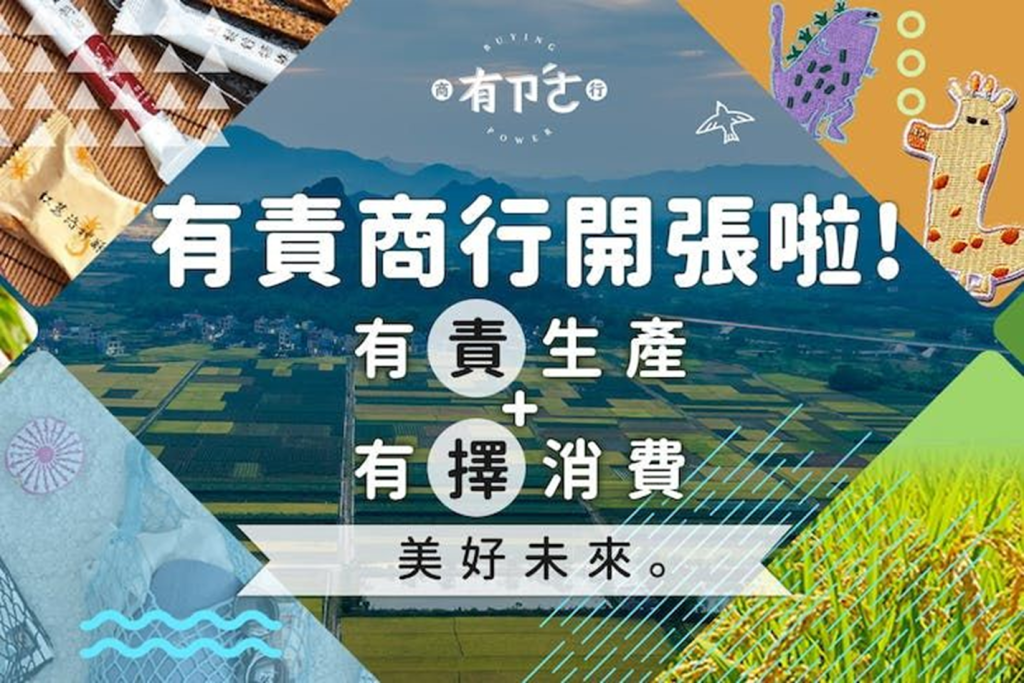 To expand promotion of social innovation and "SDG 12 Responsible Consumption and Production", PChome supports the concept of "Buying Power" of the Small and Medium Enterprise Administration, Ministry of Economic Affairs, and jointly promotes "Buying Power Store" to communicate social innovation and responsible consumption issues with society. We encourage people to change their living environment and influence the consumption system through actual purchases, in order to actively make a change. PChome's "Buying Power store" shares platform marketing, cash flow, and logistics resources to aid the digital transformation of SMEs, and selects high quality products that are friendly to the environment and society. The Buying Power store was certified as a "Social Impact Platform" by Taiwan Institute of Economic Research; the certification was organized by the Small and Medium Enterprise Administration, Ministry of Economic Affairs. To date, there are 884 items across 50 brands sold in the Buying Power store in 2022, significantly increasing by 59% compared with the 530 items in 2021. This figure is constantly increasing so that merchants can continue with responsible production and consumers can continue with responsible consumption.
In light of the rising trend of sustainability, consumers make decisions that are friendly to the environment and society with their money, and vendors make a profit while protecting the Earth through sustainable production. As an e-commerce leader, PChome upholds the idea of standing together with suppliers and consumers in protecting the Earth by purchasing more eco-friendly products and purchasing less products that are harmful to the environment, have high carbon emissions, and have high energy energy consumption, so that shopping in daily life can also benefit the Earth.
Consumers can find a wide range of internationally-renowned green products at a discount on PChome shopping websites, sustainability features of each brand include: a full range of ecofriendly appliances, only using recycled packaging, and designing products to be fully compliant with environmental regulations. Environmental considerations are incorporated into the research and design processes of these eco-friendly products, some of which have acquired the Leaping Bunny and Cradle-to-Cradle certifications. PChome strives to provide a wide variety of ecofriendly products to contribute to the future of the Earth.
Get to Know About Eco-friendly Labels
Leaping Bunny Certification
The Leaping Bunny logo is issued by Cruelty Free International. It advocates for alternative solutions to animal testing and requires that no animal testing is used in a product's development or manufacturing process. The certification review standards are strict, and the organization audits approved brands every once in a while on an annual basis. Therefore, the Leaping Bunny logo is currently the most credible cruelty-free logo.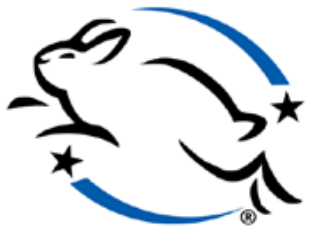 Cradle to Cradle Certification
The Cradle to Cradle Certification is a globally-recognized certification of products for the circular economy. There are five criteria: Material Health, Material Reutilization, Renewable Energy Use and Carbon Management, Water Stewardship, and Corporate Social Responsibility. The goal is to encourage manufacturers to incorporate ecofriendly and sustainability concepts into their products, beginning in the design stage.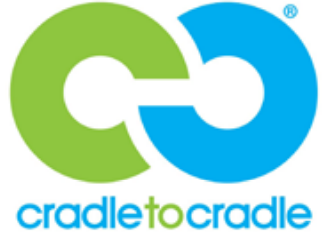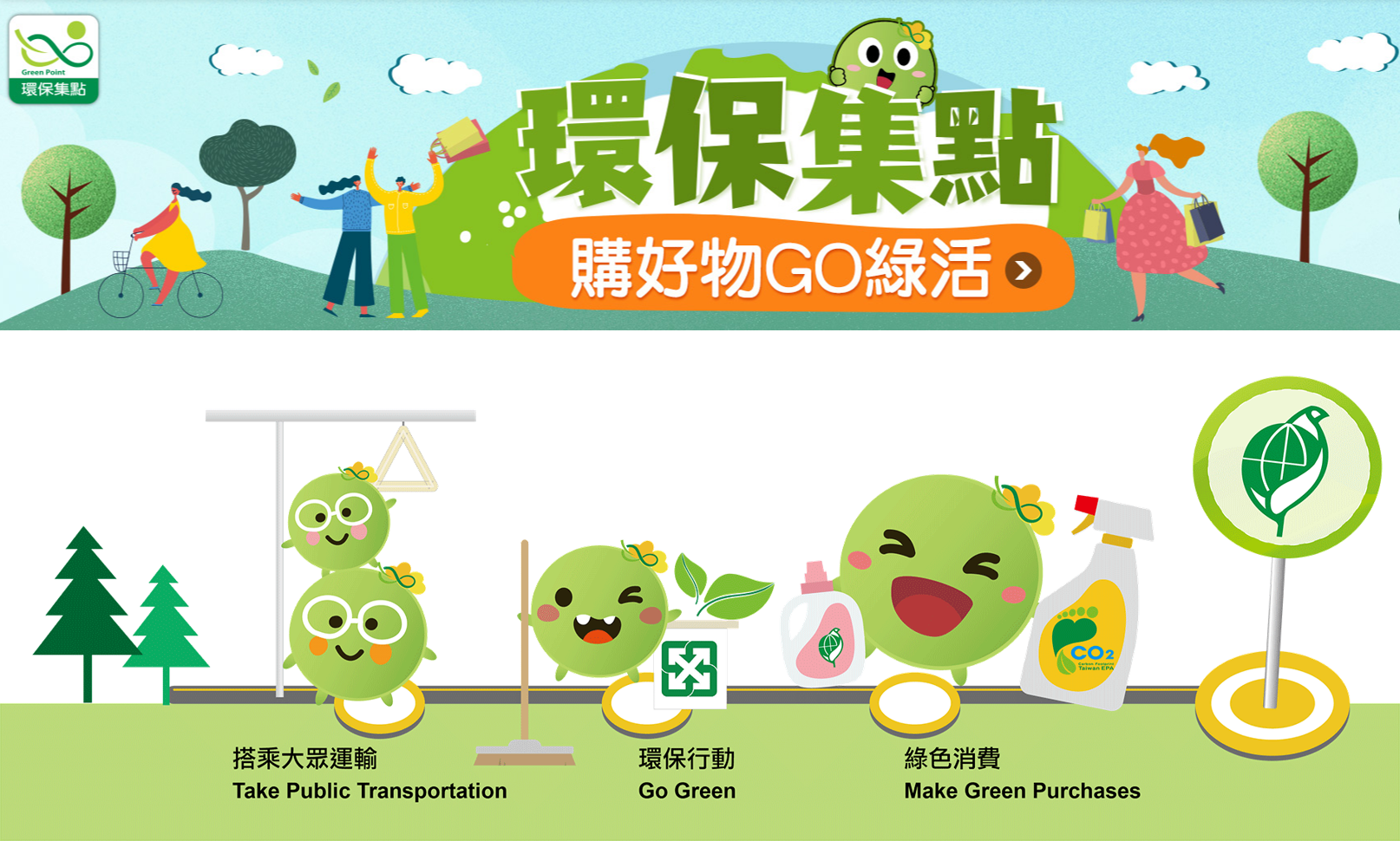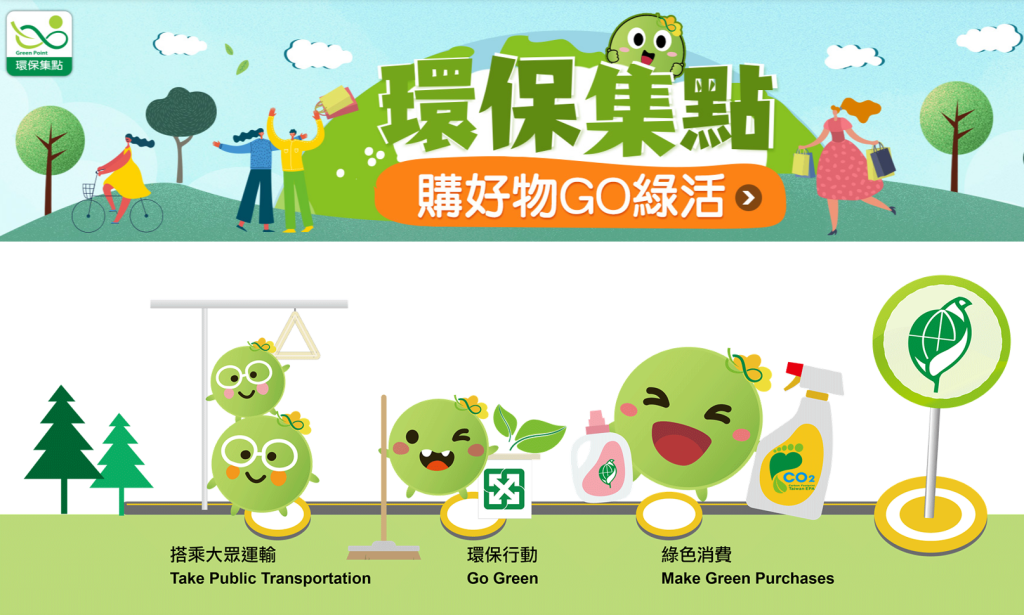 In recent years, much attention has been focused on the stability of Taiwan's power supply and energy transition. Water scarcity and power shortages exacerbated by climate change have had a considerable impact on our lives, which is why PChome emphasizes the green features of a product, such as the availability of energy-efficient, eco-friendly, FSC, and water-efficiency labels. We can effectively reduce the environmental impact of human activity by offering green-labeled products to consumers. In addition to being the first major Taiwanese e-commerce platform to obtain the Carbon Footprint Label from the EPA, PChome 24h Shopping has also collaborated with the EPA's GreenPoint scheme in 2021. Consumers only need to first register as a GreenPoint member and then link their PChome 24h Shopping account. They then earn 500 GreenPoints for every order they place subsequently, which can be accumulated and redeemed in subsequent purchases. We expect that this measure not only promotes awareness toward the Carbon Footprint Label but also attracts consumers to participate in point redemption activities in a fun way and incorporate green lifestyles and consumption into their daily life.
Effortless Recycling, Turning Old Electronics into Gold―Recycling Old Smartphones
As we enjoy the convenience brought by electronics equipment in daily life, we tend to overlook the recycling problems with recycling a large amount of electronic waste resulting from products' short life cycle. PChome sets out with its own platform resources and provides various means for consumers to evaluate the status of their old phones and recycle them. To encourage consumer engagement, we created reward schemes such as cash rebates, vouchers, and extra 10% PPoints, ensuring that smartphones approaching the end-of-life phase can be properly recycled and managed, thus fulfilling a circular economy model. PChome's recycling process is in line with the iMT Online Trade-in Standards (iTS). In addition to mobile phones, PChome is gradually increasing the recycling of electronics products, including tablet PCs, notebooks, and wearable devices. We hope that every step we take will benefit the Earth.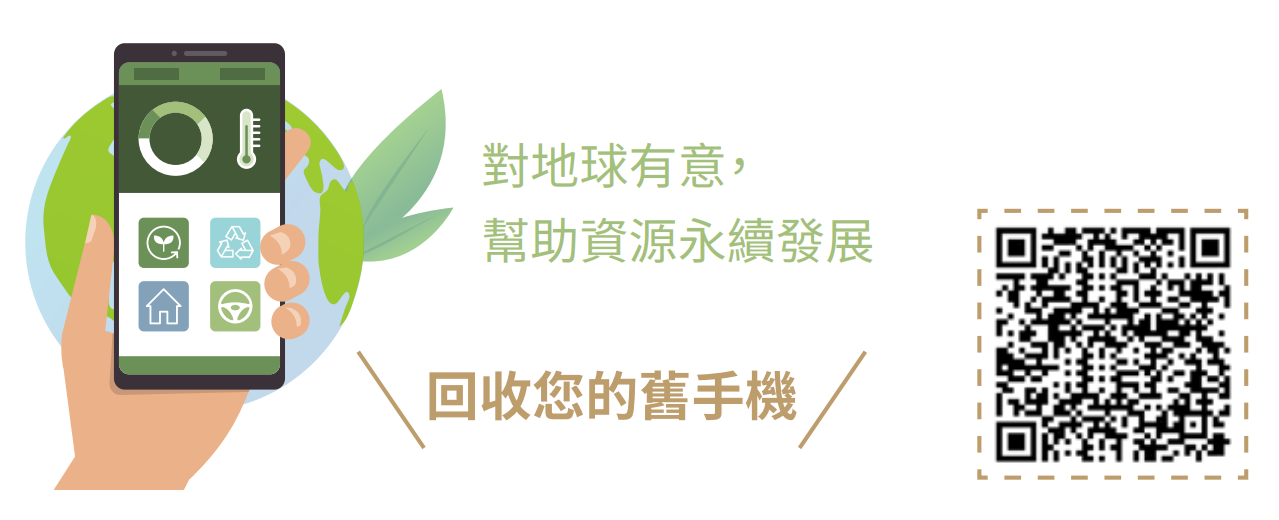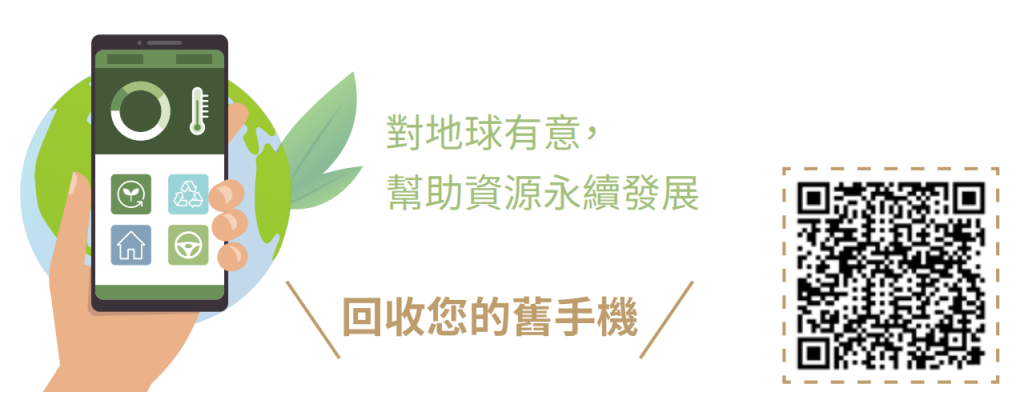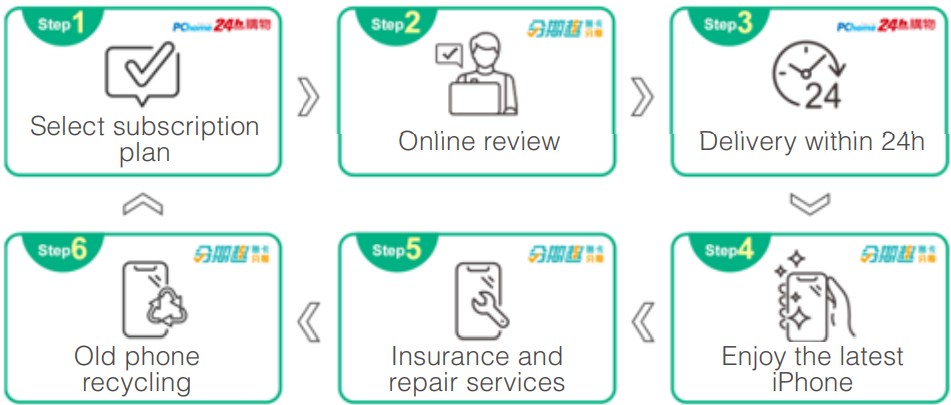 PChome 24h shopping book store collaborated with the world's second largest e-book platform Kobo in April 2022, and is the only officially licensed e-commerce company in Taiwan, introducing nearly 4 million e-books. We also collaborated with Readmoo and introduced over 100 thousand e-books, making it the largest online book store in Taiwan. We hope to reduce deforestation and ink consumption through the pro-motion of e-books, and thereby contribute to environmental sustainability.
Supporting Earth Day Lights Off for 1 Hour
PChome utilizes the power of an online shopping platform to call on consumers to support Earth Day in 2022. We organized the event "Invest in our planet by supporting Earth Day" and developed five green shopping sections, including "Invest in your dining table", "Invest in your beauty", "Invest in your life", "Invest in your health", and "Invest in your knowledge", to provide discounts for green products relating to goods, clothing, housing, and transportation. This allows consumers to lead eco-friendly low-carbon lifestyles 24 hours a day, jointly protecting the living environment for the Earth and the next generation.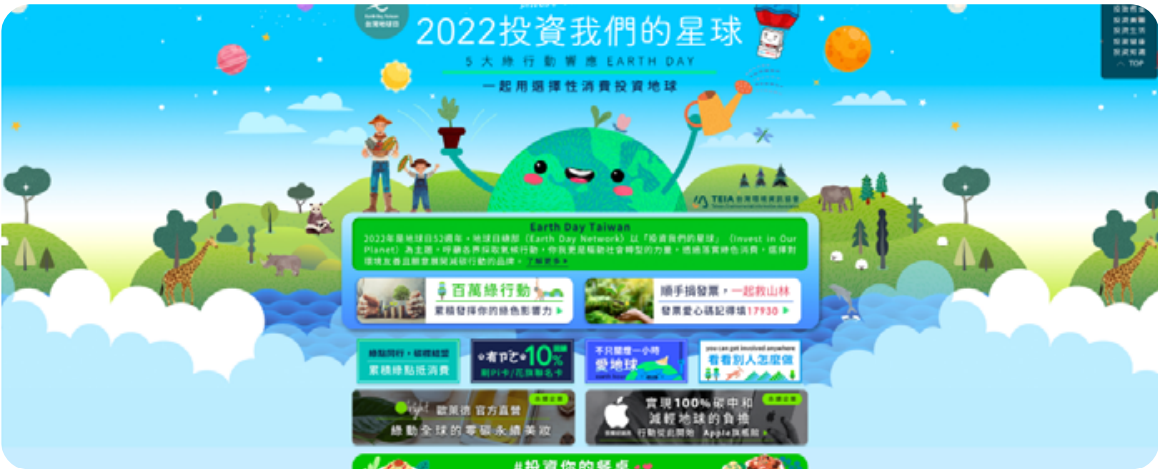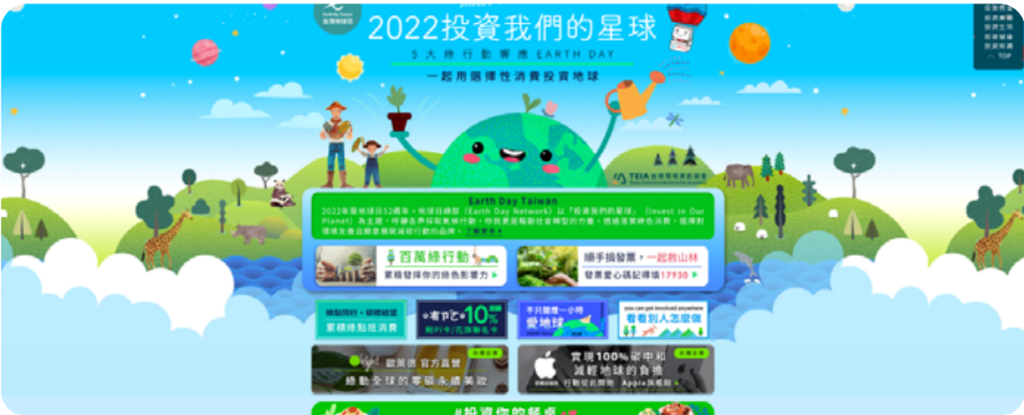 Furthermore, PChome also participates in Earth Hour organized by the WWF, and PChome 24h shopping, Pi Wallet, Ruten, PChome Travel, PChome Store, PChome Thai, and Japan cross-border e-commerce – Bibian all supported the event by turning off lights in the PChome office building for one hour from 8:30 to 9:30 P.M., jointly saving electricity and reducing carbon emissions for the Earth. To draw public attention to global warming, users that visit PChome 24h shopping and the PChome portal site can play a game of turning off lights for 1 hour, encouraging people to turn off lights and electrical appliances that are not being used and contribute to improving Earth's environment.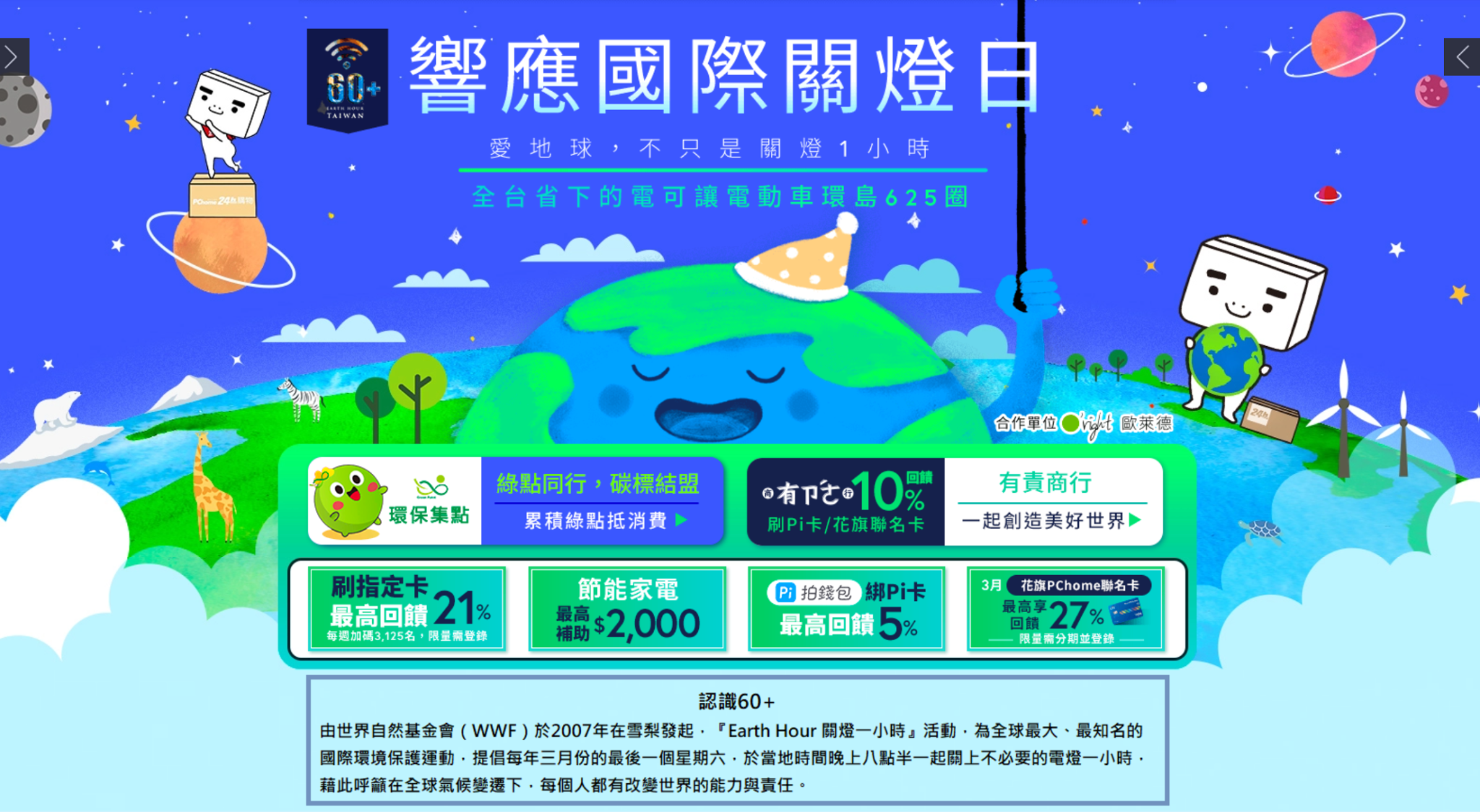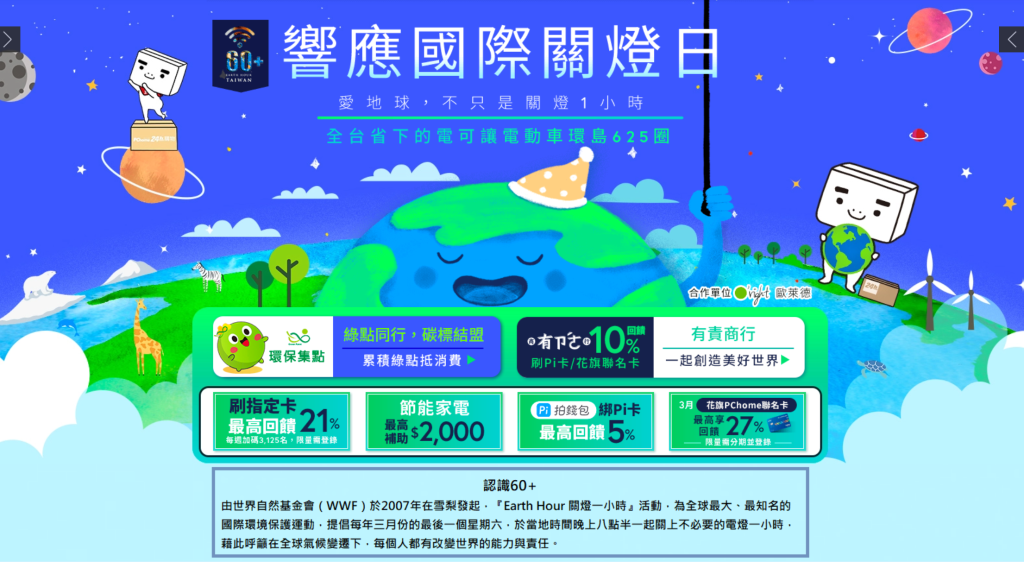 Product Review Mechanisms and Quality Assurance Standards
PChome has established a product review mechanism and quality specifications, and reviews the safety and compliance of every product. We require suppliers to strictly fill out required information according to internal regulations; products must be reviewed before launch to comply with laws and regulations. After products enter the warehouse, auditors regularly inspect products to ensure that the quality and external appearance of products meet specifications. We established a mechanism for removing products that do not comply with specifications. We strictly supervise every aspect from contacting suppliers to delivering products into the hands of consumers, providing consumers with a reliable and trustworthy consumption environment.
Multiple Measures to Ensure Good Product Quality
PChome ensures that every product delivered to our consumers is held to the highest standards. In addition to signing cooperation agreements with suppliers, which contain clauses on delivery and payment, acceptance requirements, and warranties against defects, we maintain product quality through product inspection procedures and product recall as a precautionary measure.
PChome's product review mechanism covers five aspects: essential vendor information, product management, liability for product delivery, legal liability, and product acceptance information transfer. PChome has reviewed regulations for different products and monitors regulations, which are included in the training of sales personnel, and strictly requires that they comply with regulations to maintain quality for consumers.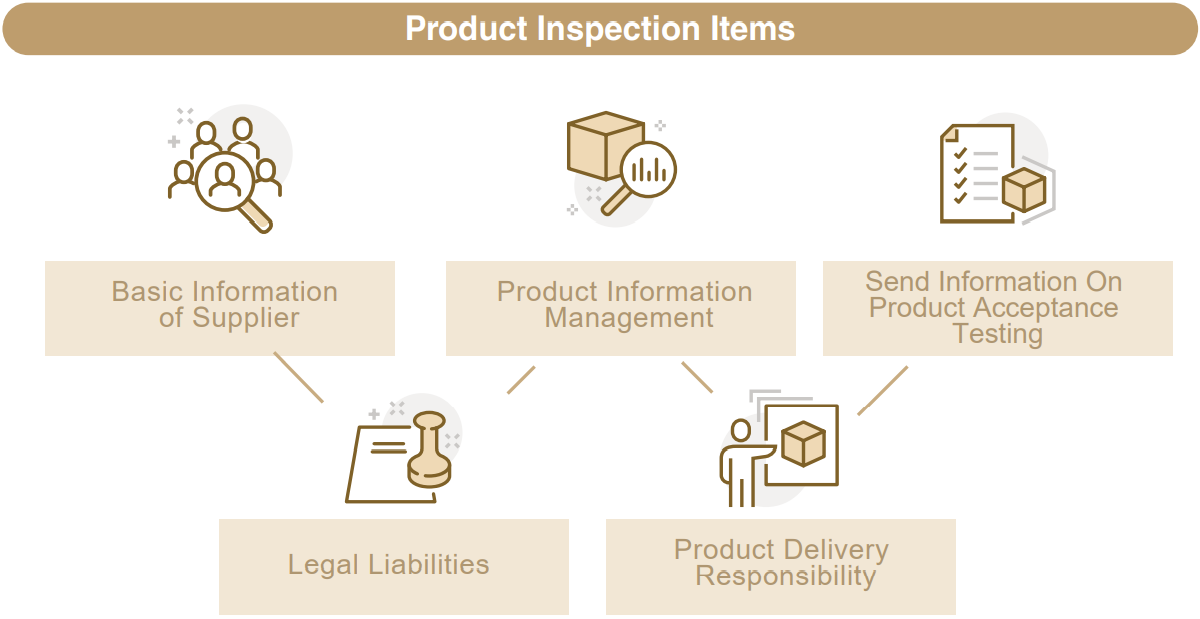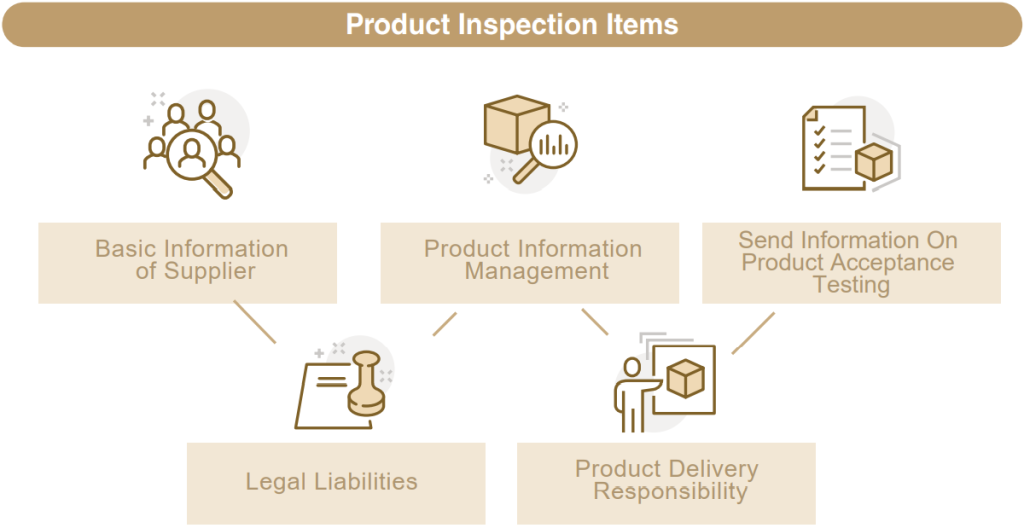 Tobacco, firecrackers, products with pornographic and violent content, recreational drugs, pharmaceutical drugs (excluding Class B OTC drugs), weapons, bullets, and other legally prohibited products.
Warehouse Processes and Management
PChome has standardized the product warehousing procedure. Inbound products arriving at our warehouses are subject to various product inspection procedures to ensure that the products are in good condition when they enter storage. In terms of warehouse control, we have established three lines of defense for quality monitoring, including post-storage validity period management, quality spot checks, and audits, so as to ensure that the stored products have not expired or spoiled.

Validity Period Management
PChome has devised different permitted storage periods and withdrawal periods for products with different validities, as well as systematic monitoring and control of product condition. Our warehouse employees inspect the quality and expiration date of a product before shipping it to the consumer.
Upon signing a purchase contract, PChome requests that suppliers provide proof of product inspection. PChome cooperates with Intertek and the FDA to test for aerobic plate counts, E. coli, food additives, toxin levels, heavy metals, and pesticide residues, as well as inspections of food and cosmetics labeling, and prescription reviews of our self-owned products, in order to guarantee the quality and safety of products for consumers.

PChome has a warehouse audit task force whose members perform daily audits on products stored in specific places. The audit includes checking for damage or mold growth on products, signs of spoilage, and product expiration. Non-defective products are cleaned and arranged to ensure optimum condition. Defective products are filed, photographed, and verified prior to subsequent treatment.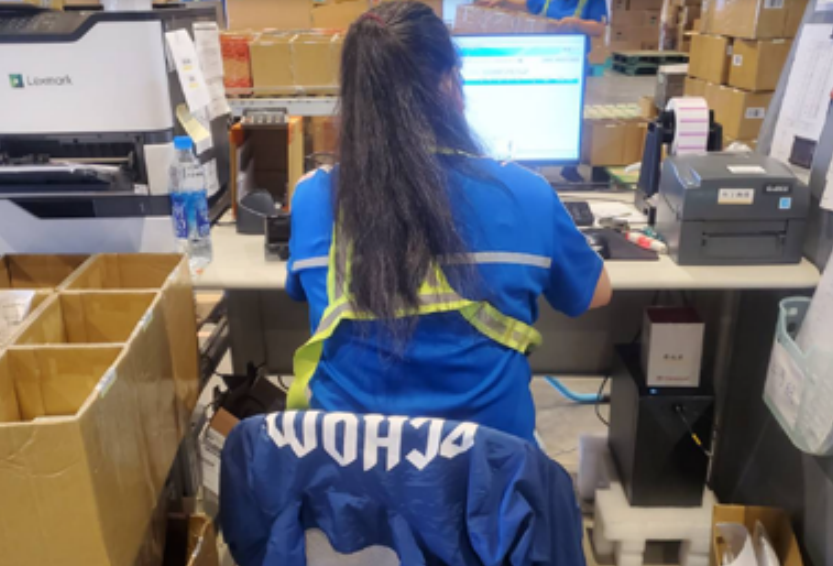 Figure: Acceptance and label printing through the system improve the audit team's inspection efficiency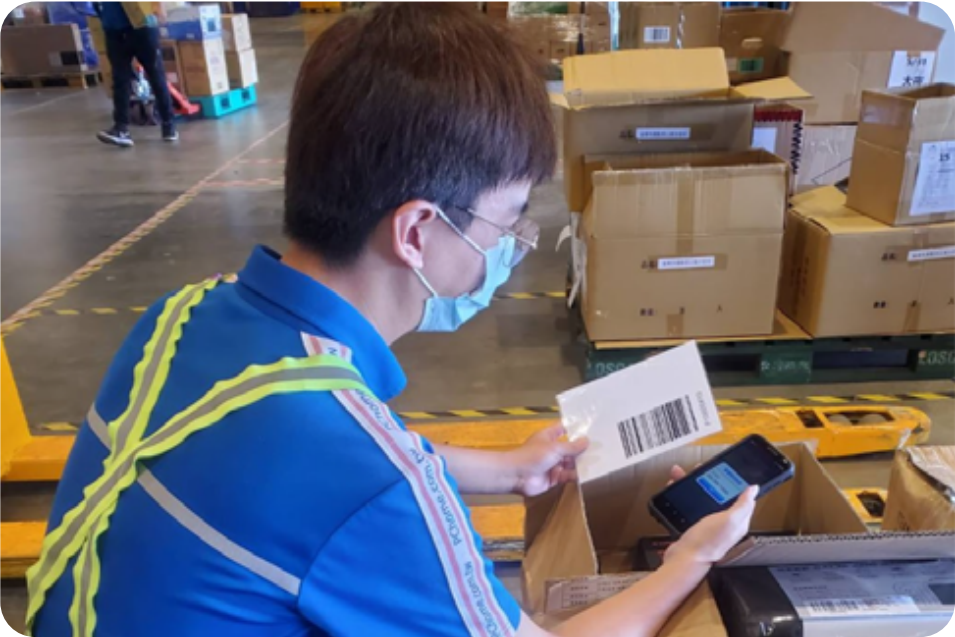 Figure: Products are inspected twice and container product information is scanned to ensure that the contents are correct
Product recalls include ordinary recalls and special recalls.
Ordinary recall: A product that is no longer in production or is undergoing transfer will be recalled upon notification from the manufacturer.

Special recall: A product is recalled as a precautionary measure when it is subject to overwhelming customer concerns or media reports or upon notification from the competent authority and other law-related bodies. To safeguard the rights and interests of consumers, PChome will actively remove the product in question as a precautionary measure while informing the vendor. Our employees will handle the issue promptly with the supplier through appropriate reporting or documentation measures, and request that the supplier provide the relevant certifications and documentary proofs for display on the webpage of the product. If the vendor is unable to produce these supporting documents or provide a reasonable explanation, meaning that the product fails to meet relevant requirements, then the product will be recalled as a whole or in part.



Products Returned due to Being in Storage for a Long Period of Time