A Green Partner for the Environment

The development and popularization of the internet has changed consumer patterns. Impacted by the COVID-19 pandemic, people nowadays rely more on online shopping and contribute to the robust developments in e-commerce. In 2021, PChome delivered more than 40 million products. To reduce the environmental impacts of e-commerce, in 2019, we launched the Green Shopping Program which covers four initiatives for standard improvement―green packaging, green transportation, green warehousing, and green payment―as a means to reduce carbon emissions in e-commerce.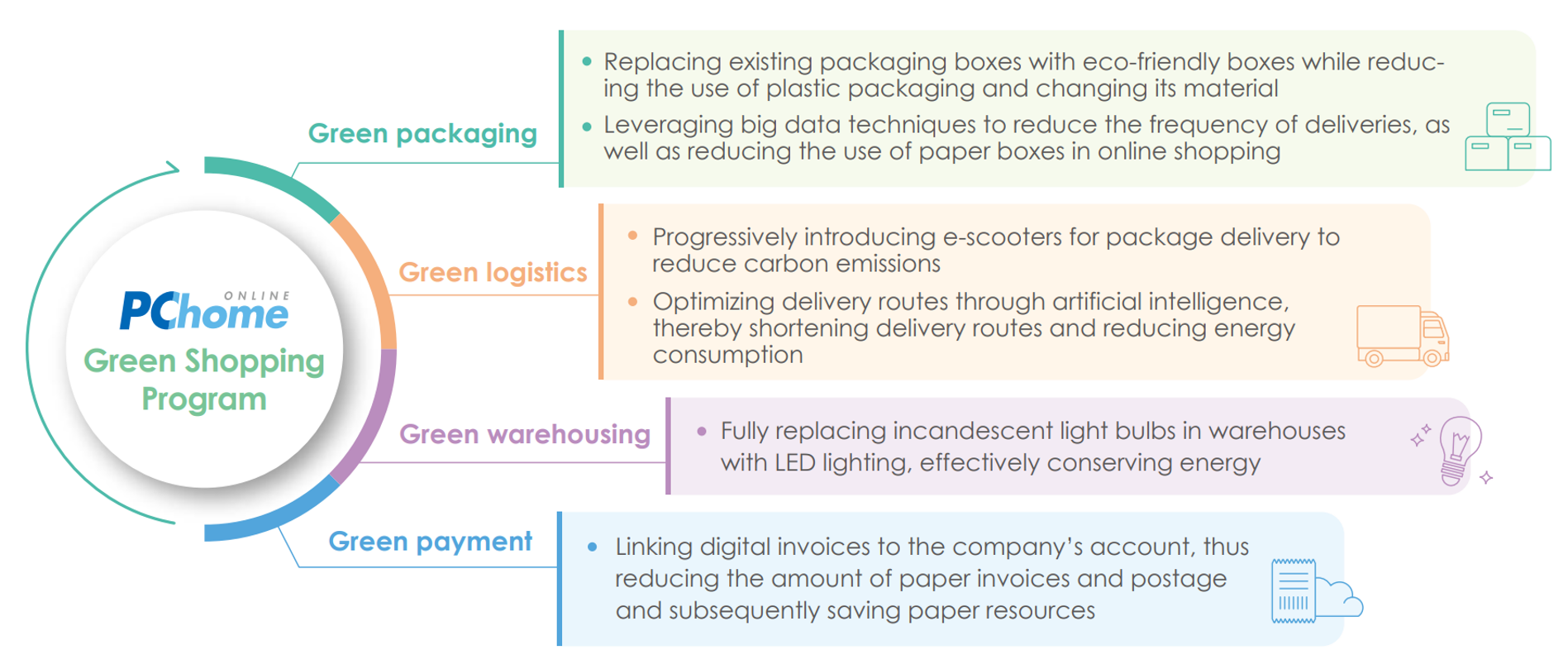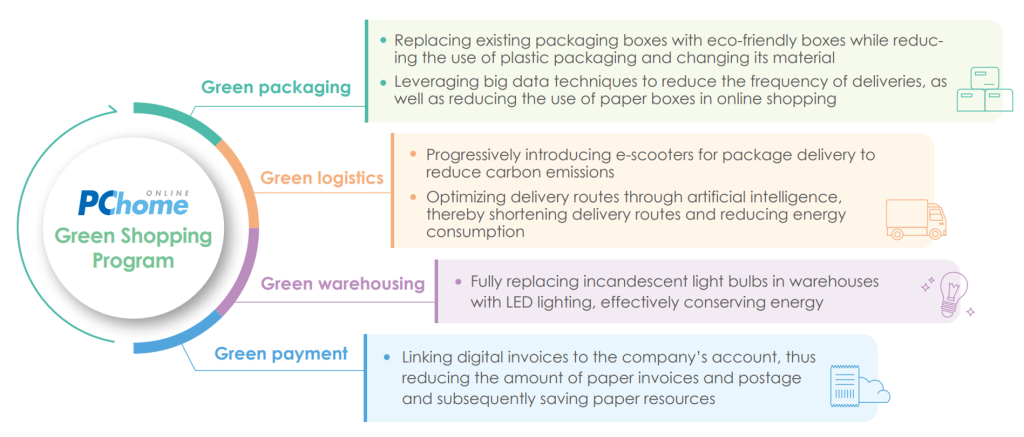 PChome 24h online retailing (Carbon Label)
In July 2020, PChome was the first major integrated online shopping platform in Taiwan to receive the Executive Yuan-approved Taiwan Carbon Footprint Label. To achieve this, we examined the carbon footprint involved at each stage in the life cycle of online retail services and analyzed three aspects in particular― product-related services (product inspection, packaging, etc.), environmental services (official website, domains, servers, cross-platform connectivity, etc.), and logistics services (pickup, delivery, returns, exchanges, etc.)―so as to acquire quantified data and further implement carbon reduction strategies. At PChome, we encourage consumers to prioritize carbon footprint-labeled products to showcase their green influence as consumers. We also invite numerous SMEs and supply chain partners to engage in social sustainability with us and usher in a new era of low-carbon e-commerce. PChome also actively applies for the Carbon Reduction Label to demonstrate our commitment and determination towards carbon reduction
Information on PChome products and carbon footprint


In light of the need to consume a significant amount of single-use packaging in traditional online shopping, as well as driven by our goal to realize eco-friendly management, PChome has adopted four strategies for packaging improvement: implementing recyclable packaging, increasing the ratio of delivery boxes made from recyclable pulp, reducing the use of single-use packaging, and selectively switching to recyclable cushioning. In 2019, we designed 31 new types of eco-friendly paper boxes to effectively reduce the environmental impacts of packaging used in online shopping. The new eco-friendly boxes boast the following features:
PChome continued to invest in green packaging by unveiling a new kind of easy-tear tape in 2020 to be used alongside the eco-friendly boxes. The tape is made of hydrophilic acrylic and eco-friendly adhesive, making it eco-friendly, safe, easy to tear, RoHS compliant, US FDA-approved, non-toxic, and can be used directly on food. Consumers can swiftly remove the tape when recycling boxes and the tape itself does not leave any residual adhesive, thus effectively conveying the 100% recyclable concept of the box and showcasing our eco-friendly measures.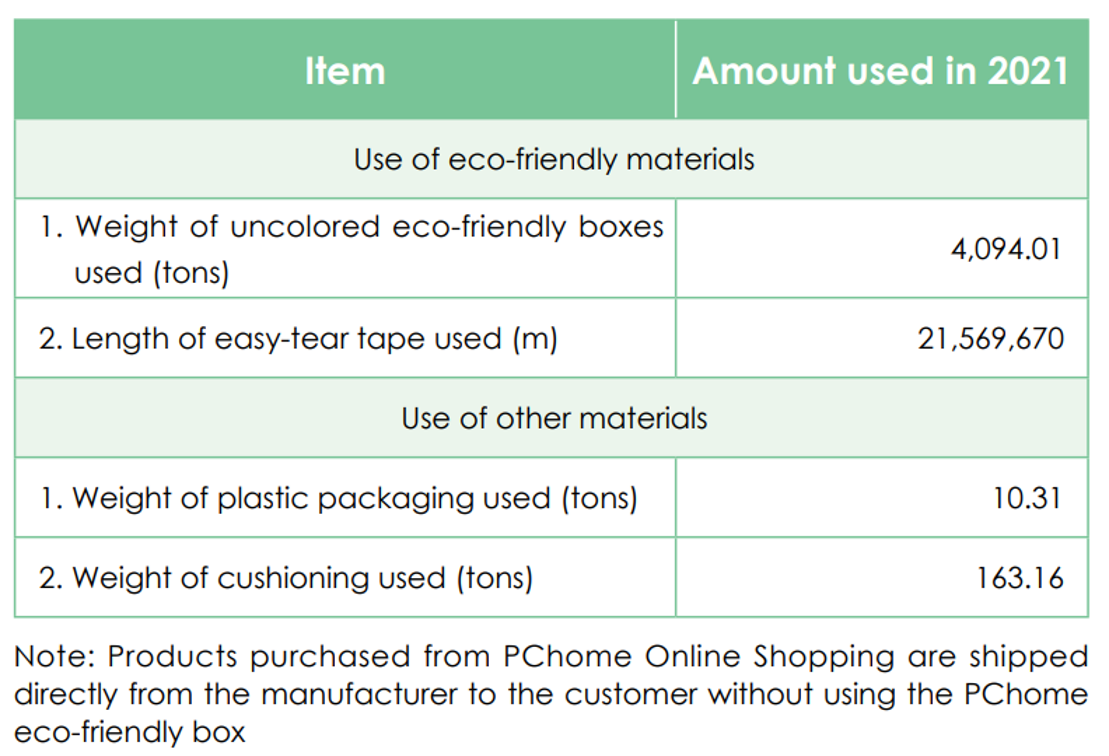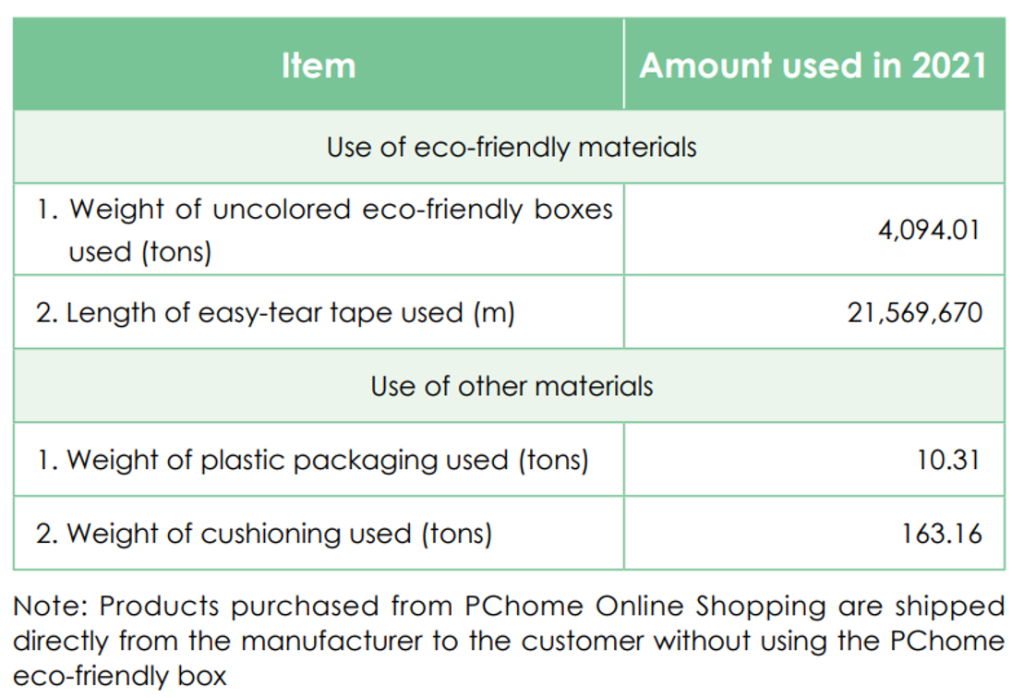 PChome is among the online shopping platforms that have responded to the E-Shopping Packaging Reduction Program launched by the EPA. The three main goals of the program are to reduce packaging, introduce eco-friendly materials, and recycle packages. Online shopping platforms can freely submit their own packaging reduction action plans for review by the EPA to confirm whether their reduction measures are in line with the EPA's guidelines. Platforms approved by the EPA receive the Online Shopping Packaging Reduction Seal, which can be displayed on their websites. In 2019, the PChome-affiliated PChome Online Shopping and PChome Store received the seal in the B2C and B2B2C categories, respectively, which is a testament to PChome's progress in achieving environmental protection goals.
Advocating the use of eco-friendly recyclable delivery boxes with a new start-up, PackAge+
As a continuation of our efforts in EPA policy compliance in 2020, PChome launched a trial program on the use of a small-sized cooler bag to reduce single-use packaging waste from online shopping. In 2021, we joined hands with an innovative eco-friendly start-up, PackAge+, thus upgrading our previous trial program on online shopping packaging optimization. PChome 24h Shopping is currently implementing a trial program in the cities of Taipei and New Taipei in which consumers who choose to collect their deliveries at convenience stores can opt for eco-friendly boxes at checkout. After receiving their packages, consumers can return the boxes to PackAge+'s cooperating merchants such as designated 7-ELEVEN and Family Mart locations, Carrefour, Watson's, and other franchisees or independent stores. The PackAge+ recyclable box is made of stain-resistant and crash-proof eco-friendly material and can be used more than 30 times. The boxes are disinfected thoroughly upon return, before being offered to the next customer. Therefore, we are optimistic about the PackAge+ recyclable packaging system as it is conducive to enhancing customer acceptance of recyclable packaging and its return rate, thus enhancing their awareness of green consumption.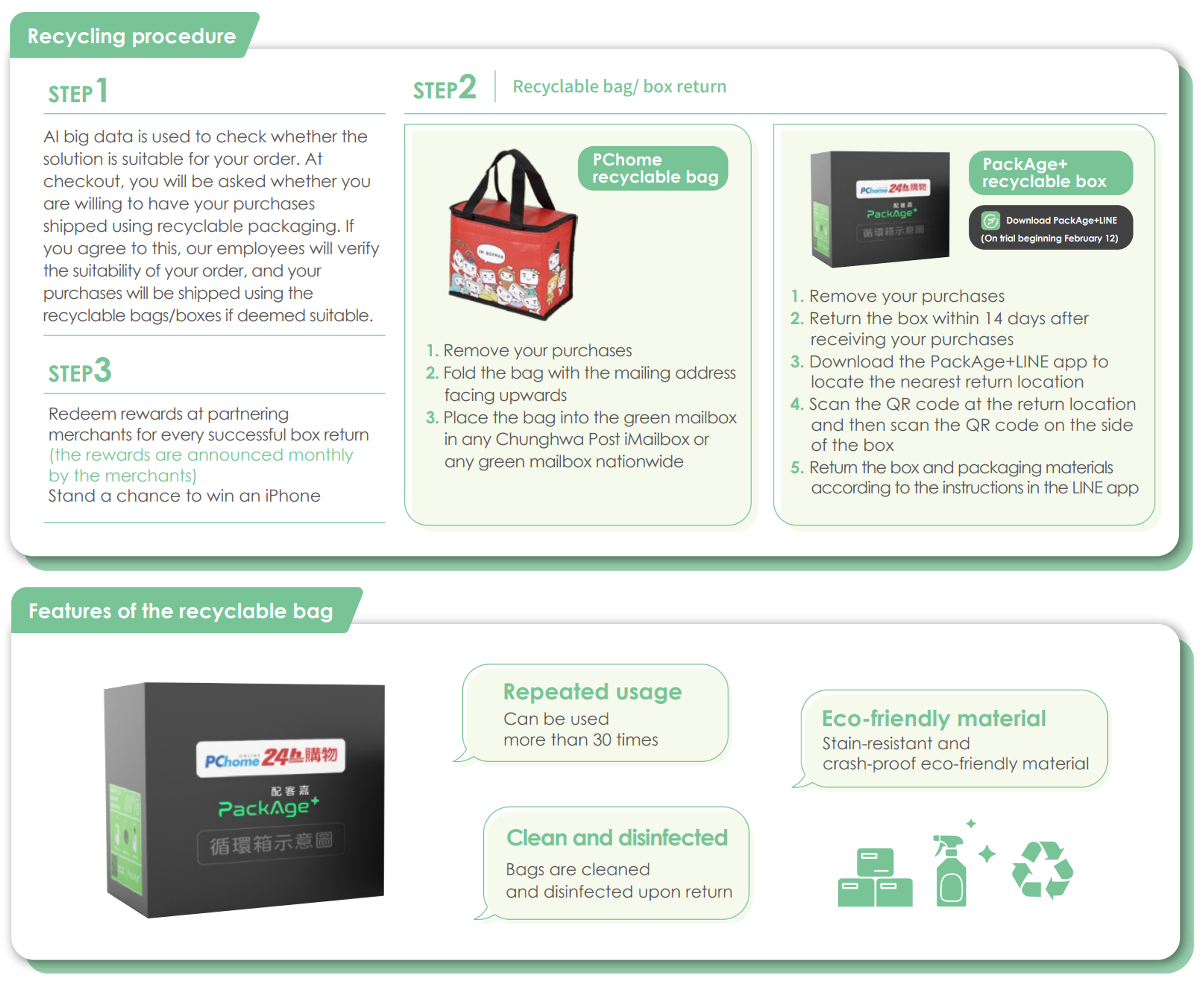 To improve the efficiency of packaging utilization, PChome has adopted two strategies: commingling products from different warehouses and developing a box number recommender system. This means the products in an order are collectively gathered without affecting the 24-hour delivery operations, and at no additional cost, and a box number recommender system is implemented in our warehouses. The minimum number of boxes to be shipped as well as the optimum box size are determined through big data, so as to achieve box and packaging use reduction. The load factor of a logistics vehicle can be increased through efficient box space utilization, thus increasing shipping efficiency and reducing the carbon footprint of each delivery. Based on our own estimations, compared to manual judgment in the past, the smart box number recommender system is projected to reduce the number of boxes used per month by 5%. The boxes are estimated to save more than NT$1.3 million in packaging and logistics costs per year. Since its official launch in September 2021, the accuracy of the box number recommender system remains on the rise. The goal is to improve accuracy to above 80%, so as to reduce manual errors and increase operational performance.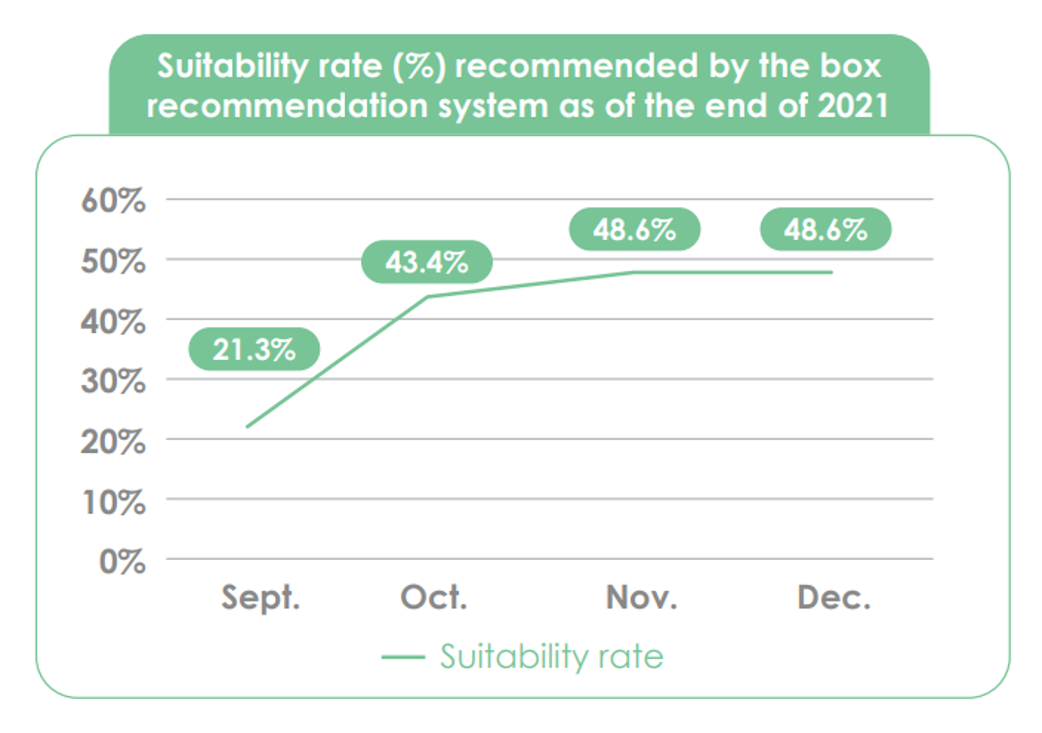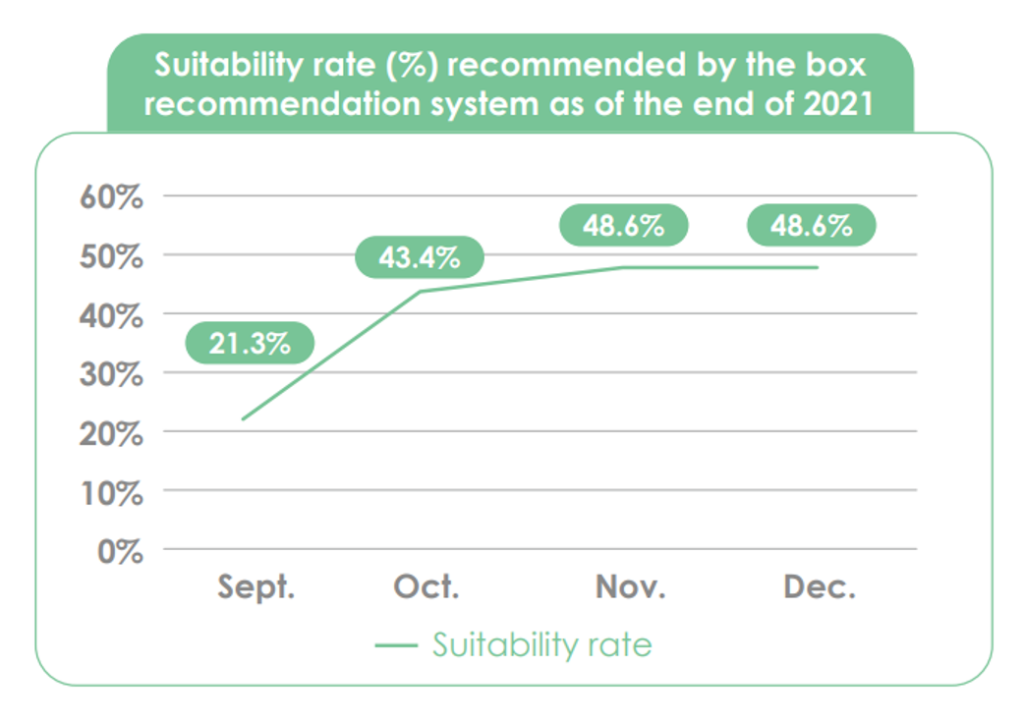 In response to the expansion of our logistics operations, PChome founded a wholly owned subsidiary logistics company in 2018, PChome Express Co., Ltd., and was the first e-commerce platform to venture into last mile logistics. We continue to do our best in enhancing our warehousing and delivery services. The PChome logistics team uses vehicles such as trucks and gas-powered scooters. In response to the Green Action Plan launched in 2020, we procured 13 e-scooters in 2021 which form the PChome Green e-Scooter Fleet. Districts of Taipei and New Taipei with high population and delivery densities are expected to be covered by our e-scooters in the initial phase. Going forward, we shall mainly procure e-scooters and gradually phase out our gas-powered scooters based on their service life. We expect to achieve a fully e-scooter fleet by the end of 2025. Our current general logistics management strategy is to require unit supervisors to manually inspect for abnormal fuel consumption rates in each scooter. Defective scooters, those with poor transmission lines, and high idle speeds are corrected to reduce the idling rate of our logistics fleet. Strategies for delivery time optimization are also proposed to improve the delivery efficiency in last mile logistics.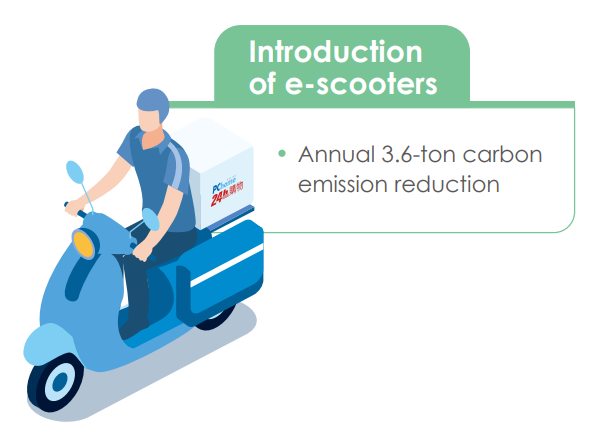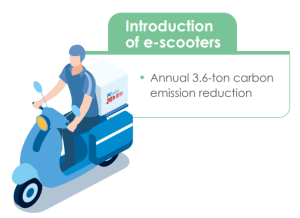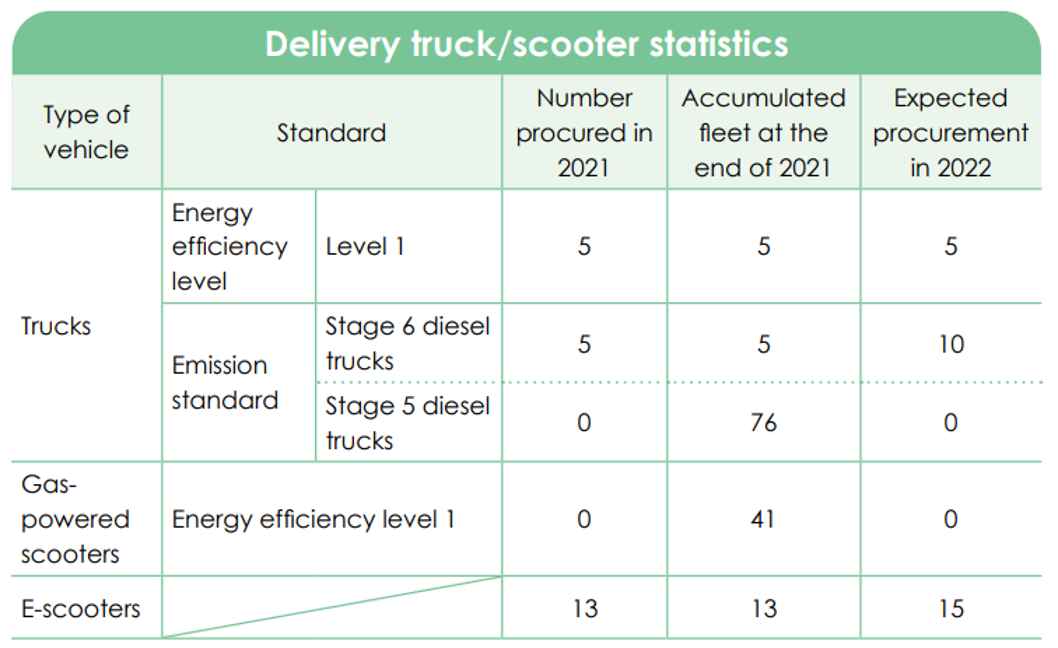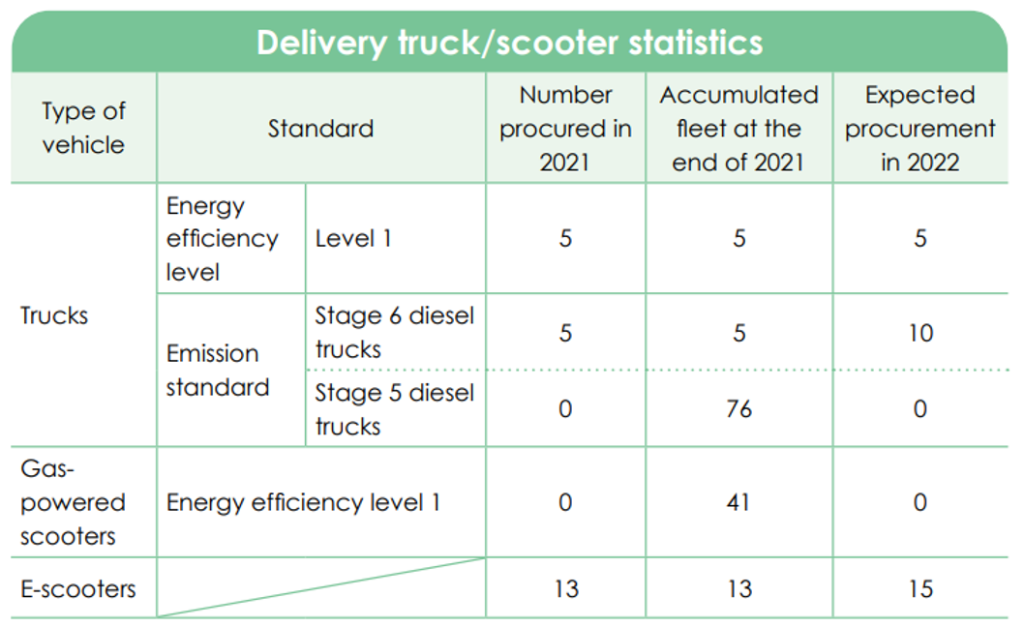 Enhancing last mile delivery with Pickupp, a strategic logistics partner
At the height of the local epidemic in July 2021, PChome opted to collaborate with a strategic logistics partner Pickupp, as a new venture into short chain logistics. By leveraging Pickupp's technology-based logistics solutions and flexibly developing our mode of collaboration, we optimized the integrated deployment of our logistics structure, enhanced the overall delivery efficiency and delivery routes, and reinforced the crucial last-mile delivery. We expect to increase the supply and utilization flexibility of our logistics resources through our collaboration with Pickupp. We also expect to use this opportunity as a cornerstone for short-distance deliveries and open up a broader range of convenient business models for our customers. Going forward, we plan to integrate our strengths and services with those of Pickupp and enhance the synergy within the ONE PChome ecosystem, thereby ushering in new milestones in e-commerce and logistics through professionalized and technologybased operations management strategies.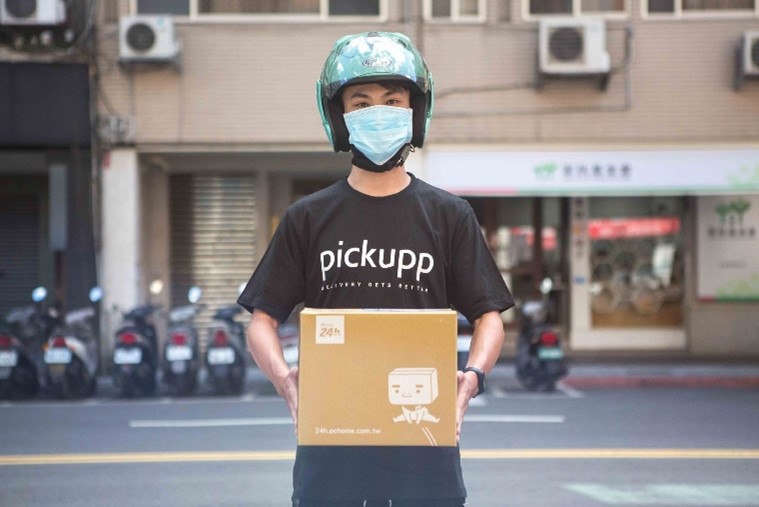 In terms of warehousing, PChome has been replacing incandescent light bulbs installed across 23 hectares of warehouse space with LED lighting. To date, LED lighting has been installed in 90% of our warehouse areas, which translates to a 50-70% drop in energy consumption and greatly increases the energy efficiency of the lighting system. PChome also actively optimizes the warehouse automation system. In 2019, we planned to transform our A7 Smart Logistics Center into an advanced automated warehouse that includes shuttle racking systems and automated guided vehicles (AGVs). In addition, we plan to venture into automated processes such as order picking optimization, inventory pre-positioning, storage location allocation optimization, smart picking, and packaging optimization. These measures are expected to be fully implemented in 2023. The expected benefits of warehouse automation include:
Shuttle racking system and Automated guided vehicle (AGV)

A7 Smart Logistics Center (A7 Project)
The A7 Smart Logistics Center (referred to as the A7 Project) is located in a designated industrial development zone near Station A7 on the Taoyuan Mass Rapid Transit System. The warehouse has an area of around 13.88 hectares and serves as an integrated logistics center comprising four main warehouse floors. Increasing developments in e-commerce have propelled its steady growth in the retail market. PChome expects to unify all warehouses currently scattered around Taoyuan with A7. This large-scale expansion would increase the efficiency and quality of logistics and provide consumers with a superior shopping experience. Adopting centralized management effectively controls logistics costs and expenditures. The diversification of products as well as mass orders pose a great challenge to outbound logistics. To this end, PChome has already designed a smart warehouse system that combines automation and AI technology. PChome has rented a site from Chunghwa Post's logistics park near Station A7 and plans to develop it into a cross-border e-commerce and logistics center slated to be completed in the first half of 2022, open for trial use in the second half, and fully open in 2023 by the latest. The logistics performance is expected to be doubled after the opening.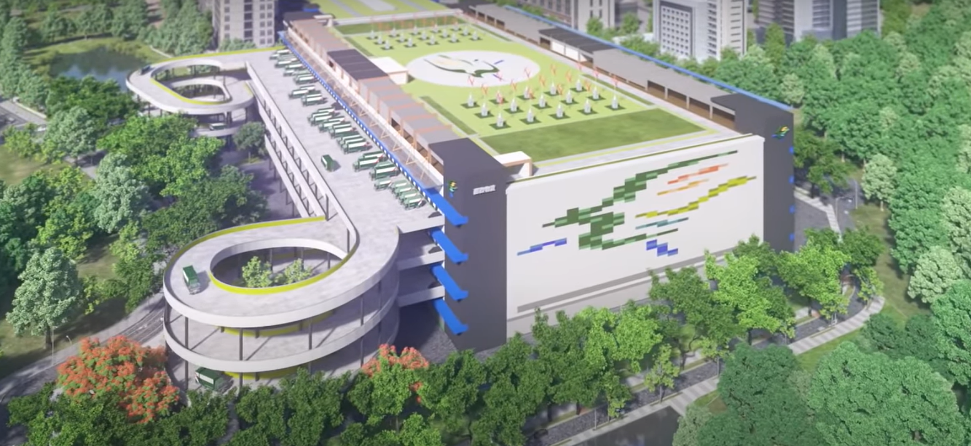 Artist's impression of the smart logistics center (Source: Chunghwa Post)

Training program for nurturing smart logistics talent
In view of the launch of the highly automated warehouse in the smart logistics center, and to prevent the replacement of the workforce stationed at the current warehouses, PChome has organized human resources transformation measures and training programs for the workforce so employees can successfully perform high-quality tasks without losing their positions as a result of automation. This will improve the process quality and stabilize the reliability of consumers' shopping experiences. In addition, the workforce could switch to new tasks in which employees create innovative shopping experiences for consumers. The planned PChome training programs include but are not restricted to the following:


Digitization of uniform invoices
In October 2005, PChome became the first commerce platform to digitize uniform invoices while also obtaining government approval. We actively encouraged consumers to embrace the use of digital invoices. In January 2018, we launched electronic invoices for business entities. Our digital invoice development goals are threefold: to increase the number of digital invoices issued to customers, reduce the number of physical invoices, and to fully adopt digital invoicing during vendor account checking. These measures in general help increase the popularization of digital invoices. In 2021, we saved over 14.9 million physical invoices and all vendor invoices have been fully converted to PDF files for download. In addition to effectively saving paper and protecting primary forests, this measure also decreases the cost of mailing invoices, thereby reducing carbon emissions from vehicles and conserving energy.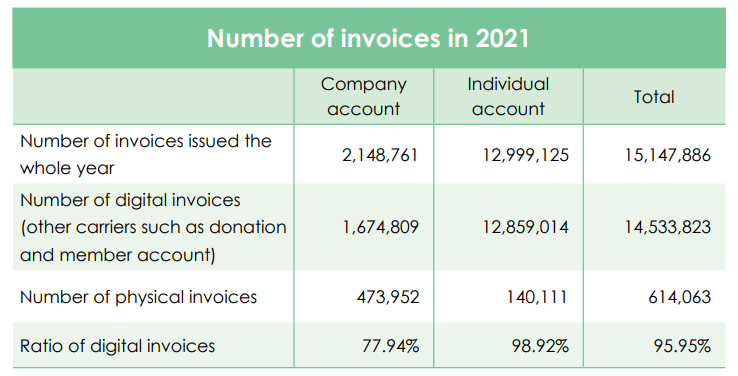 Paperless internal approval procedures
Since 2021, PChome has initiated a paperless internal approval workflow policy. By digitizing the approval procedures, we aim to reduce the printing costs and energy consumption of using paper, as well as to expedite approval procedures for all documents. We subsequently introduced a BPM electronic form approval software and an ERP electronic form approval solution, saving a total of 6,346 pieces of paper in December 2021. We expect to save 198,564 pieces of paper annually when approval solutions are subsequently installed in 2022.
Paperless internal approval procedures
Since 2021, PChome has initiated a paperless internal approval workflow policy. By digitizing the approval procedures, we aim to reduce the printing costs and energy consumption of using paper, as well as to expedite approval procedures for all documents. We subsequently introduced a BPM electronic form approval software and an ERP electronic form approval solution, saving a total of 6,346 pieces of paper in December 2021. We expect to save 198,564 pieces of paper annually when approval solutions are subsequently installed in 2022.
Lights off for one hour on Earth Day
Instead of only expressing interest during Earth Day, every day should be a day for loving our planet. In response to Earth Day 2021, we launched promotions for various eco-friendly products based on our slogan "Repair our Earth." We stand by engaging in eco-friendly measures with our customers for the sake of our planet. During this special day, in support of the initiative, PChome created a lights-off interactive activity on the homepages of our three major websites. When consumers entered the homepage on Earth Day, they could join PChome 24h Shopping's 1-hour lights-off activity by turning the homepage into greyscale so as to protect our Earth.