A Reliable Partner in the Workplace
Healthy and friendly workplace
Occupational safety and health management
Our talent is the cornerstone of our growth and the key determinant of our position as a leader in the e-commerce industry. To guarantee the safety and health of every employee at PChome, the Administrative Center presides over the Company's occupational safety and health matters. The Company also sets up an Occupational Safety and Health Office under the Logistics Center to handle the occupational safety and health matters in each warehouse. In addition to our strict compliance with the regulations of the Occupational Safety and Health Act, we also implement various occupational safety and health measures and devise relevant policies. We have thus far implemented four protection protocols: The Ergonomic Risk Management Program, Program on Preventing Overwork-Related Disorders, Program on Preventing Employee Workplace Violations, and Program on Maternity Health Protection. In terms of risk management and assessment, we have adopted the PDCA (plan–do– check–act) cycle as well as appropriate management approaches to establish a safe and secure work environment for all employees. In response to statute law revisions, we continuously implement and improve our internal management measures such as enhancing occupational safety and health (OSH) prevention measures and reducing the occurrence of OSH accidents, so as to achieve effective occupational safety and health management. We continue to create a safe and friendly workplace with the goal of achieving zero accidents.
Occupational safety and health organizational structure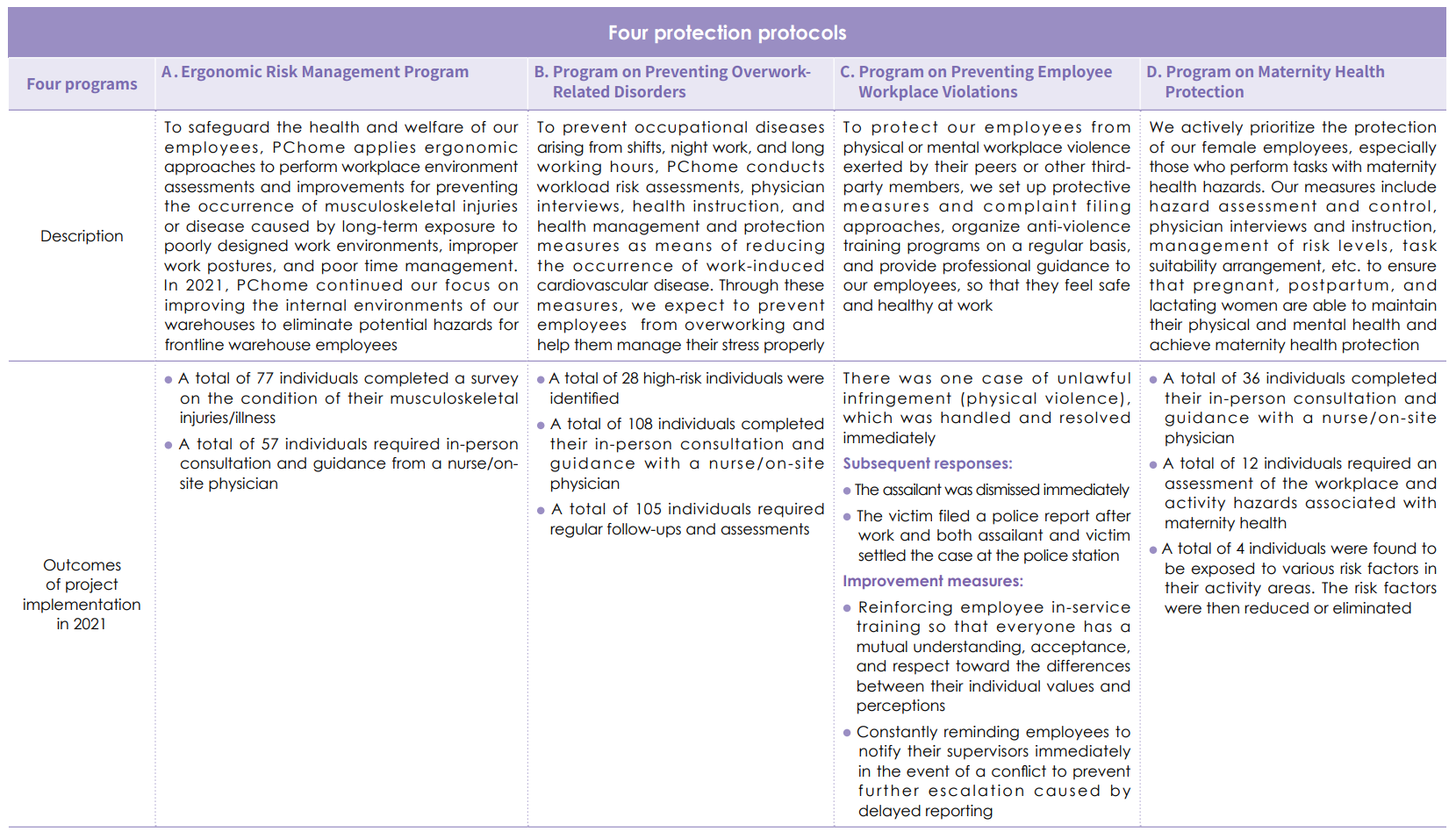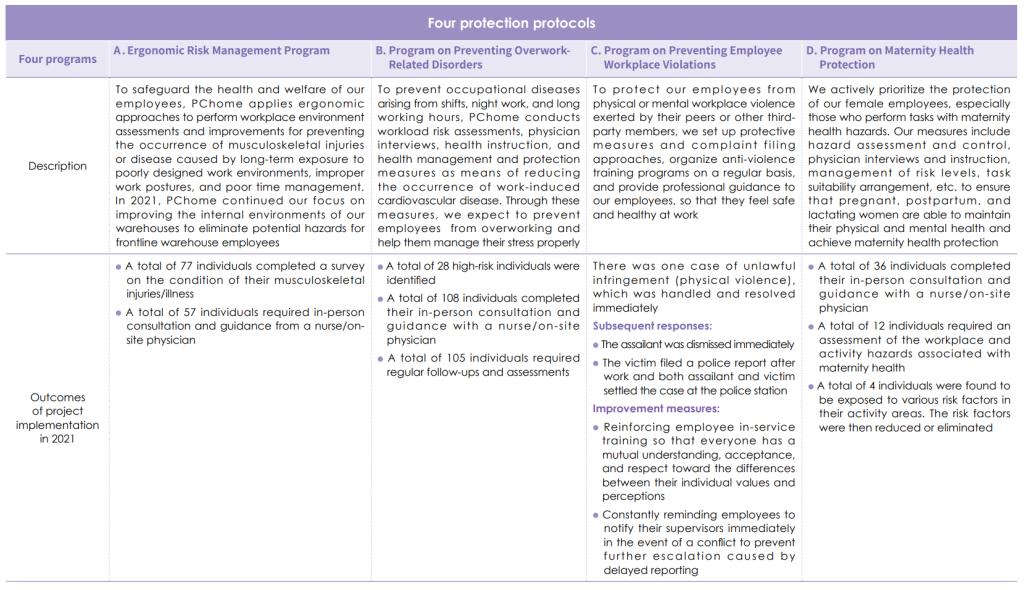 Epidemic prevention measures
To ensure that every employee has a safe and secure work environment while the COVID-19 pandemic continues unabated across the globe, PChome's management promptly initiated a mechanism comprising nine major precautionary measures for ensuring stable and continuous operations: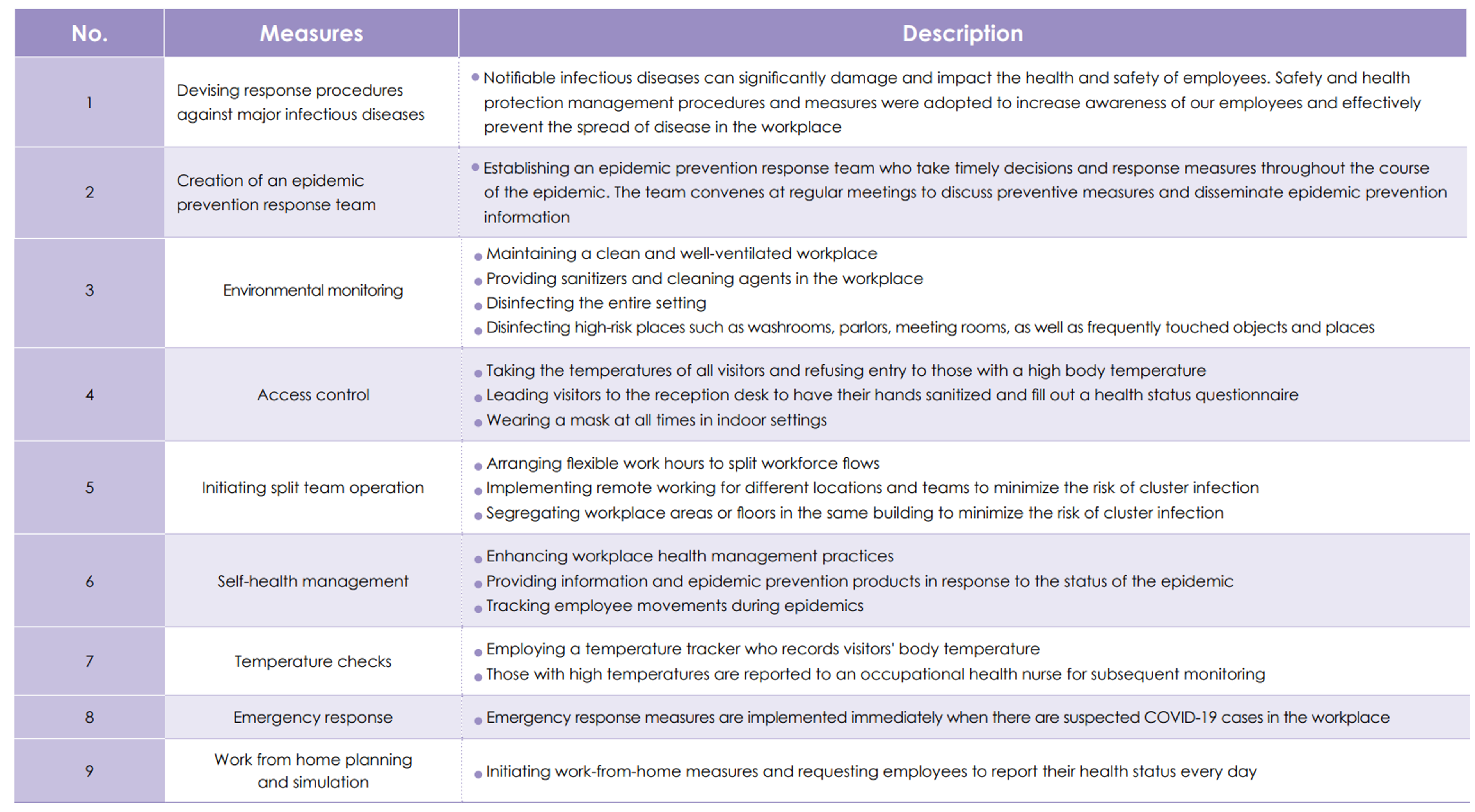 PChome continues to deliver to epidemic hotspots or hospital surroundings during tough times. In response to outbreaks, our warehouse and logistics teams immediately implemented split operations so that each logistics center does not engage in cross-region deliveries. Though this measure reduces shipment capacity, it lowers the risk of contact and safeguards product and consumer safety. In May 2021, we purchased vaccine insurance for all employees. To date, every logistics employee has been vaccinated and is requested to displayed a vaccination badge for safe and quick identification by consumers and other employees.

Safe and comfortable and workplace
PChome upholds our spirit of providing high quality services to customers. This spirit is also carried through in workplace safety and health, so that our employees can work in reliable and safe environments while engaging in value co-creation. To allow PChome employees to express their creativity to the fullest in a secure, comfortable, and healthy environment and thereby provide high quality and reliable services to consumers, we have made efforts to upgrade our office areas, rest areas, and medical facilities. Additionally, we continue to inspect and assess the potential safety risks at each activity area and develop improvement solutions in a timely manner. We have also installed first aid stations and AEDs and stationed medical professionals at our offices to safeguard employee health and prevent potential health emergencies. In light of the surge in demand for online shopping during the post-pandemic period, we have made numerous improvements to the traffic flow and work environments in our frontline warehouses. These measures ensure that warehouse employees can safely pick up the products ordered and deliver them to customers in a timely manner.
Comfortable work environment
Improvements to warehouse workplace environments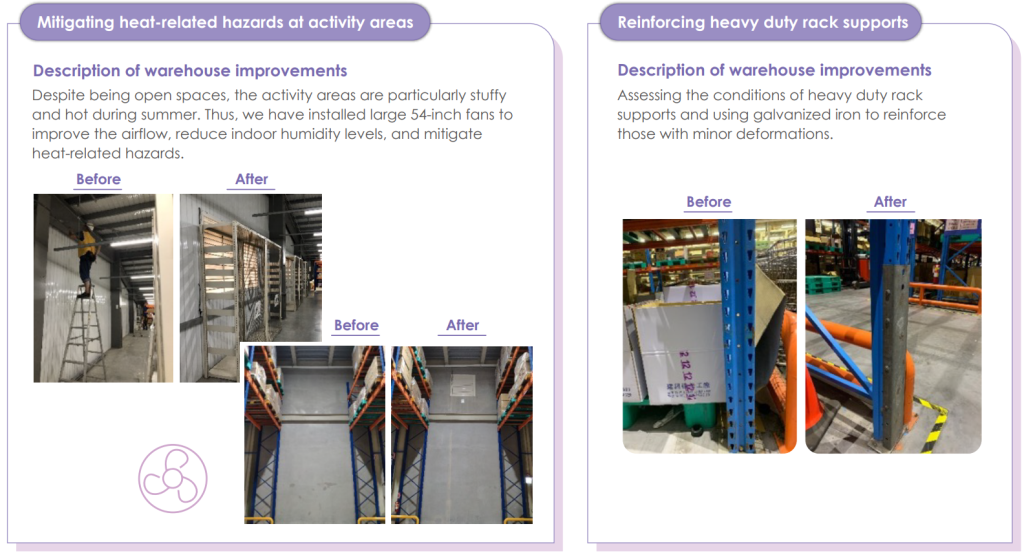 In-service training and routine campaigning
PChome organizes relevant in-service training programs on occupational safety and health (OSH), so as to enhance employees' level of awareness toward OSH and to improve their knowledge on the topic as well as the relevant prevention measures. Every year, we organize general and work task-specific OSH training programs for newcomers and in-service employees alike. For the latter, training programs regarding forklift operations in warehouses, safety precautions for powered pallet truck operations, logistics (PChome Express) driver safety, and prevention of heat-related hazards were provided to the relevant employees performing these tasks. To ensure that products are delivered safely to each consumer, PChome Express devised a driver safety manual for newcoming logistics drivers and provided in-service training that covers driver safety, service etiquette and sales pitch, and vehicle introduction and inspection. We also organize multiple driver safety meetings every year to remind logistics drivers about the importance of driving safely. PChome Express continued to organize driver safety meetings in 2021. The meetings aimed to instill correct driver safety awareness and practices and covered safe driving practices, defensive driving tips, liabilities associated with professional negligence, and presentations related to accidents. In addition, to strengthen preparedness in the case of potential fires and occupational hazards, we take a preemptive stance by providing regular in-service training programs including disaster drills, AED-use training, and CPR training.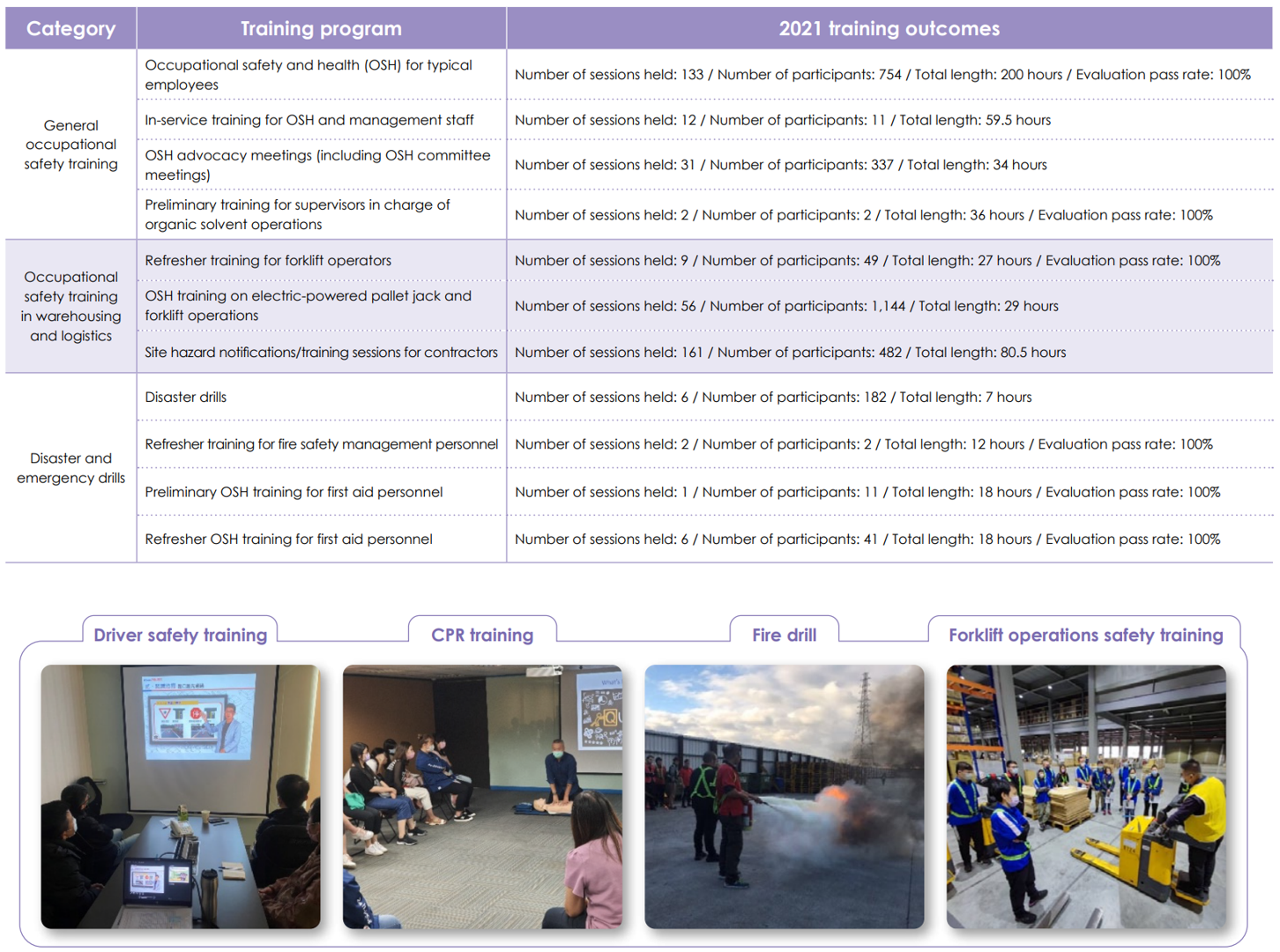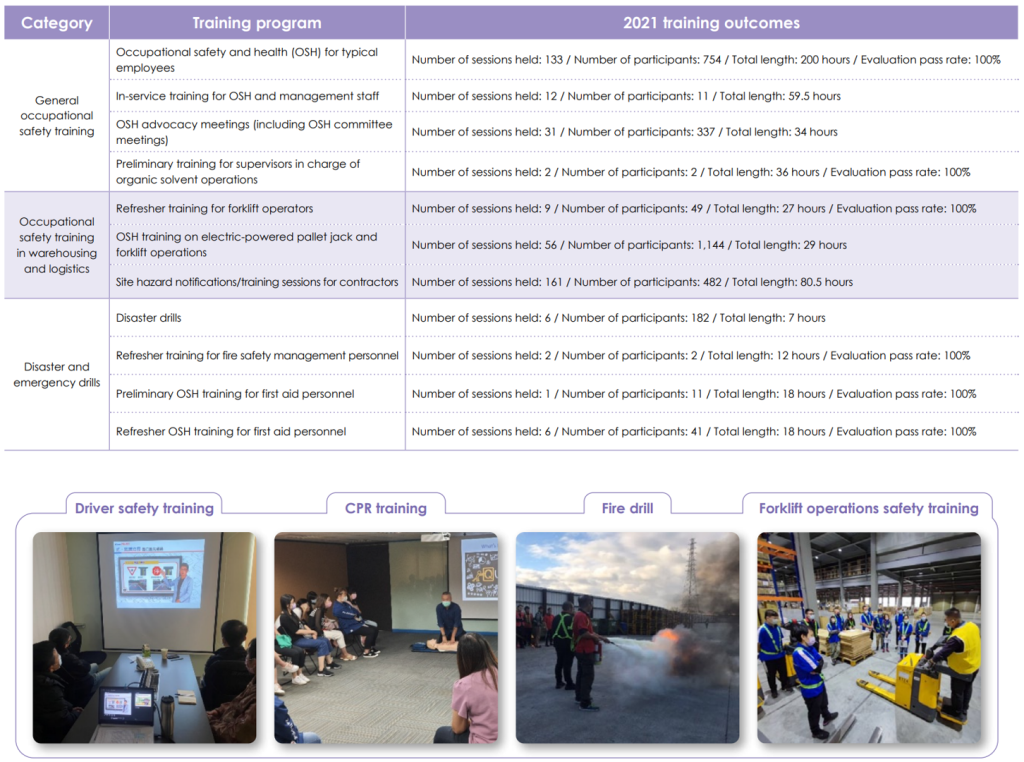 Occupational safety and injury preventio
Throughout the year, PChome conducts regular hazard identification and risk assessments of the work environment to enhance workplace safety and highlight and mitigate potential hazards and risks. The assessments in 2021 indicated that the hazards that could potentially cause harm or severe injury to our employees were mostly physical hazards associated with warehouse machinery operations. There were four recorded occupational injury events that occurred in 2021, which we swiftly clarified the reasons and proposed the mitigation measures. To prevent similar accidents from occurring, PChome subsequently made improvements to warehouse equipment such as enhancing the charging method of the pallet trucks, requesting that the vendor to strengthen machine inspections, and workflow optimization. PChome continues to assess and improve the work environment so as to ensure that our employees work in a safe and secure environment.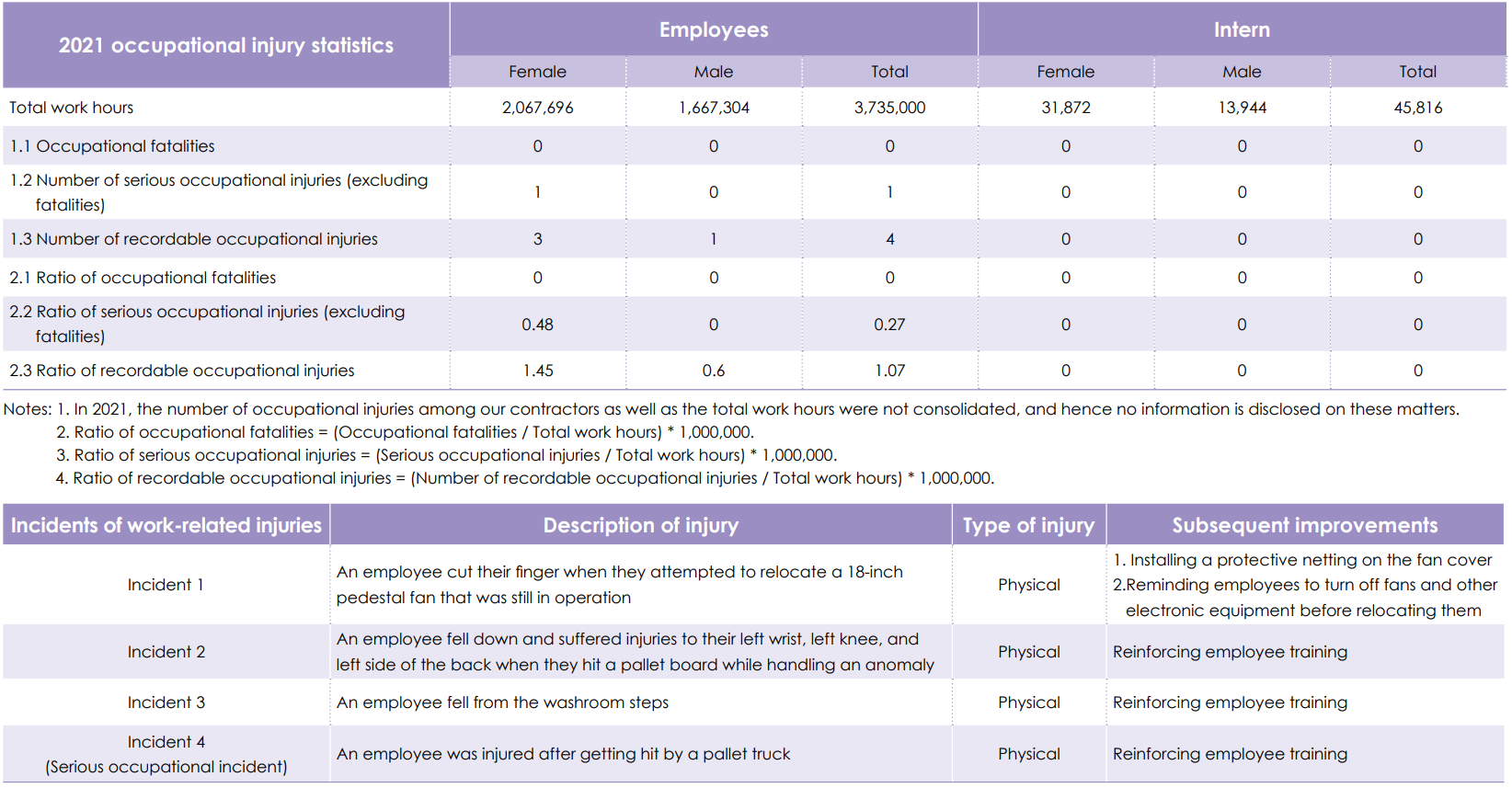 The surge in demand for online shopping and warehousing has not only expedited the scale of our logistics operations, but also resulted in several traffic violations and accidents. We actively attend to the reasons and liabilities with each violation and accident to prevent injuries to our employees. To enhance driver safety awareness, we reinforced our employee training and implemented key performance indicators (KPIs) of driver safety


Maternity health protection
Female employees comprise over half of the PChome workforce. To guarantee the rights of our female employees, we comply with the relevant regulations in the Act of Gender Equality in Employment and the Regulations for Implementing Unpaid Parental Leave for Raising Children. Female employees are given the opportunity to take unpaid leave to raise their children while retaining their position in the Company. This ensures that female employees have time to take care of their career and family during pregnancy.


PChome has a maternity protection policy that sets the standard for safeguarding maternity rights and assists employees in caring for their newborns. This allows our female employees to maintain their health and work-life balance during their pregnancy, postpartum, and lactation periods. Once a female employee becomes aware of her pregnancy, we provide a consultation session to inform her about maternity-related rights as well as guiding her on the completion of the Self-Rated Health Status Form for Pregnant and First-Year Postpartum Labors, which serves as a reference for subsequent recommendations on health guidance, management, and hazard control. In addition, we perform hazard assessments at our workplaces to mitigate and eliminate potential hazards for pregnant employees. Medical experts are also recruited to help these employees cope with complicated feelings and physical discomfort during pregnancy. To create breastfeeding-friendly workplace settings, we have set up lactation rooms in our offices. Our lactation rooms have been certified as excellent by the Taipei City Government Department of Health. Going forward, we will continue to attend to the maternity needs of and suggestions from our employees by inspecting and revising the relevant measures to improve our maternity health protection program.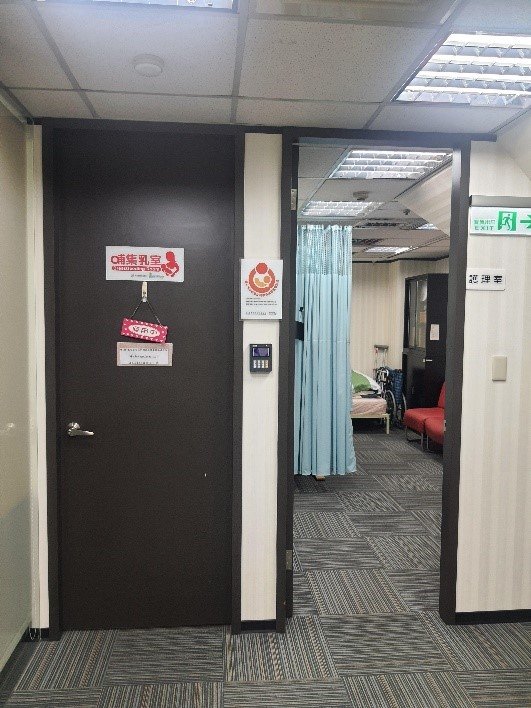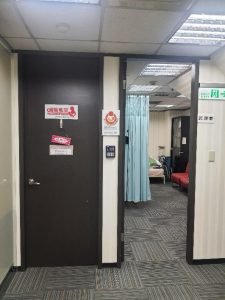 Lactation room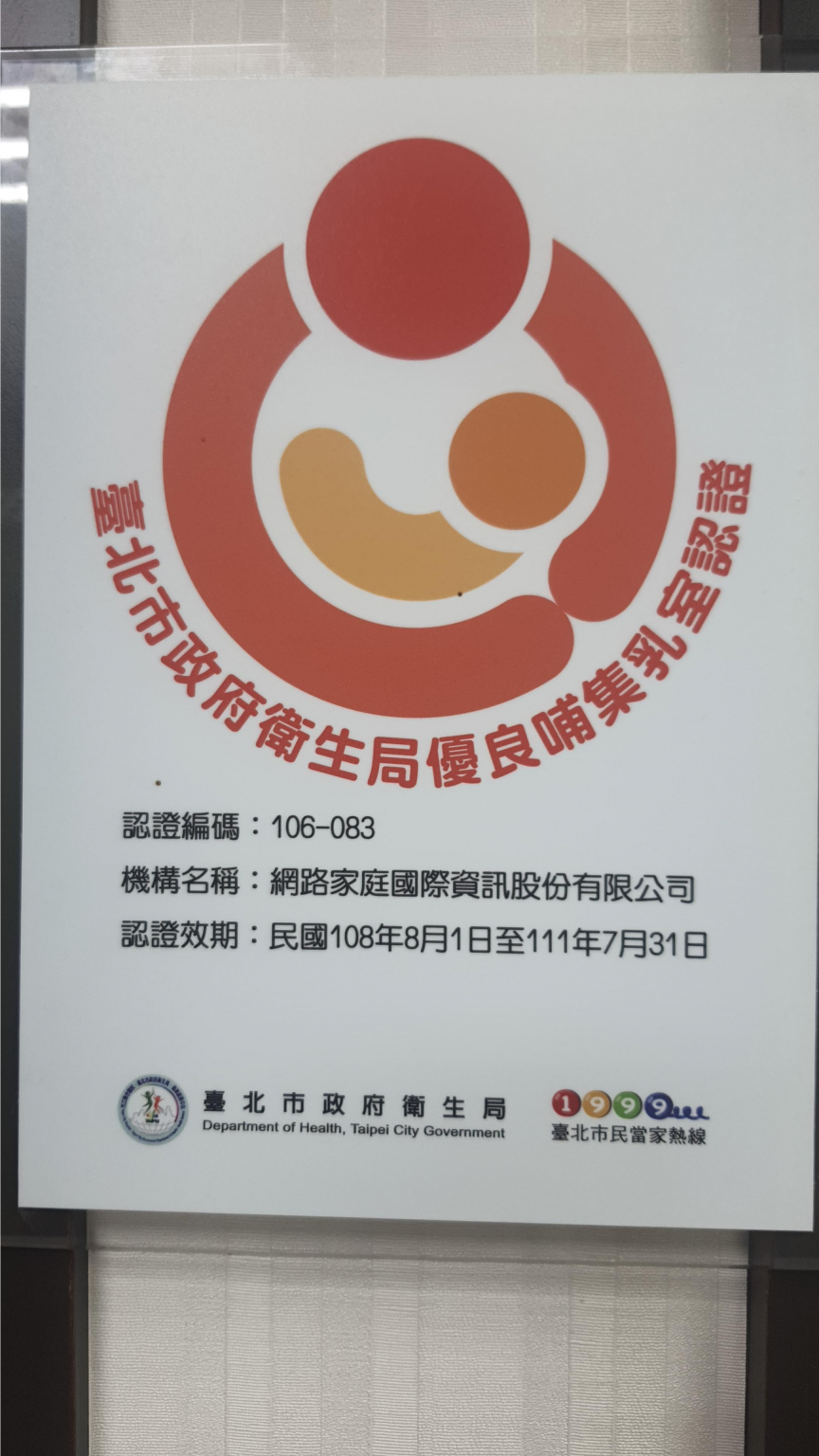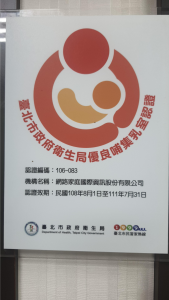 Department of Health, Taipei City Government Certification of Excellent Lactation Room
LOHAS practices in the workplace
Due to work and non-work related stress, people nowadays often overlook the importance of healthy eating as well as physical and mental health. As a consequence, they unknowingly put themselves at risk of developing diseases. PChome highly values the physical and mental wellbeing of every employee. To this end, the company subsidizes employee health checkup fees, provides paid leave for health checkups, and has designed a series of lectures and training courses on health. The courses cover a wide range of topics including healthy eating, healthy exercise, good mental health, etc. To gauge the success of these training courses, participants complete post-training satisfaction surveys to ensure that each course meets the health-related needs of our employees. These annual health courses are also held to encourage a reduction in our employees' stress and fatigue and assist them in maintaining a healthy work-life balance.
Healthy living–Physical exercise and stress relief-themed courses
These themed courses in 2021 were tailored to the interests and health needs of our employees based on their feedback on the courses in 2020. Professional sports coaches were recruited to increase the health literacy of employees through theoretical and practical courses, which also add diversity to the course contents
Total course length: 10 hours
Total number of participating employees: 41
Participation rate: 70.24%
Healthy mindset―Supervisor sensitivity: How to identify distressed and highly stressed employees
In 2021, we collaborated with Central Hill Counseling Center to organize a series of lectures on mental health in the workplace. A clinical psychologist from the counseling center provided the lecture to improve supervisors' awareness of their subordinates' feelings
otal course length: 4 hours
Total number of participating employees: 93
Participation rate: 90%, 88%
Healthy mindset―Employee care and emotional support
In 2021, we collaborated with Central Hill Counseling Center to organize a series of lectures on mental health in the workplace. A clinical psychologist from the center provided the lecture to improve supervisors' concern toward their subordinates and competency in providing emotional support
Total course length: 4 hours
Total number of participating employees: 96
Participation rate: 96.08%, 87.04%
Healthy mindset―First lesson in emotional regulation: Emotional awareness
In 2021, we collaborated with Central Hill Counseling Center to organize a series of lectures on mental health in the workplace. A clinical psychologist from the center provided the lecture to help employees relieve their stress in a healthy manner
Total course length: 2 hours
Total number of participating employees: 32
Participation rate: 80%
Healthy living―In-service training on occupational safety and nursing: Assessment and prevention of workrelated soreness among employee
In 2021, we organized a course on the assessment and prevention of workrelated soreness among employees. The course was given by Dr. Yen-Ping Kung and aimed to enhance occupational nurses' knowledge of occupational safety and nursing, such that they are able to provide relevant measures to safeguard the health of our employees
otal course length: 2.5 hours
Number of participating employees: 8
Participation rate: 100%