A Sincere Partner in Governance
PChome is a well-known e-commerce platform in Taiwan, and serves as an important bridge between companies, products, and consumers. We are actively strengthening relationships with business partners and continue to strengthen supplier management to ensure product quality, in hopes of stably providing safe and reliable products to consumers.
PChome emphasizes the development of long-term cooperative relationships with every supplier. Our internal rules and regulations clearly state that every member of our sales force should engage in professional interactions and communication with our suppliers while building long-term and reliable business relationships with them. To facilitate this, we have established an internal management code and procedure. Our supplier management framework consists of the following seven key elements.
1. Irregular Factory Visits
Inspections are irregularly scheduled to inspect the safety measures of suppliers and check whether the quality of their products is in line with the Company's product inspection requirements and quality guidelines.
2. Protecting Intellectual Property Rights
Suppliers must comply with intellectual property regulations and ensure that their information and documentation are legally compliant.
3. Product Inspection License
For a product with online trade restrictions, a supplier must first send the product for examination on their own, obtain a license, and submit it for our review before the product can be listed on PChome. The supplier's license shall be listed alongside the product.
4. Food Labeling Enforcement
In line with the Act Governing Food Safety and Sanitation and the Enforcement Rules of the Act Governing Food Safety and Sanitation, all suppliers of food products are required to clearly label their products with relevant information and must pass our review before the products are sold online.
5. Prohibiting Unjust Enrichment
A salesperson and a supplier must not directly or indirectly provide and accept bribes, commissions, rebates, kickbacks, other gifts, or unjust enrichment.
Suppliers must comply with the Personal Data Protection Act by implementing strict customer data privacy measures and are prohibited from collecting, processing, and using customer data without permission and from siphoning data to third parties.
7. Product Liability Insurance
All products should have product liability coverage based on their properties to guarantee the rights of consumers.
Supplier Evaluation and Appraisal Mechanisms
To ensure it meets its own quality standards, PChome conducts documentary reviews of suppliers and performs onsite evaluations as necessary. We irregularly check suppliers' operations by various methods (e.g. phone and email). We consider suppliers to be important stakeholders and maintain close contact with suppliers. Supplier reviews were difficult due the COVID-19 pandemic in 2020 to 2022, and the number of new suppliers reviewed decreased as a result. However, PChome still insisted on reviewing 100% of new suppliers.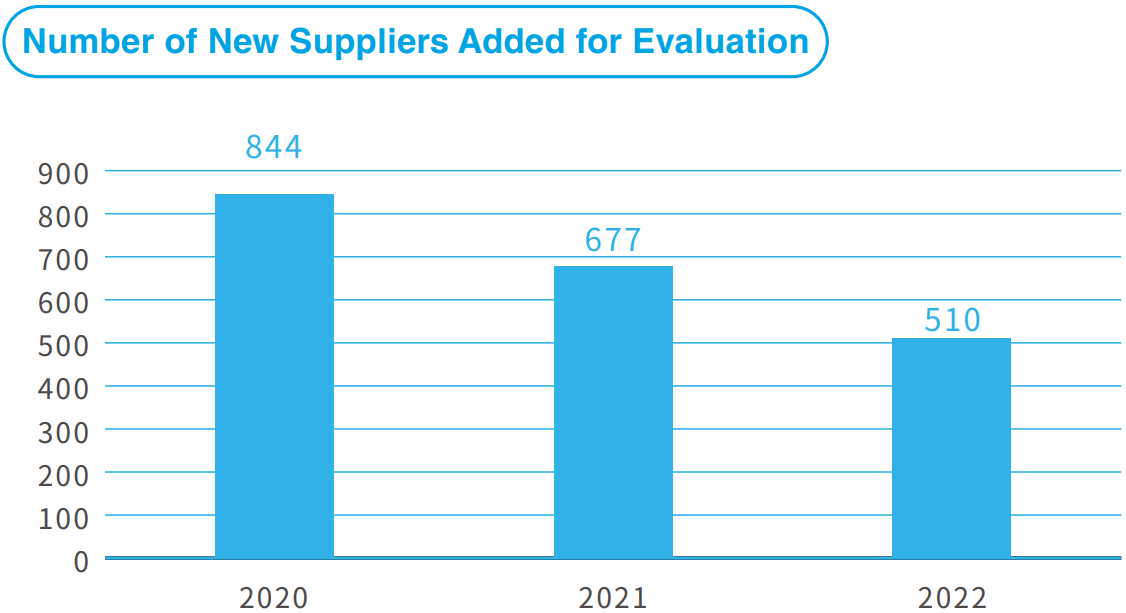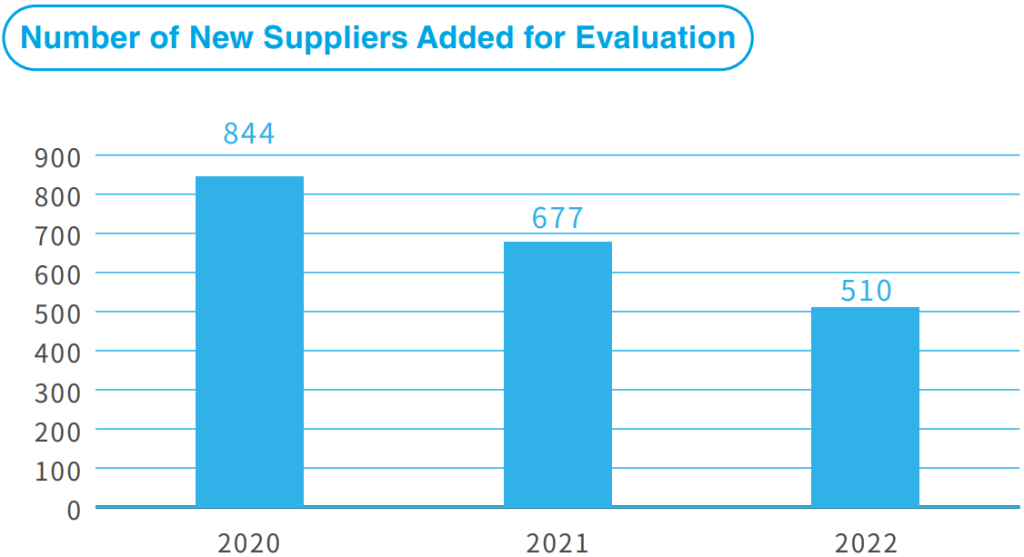 In addition, PChome aspires to achieve corporate sustainability through supplier collaboration. We plan to include sustainability performance into the supplier self-evaluation form, which evaluates suppliers' sustainability in terms of environment, society, and corporate governance. The results serve as a basis in the future for choosing top-performing suppliers and ensuring suppliers cooperate with PChome in the long run.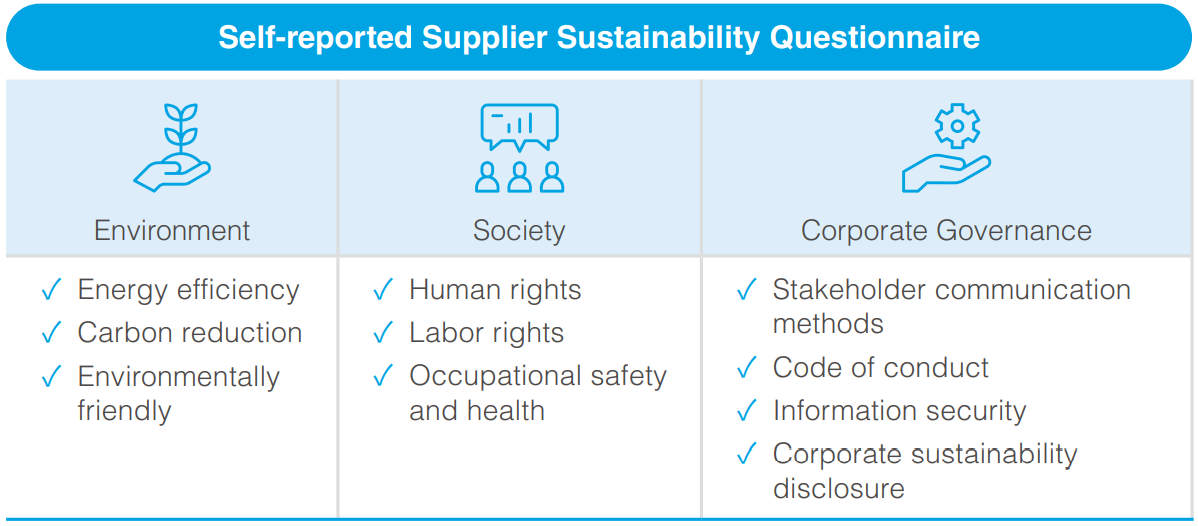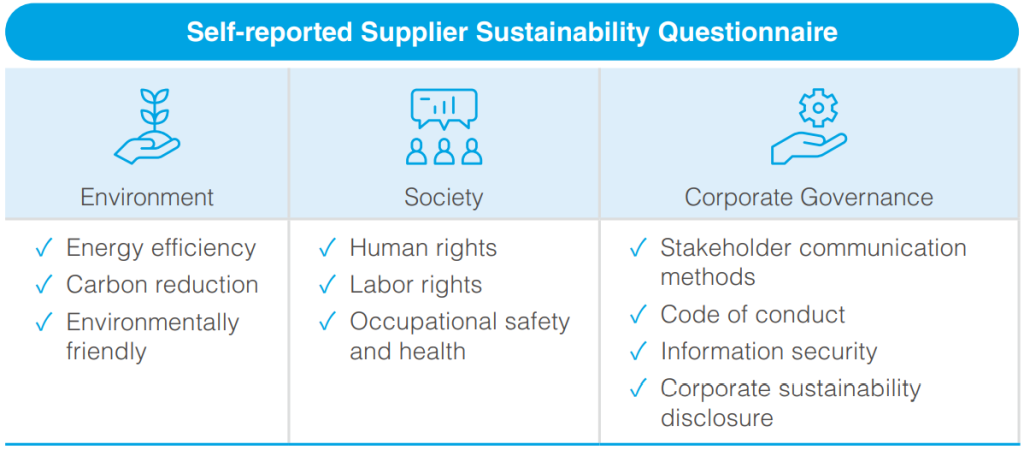 Plans for Enhancing Supplier Management
To enhance long-term cooperation and trustworthy relations with suppliers, PChome in 2021 introduced a cooperating vendor evaluation scheme in which such elements as the product information, sales, import/export status, operating capacity, and level of legal compliance are evaluated to manage supplier risks and publicly recognize top-performing suppliers. In addition, PChome publicly awards vendors for their excellent performance in these areas every year. We expect that this mechanism will propel our value chain partners and us toward sustainable operations and maximize the value for stakeholders.
Proportion of Spending on Local Suppliers
PChome values local brands of Taiwan and actively develops local suppliers, in hopes of using the platform's capabilities to increase the visibility of local enterprises, indirectly increase employment opportunities, and drive socioeconomic development, delivering high quality local products and services to consumers. PChome's local procurement ratio has surpassed 99% for three consecutive years, and shows our efforts to support local companies.