A Reliable Partner in the Workplace
Human resource recruitment and development
Diverse recruitment approaches
Our talent is our most valuable asset. It is also the key to providing better shopping experiences for our consumers and improving the efficiency of our internal services. PChome continues to attract talented people from various domains to our workforce. In 2021, we launched an internship program at more than 20 local universities of science and technology that covers three themes: Summer, Industry-academia, and workplace experience. In addition to the internship opportunities available in our e-commerce, marketing, public relations, human resources, warehousing, and investment departments and business groups, we also debuted 80 internship opportunities at our technology, portal site, payment, and logistics centers and business groups. These internship opportunities enable talented young people to experience the limitless possibilities of e-commerce, leverage their strengths to the fullest, and make innovative contributions. By using diverse recruitment approaches, we expect to attract determined and passionate people into the team and enhance the quality of our e-commerce services.
Industry-academia collaboration and internships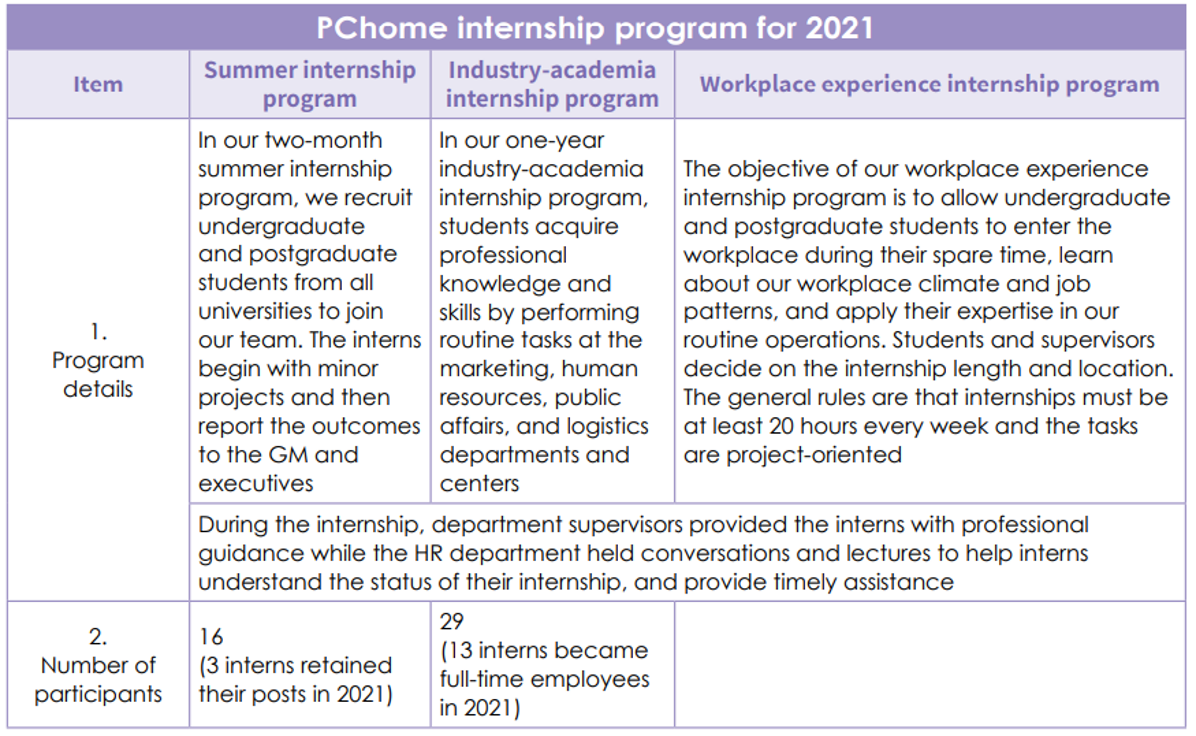 At PChome, you can
1.Dare to innovate and dream
2.Create self-value and give back to society
3.Outstanding performers get the chance to transform their lives. Break the stereotype of not getting employed upon graduation
4.Be an e-commerce expert by getting in touch with the industry before others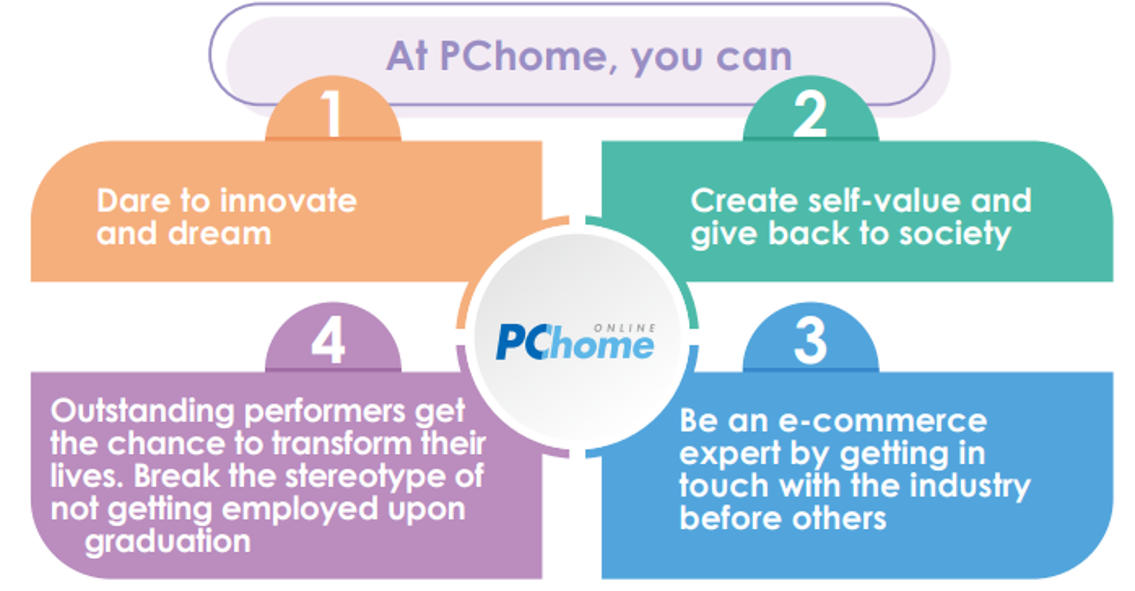 Open and transparent recruitment methods
PChome's corporate culture is to promote an employee DNA characterized by entrepreneurship,bold innovation, and value creation. In light of our desire for talent development, PChome continues to recruit individuals who are skilled in IT development, product marketing, video editing, marketing planning, big data analysis, operations management, and logistics management. We welcome π-shaped talents with enthusiasm for e-commerce and who are competent in multidisciplinary learning and self-improvement to join our quest of becoming a better local e-commerce platform and elevate the PChome brand.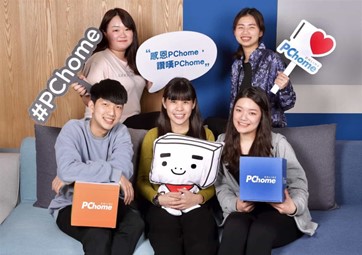 Talent development blueprint
In addition to recruiting talented people from various disciplines, PChome also has a well-defined policy for subsequent professional training and employees career planning. PChome adopts a dual-track system for career development blueprints that takes into account employees' tenure, performance, and willingness. We provide progressive professional training programs to help our employees better understand their career prospects. At PChome, we adopt a three-tier competence development scheme to ensure that every member of the PChome family is able to utilize their professional competence and value to the fullest. The scheme is progressive and starts at developing PChomer competency, followed by job and core competence, and then advancing to business and leadership competence. By completing all three stages, employees develop the five main competencies prerequisite in every PChomer, and become outstanding talents who are well-versed in professional judgment and managerial practice.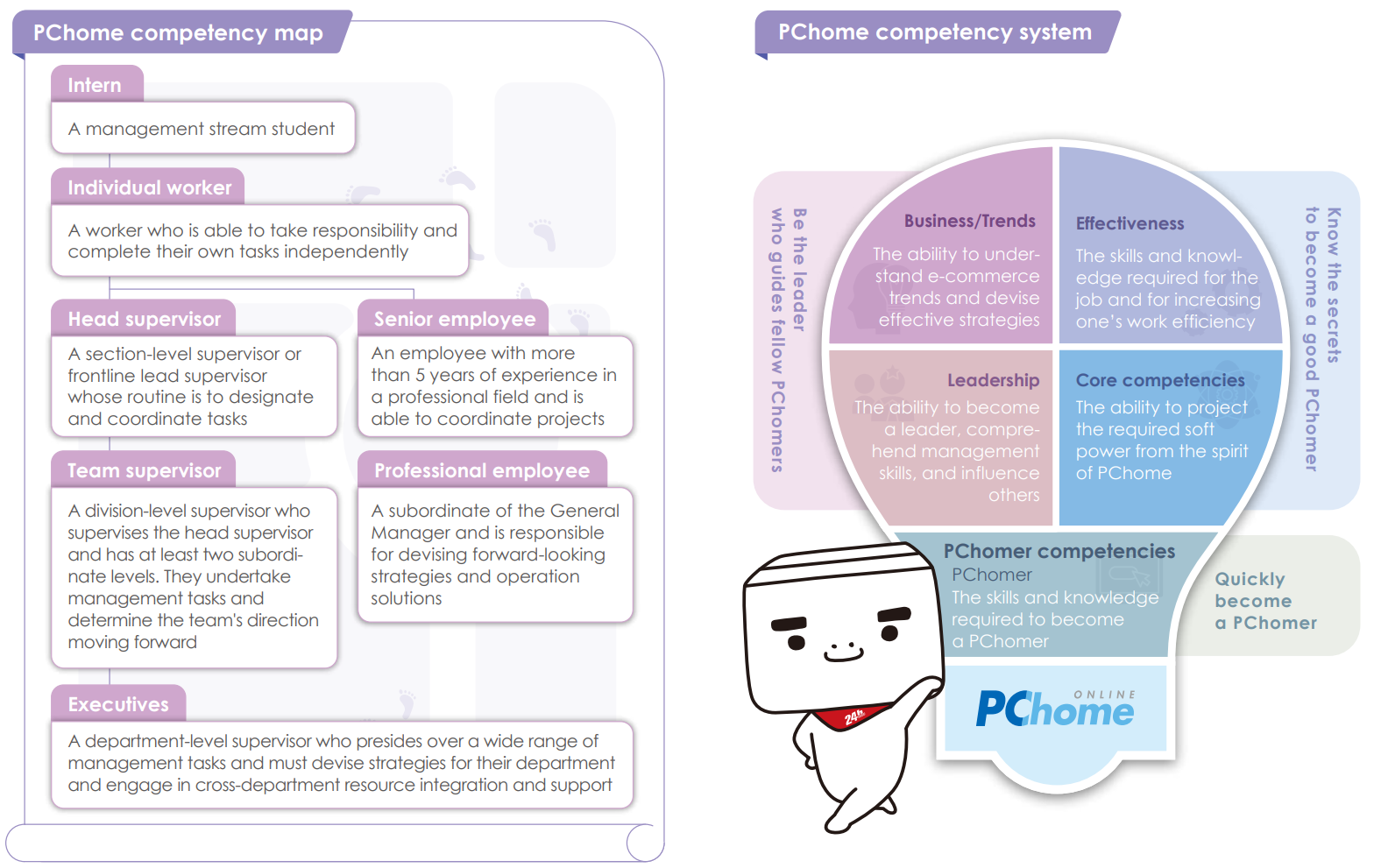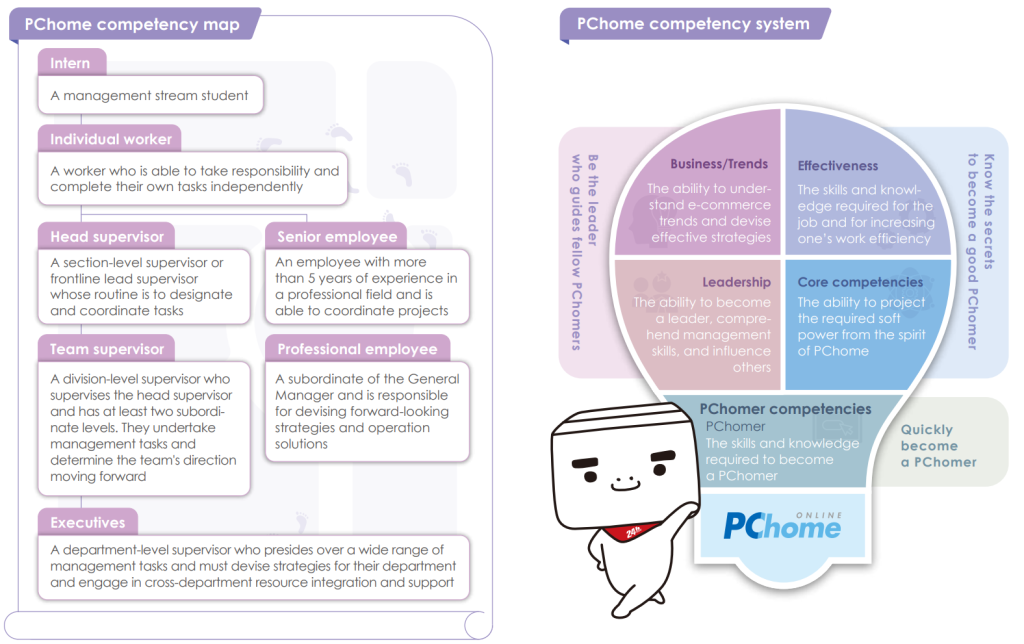 In response to post-pandemic business transformations, as well as long-term forays into foreign markets, PChome dedicates itself to comprehensively enhancing its own and employees' industrial competitiveness. To this end, our training system involves newcomer orientation training, basic in-service training, professional in-service training, external training programs, and other learning resources. This system enables our employees to gain the correct knowledge, concepts, and skills required for the job, and to adapt to rapid market changes and challenges. In response to the pandemic, we employed flexible and diverse online or mixed (online/in-person) methods to promote various training activities or talent development programs. By progressively completing various training programs throughout their career, every PChomer can achieve self-growth and sustain their competitiveness in the ever-changing e-commerce market.
Newcomer orientation training
On their first day, all newcomers receive a half-day orientation training session to help equip them in becoming a member of the PChome family. The training session introduces them to the organizational structure and workplace, the web and information systems, describes occupational safety and health items as well as the fringe  and incentives for continuing education. We actively instill our corporate culture and core values in every newcomer so they contribute to PChome's position as the most reliable e-commerce brand in Taiwan. 595 newcomers completed their orientation training in 2021.
Basic in-service training
In addition to providing a wide range of career options for our employees, PChome also provides basic in-service training programs that are tailored to different job responsibilities. This way, every newcomer PChomer can quickly understand their tasks and shorten the onboarding process. Furthermore, we organize regular in-service training programs to ensure that our employees are well-versed in the processes associated with the task at hand and continue to maintain their diligence at work. In addition to keeping tabs on our internal performance, PChome also highly values the safety of our warehouse and logistics personnel. To this end, we have established and continuously improved our workplace safety policies and protocols, and provide training programs to strengthen employees safety awareness. These measures ensure that they are able to safely complete every task.
Professional in-service training and external training
Apart from the regular in-service training programs, PChome also encourages our employees to engage in external training programs so they can strengthen their professional capabilities and acquire new knowledge through external exchanges and interactions. Our internal and external training programs encompass a wide range of themes. In line with the rising popularity of e-commerce big data and information security in course design, PChome has arranged various information-related training programs such as program application, information security, and patent-related knowledge for our employees. These programs thoroughly enhance our employees' appropriate use of information technology, their awareness toward information security protection, and their understanding of the latest trends in these fields. In light of the local COVID-19 outbreak in 2021, we moved most of our in-service training programs online so as to safeguard the health of our employees, reduce necessary contact, and promote their growth.
Statistics on the length of in-service training undertaken by PChome employees