A Green Partner for the Environment

Green operations management
Environmental management policy and framework
In addition to promoting environmental protection for external entities, PChome is dedicated to green operations management by adhering to eco-friendly principles. The CEO Office devises a clear and defined environmental management framework along with its relevant policies, which are implemented by each subordinate department under the guidance of the Administrative Center. At PChome, we construct appropriate environmental management systems by adhering to industry-specific environmental management regulations while continuously implementing energy-efficient and low-carbon solutions. For example, energy-efficient lighting has been installed throughout our warehouses, recyclables are sorted and reused in order to reduce waste, a fixed weekly recycling schedule is devised, and eco-friendly concepts are instilled in our employees. At PChome, we feel it is our duty to help protect our planet.
As PChome is fully aware of the impacts of energy consumption on climate change, we have constantly reviewed and revised our energy use over the years by promoting carbon management-related measures. By calculating the exact amount of carbon and greenhouse gases produced, we can devise improvement strategies and achieve carbon emission reduction goals. To showcase our dedication toward environmental protection and to reduce the impacts of our operations in contributing to climate change, we have taken measures such as replacing traditional lighting with LED lights and automatic light sensors. Our operations' main sources of electricity consumption are lighting and air-conditioning at our warehouses, as well as fuel consumption in logistics vehicles. Our overall fuel consumption levels in 2021 were higher than those in 2020 due to increased deliveries and distances following the opening of our Taoyuan, Taichung, and Tainan logistics centers. Additionally, because our offices are rented inside a building, the electricity consumption data that follows does not factor in these offices.
Energy use status from 2019 to 2021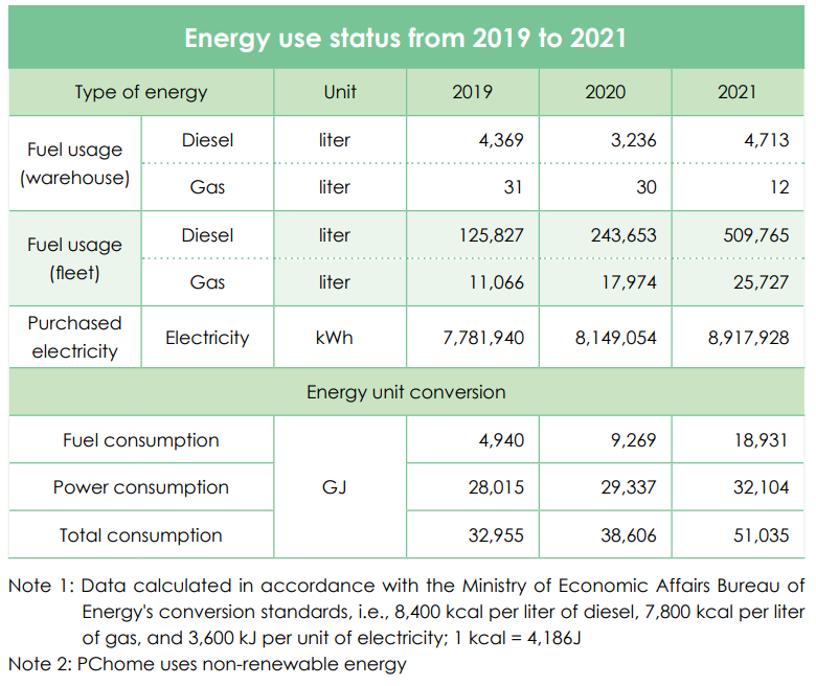 Carbon emissions from various sources from 2019 to 2021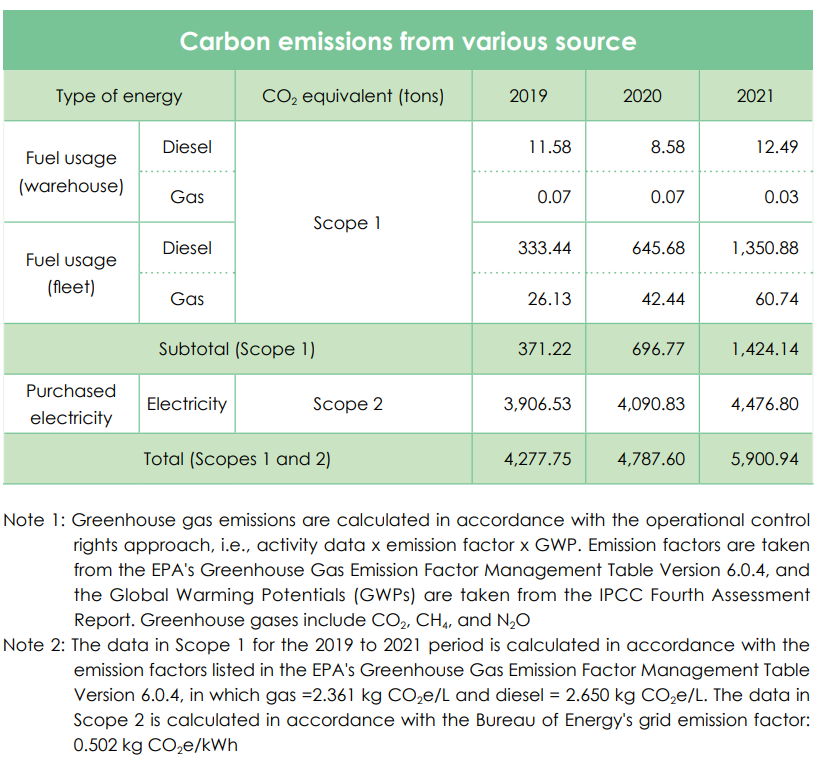 Water resources management
Water is life, especially in today's society where it plays many indispensable roles. Even though Taiwan receives copious amounts of rainfall every year, most of it becomes runoff in rivers. Drought occurs when rainfall is distributed unequally and the catchment areas of reservoirs do not receive enough water. PChome warehouses are located in Taoyuan City and rely on water distributed from the Shimen Reservoir. Even though this region is not at a high risk of water shortage, Taiwan has been facing drought issues due to decreased rainfall over the past few years, thus increasing public awareness around saving water resources.

The global consensus on waste reduction is to improve resource utilization and promote the development of a circular economy. Marine pollution is an issue of global concern. While advocating for a reduction in plastic use in Taiwan, PChome continues to promote recycling and reuse of resources. As an online platform, PChome's resource utilization is fairly simple as we do not generate toxic substances, according to EPA regulations on waste. PChome outsources its general waste disposal operations and the total amount of general waste incinerated in 2021 was estimated to be 108.2 tons. The amount of recycled general waste was estimated to be 1,341 tons. This means the recycling rate of the total amount of general waste produced in 2021 (1,449.2 tons) was 92.5%. In terms of sorting recyclables, statistics show that PChome has increased all types of recyclables over the last four years. We expect to achieve effective waste management through concurrent waste reduction and resource recycling and reuse, as well as to instill resource recycling habits into every member of the PChome family.