A Caring Partner in Society
United Against The Pandemic
The COVID-19 pandemic has unleashed an unprecedented impact on our lives. PChome 24h Shopping provides an online platform for citizens to purchase epidemic prevention supplies. By harnessing the power of web media and joining forces with the arts, cultural, and athletic sectors, we have produced videos and promotional content for members of the public to help empower frontline medical workers.
Serving on the frontline of customer service, PChome 24h Shopping has no room for sloppiness. In addition to strictly complying with epidemic prevention SOPs to safeguard logistics drivers and customers, we also successfully launched online activities amid the expanding uncertainty of the pandemic. PChome 24h Shopping has a special webpage dedicated to a wide selection of epidemic prevention products for consumers staying at home. Our robust tracking and monitoring system also provides notification to consumers once a product has been restocked, which is an effortless and secure way of guaranteeing their safety. PChome 24h Shopping also disseminates epidemic prevention information on social media to increase public awareness. By joining hands with the government, we ensure that our policies and plans are implemented quickly and comprehensively.
My wish would be to have PChome continue to deliver necessities when society stops functioning.
For every detail, every item that someone would use in life,
I hope that we are able to build up that service system bit by bit.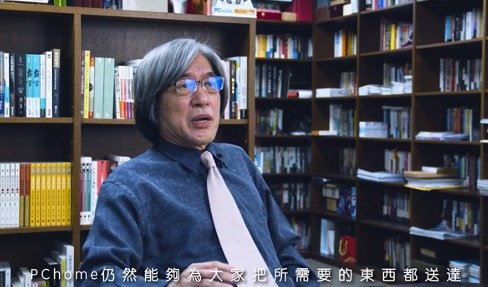 Hung-Tze Jan , Chairman of PChome Online Inc.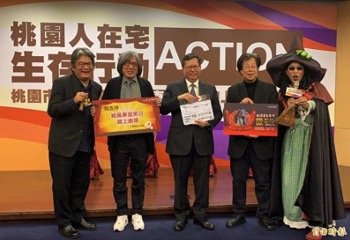 Taoyuan Stay at Home ACTION (Paper Windmill Returns to Laughter) program
As a result of the COVID-19 pandemic, many arts and culture performances were either canceled or postponed, which harshly impacted the livelihood of arts and culture workers. The "Paper Windmill Returns to Laughter" online activity organized by the Paper Windmill Theater Troupe was well-received by Taoyuan City Mayor Cheng Wen-Tsan, and PChome was also invited as a digital media partner. The activity features one-minute clips produced by arts and culture workers broadcasted on PChome platforms, and Taoyuan citizens could join the fun and support the workers by submitting their own works.
The videos received a lot of views. This activity is not only a new means of stress relief for theater troupe workers and audiences, but also a testament to Taiwan's mighty web application capabilities, as proven by PChome's sufficient bandwidth and algorithm support. The activity also promotes the Name-Based Mask Distribution System 2.0 as a protective effort against the pandemic.
PChome's Epidemic prevention posts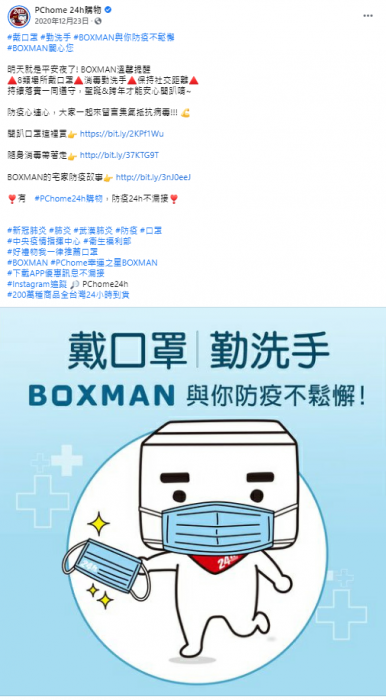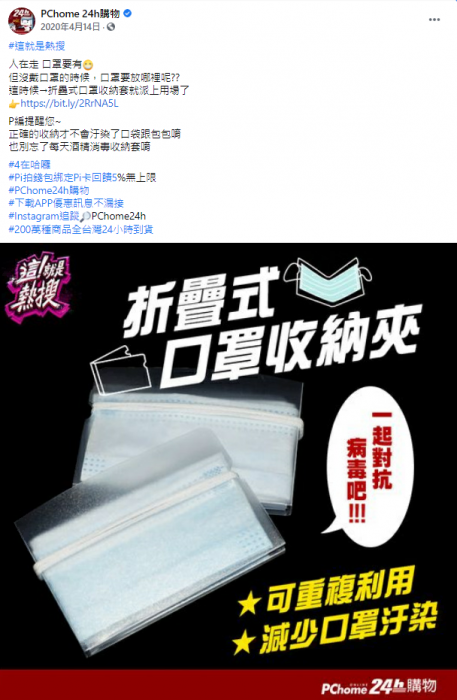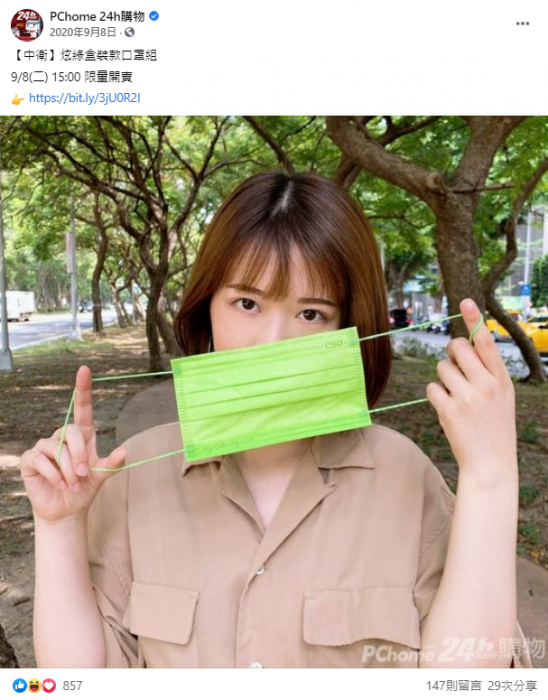 PChome 24h Shopping combines six major service platforms and launches the "Taoyuan No Hassle Leisure Pack." A single pack can meet the needs of citizens who are undergoing self-isolation.
As the COVID-19 pandemic rages on, inbound visitors to Taiwan must undergo a 14-day quarantine period as a measure for safeguarding the health of citizens. In light of the inconvenience experienced by quarantined individuals, PChome 24h Shopping joined hands with Taoyuan City Government and launched the "Taoyuan No Hassle Leisure Pack." By combining six major service platforms, we also implemented the "Stay at Home with You" activity centered on safe purchasing, learning, and payment. A wide range of promotions were offered to meet the shopping needs of at-home residents, allowing them to replenish their stocks and undergo self-health management in a safe and convenient manner.
Providing epidemic prevention aid overseas
Malaysia: Epidemic prevention knows no boundaries, PChome 24h Shopping joined hands with Taiwan Champ ship orders of adult and children medical mask combos directly to Malaysia
Over the last decade, PChome Global has always provided various international shopping services, with good-luck charms, maternity and baby products, home appliances, and electronics being the top 4 bestselling item categories. As part of a shopping experience without any time difference, orders can be shipped directly to Malaysia. Taiwanese products are known for good quality, affordable prices, and great for one's money's worth. A further look at the online sales trend indicates that Malaysian consumers favor quality products at affordable prices, such as small appliances and computer accessories. Consumers are also very receptive toward Taiwan-made maternity and baby products, which are made of safe and durable materials.
Moreover, as the danger of the pandemic is far from over, face masks are still very much high in demand. In an online-exclusive collaboration, PChome Global and Taiwan Champ launched an adult and children medical mask combo that especially for overseas consumers. In addition to Malaysia, PChome Global also ships directly to more than a hundred countries and regions worldwide. We are committed to delivering safe and excellent products as we join the fight against the pandemic.
Thailand: As requested by the Taipei Economic and Culture Office in Thailand, PChome sets up a "Thailand-Exclusive Taiwan-Made Epidemic Prevention Products" webpage
Per the emergency orders stipulated by Thai authorities, many malls and restaurants have shuttered, and locals spend less time outdoors. In response to requests from the Taipei Economic and Culture Office in Thailand, PChome Thai set up "Thailand-Exclusive Taiwan-Made Epidemic Prevention Products" webpage to help Taiwanese stranded overseas in purchasing epidemic prevention products and basic necessities. The Chinese language interface of the webpage, combined with local payment methods and free shipping to Thailand, break the boundaries of international e-commerce and display our efforts in epidemic prevention. By setting up the webpage, PChome Thai expects to assist Taiwanese in Thailand in purchasing epidemic prevention products as well as familiar homegrown goods, thereby expressing our concern toward their well-being in dire times.
Sowing Positivity through Epidemic Prevention—Charity Auction
Taiwan is a global exemplar of epidemic prevention. To express gratitude to frontline medical workers, PChome launched a charity auction in collaboration with CTBC Brothers. At 12 noon every day from May 22 to 24, 2020, 2 "Elephant Warrior" baseball jerseys autographed by CTBC Brothers players were up for bidding online. The entire bidding process can be queried throughout the duration of the activity, and the highest bidder gets a jersey. All proceeds are donated to the Health Bureau of Taichung City Government for home quarantine uses. The "Elephant Warrior" jersey is CTBC Brothers' new uniform for the 2020 baseball season. Its Glorious Yellow and Steel Blue colors represent the team's glory and its dedication to the fans. The autographs on the jersey add more significance and effectively attract crowds of fans to join the celebration. By bidding online, fans also help to mitigate the spread of the disease and expedite the day when baseball events are once again open to spectators. We expect to combine resources through this activity and receive plenty of donations within a short time. In addition to enjoying sporting events, fans can also take part in charitable events, express their gratitude to frontline medical workers, support the development of the local sports industry, and spread positivity during the epidemic period.
Theme: Kick Off the Professional Baseball Season with Elephant Warrior Charity Auction
Co-organizer: CTBC Brothers
Beneficiary: Taichung City Government Health Bureau
Date: 3 days, from May 22 to 25, 2020