An Innovative Partner in Retailing
Stress-free Shopping Experience
PChome has continuously crafted the ONE PChome internet ecosystem by focusing on developing the Pi Wallet function and combining various kinds of services, as well as engaging in cross-domain integration. As a means of introducing mobile payments for our consumers, the Pi Wallet serves as a basis for creating the PPoint ecosystem, which combines physical outlets and e-commerce. To date, Pi Wallet is accepted in 380,000 locations across Taiwan, allowing use of the Pi Wallet for various services, enjoying quick web finance services, and experiencing more convenient mobile services. We have successfully built a PPoint ecosystem that covers the basic human requirements for food, clothing, shelter, transportation, education, and entertainment. To reassure users of the safety of the Pi Wallet, we continuously focus on developing more convenient and secure payment services that allow consumers to complete various transactions through mobile apps. We currently provide individual and company transactions. Consumers can begin transacting after registering with the Pi Wallet mobile app. User accounts are also secured through a two-step verification mechanism, and each transaction is compliant with the Payment Card Industry Data Security Standard (PCI-DSS).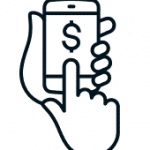 Mobile payments as easy as sending text messages
Meals can be ordered for takeaway or delivery through the tap of a smartphone. Merchants will then forward the takeaway/delivery number in real time, saving,,the hassle of queuing, waiting, and paying by cash. Takeaways have never been this time-saving.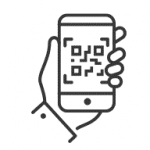 Pay parking fees paid and linked to a license plate number through a single tap
Parking fees can be paid using a barcode, which also links to the vehicle's license plate number. Users enjoy discounts and credit card rewards when paying roadside parking fees in every country and city via the app.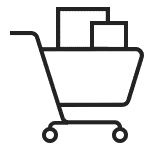 Accepted in 380,000 locations across Taiwan, check out just by flashing a barcode
Present the barcode to the store attendant to complete the payment within 3 seconds. Mobile payments can be completed online and offline effortlessly in all convenience stores and supermarkets such as 7-ELEVEN, Family Mart, Hi-Life, OK Mart, and Simple Mart locations in Taiwan. Mobile payments can be completed offline and digital invoices can be stored inside the user's account.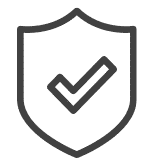 PCI-DSS compliant transactions enhance security
The Payment Card Industry Data Security Standard (PCI-DSS) is an information security standard that meets the needs of credit card issuer associations in terms of enhancing cardholder transaction data security. Merchants and service providers' standards for  storing, processing, or transferring credit card information must be PCI-DSS compliant to create safe and secure payments for users.
In recent years, PChome joined hands with E.SUN Bank, Citibank, and Rakuten Bank to launch the PChome Prime credit card and E.SUN Pi Wallet credit card. The card also doubles as an EasyCard. We continue to combine membership rewards point redemption with consumer behaviors, enhance offline and online applications, and promote special top-up programs with major banks. By using the Pi Wallet app, the PPoints earned and redeemed through credit card payments can be used across 380,000 locations including convenience stores, department stores, hypermarkets, online shopping, gas stations, public transportation, utility bills, parking fees, and insurance. Since various credit card demands are met through a single tap, the Pi Wallet app is indeed a consumer's best friend.
Attentive customer service
At PChome, we have always insisted on providing the highest level of service to every customer, and customer feedback is the driving force behind our continuous self-improvement. In October 2021, PChome was awarded the Best Popular Brand Award at the 2021 National Brand Yushan Awards, the only e-commerce platform to achieve this feat. It is a testament to our excellent brand management and customer service, which are recognized and trusted by industry, academia, governments, and consumers. To enhance our customer service system, we established a Voice of Customer (VOC) committee in 2021. The VOC committee is chaired by the GM, and the supervisors of all departments serve as committee members. We expect to construct a concise top-down responsibility delineation structure through two stages. In the first stage, the relevant regulations and project proposal and review procedures will be established alongside the manual collection of external customers' feedback. In the second stage, a proposal review system will be introduced in various departments alongside the adoption of a proposal/acceptance reward system, as well as delineating the internal key performance indicators (KPIs) to ensure efficient project implementation.
PChome customer service process

Per company regulations, any customer complaint received by PChome's Customer Service Center must be addressed within two working days, and the entire case must be fully rectified. Our customer complaint handling process is heartfelt, while we continue optimizing the customer service experience. It is our intention that in 2021, we will be more proactive in handling the demands of each customer. Regular customer satisfaction surveys are conducted on a yearly basis and items such as the following are included: 1. Response efficiency satisfaction; 2. Problem rectification satisfaction; 3. Overall Customer Service Center Satisfaction. This survey is expected to help us understand more about the customer experience in a more accurate approach to continue service improvement.
Professional customer service representative training programs
PChome's exceptional customer service is rooted in the efforts and professionalism of our customer service representatives. To improve their professionalism, every new customer service representative is required to undergo a five-week professional training course and a simulation training program. These rigorous programs allow each newcomer to boost their self-confidence and independence in providing exceptional customer service. Additionally, we organize regular internal and external training sessions to continuously improve professional competence. For example, in 2021, we organized training activities and programs such as customer service team building, negotiation skills, and telephone communication skills.
Customer service training
2021
Employee type
Management
Non-management
Female
Male
Female
Male
Total length of in-service training (hours)
91
173
4,949.5
1,804.5
Note: Management is defined as employees who hold a managerial position or above.
Per PChome's internal quality audit procedures, all customer service representatives are required to undergo an annual evaluation on relevant indicators used in quality auditing. Every representative is graded from A+ to C based on their performance. Furthermore, to encourage the representatives to continue providing the best customer service, the Customer Service Center also organizes a regular awards ceremony in recognition of exceptional employees; 21 excellent customer service representatives were recognized in 2021, and one received the Best New Customer Service Award.


Handing out the Excellent Customer Service Award