A Sincere Partner in Governance
The key to corporate sustainability lies in the identification and management of risks and opportunities. Failure to identify risks or implement risk mitigation measures could be detrimental to a company's ability to prevent major losses and flexibly adjust business strategies. The GM of PChome serves as the convener who oversees the risk management planning and implementation of the entire Company. Each business unit is responsible for handling all of its own risk management and response measures. To build a robust risk management system, PChome has analyzed and responded to potential events that affect our business goals and objectives, including the accuracy of financial reporting and fraud risks. Our risk management policies primarily cover the early identification and accurate measurement of risk and plans for effective risk mitigation and control to develop an appropriate risk management-oriented business model that keeps risks within an acceptable range. Based on risk assessment outcomes and existing regulations, the Auditing Office devises an Annual Audit Plan and Audit Methodology tailored to industry standards. The main goals are to control and manage the underlying risks in respect of business management, health and safety, and information security, as well as report the outcomes to the Board of Directors on a regular basis.
Aspect
Type of risk
Management measures
Economy
Financial, liquidity, and credit risks
he Finance & Accounting Department must devise relevant strategies and procedures for compliance with laws and regulations and in response to market changes. Risks shall be analyzed and monitored regularly, and appropriate responses adopted as required
Economy
Strategic and operational risks
In response to the rapidly changing e-commerce market, the Technology/Big Data/Artificial Intelligence Center shall invest more effort in research and development and launch pioneering products and services. The outcomes of our research and development will be implemented in the online shopping, front-end web service, and back-end management systems
Economy
Information security risks
1.Reviewing and evaluating information security regulations and procedures annually to ensure their appropriateness and effectiveness
2.Organizing security-breach drills and making use of email-based social engineering techniques, in addition to cyber defense exercises,
to identify and mediate system shortcomings in a timely manner
3.Organizing annual information security audits to mitigate information security risks
4.Strengthening the information security competence of employees and providing training programs to enhance their skill sets in these
areas
Corporate governance
Market risks
The Legal Department evaluates the Company's regulatory compliance and the legitimacy of its decision-making processes. The Legal Department responds to changes by implementing all new regulations issued by the government
Environment
Climate risks
Incorporating climate risks into the overall risk management framework and the agenda for meetings of the Board of Directors.
Identifying, sorting, and analyzing the factors that could potentially impact our business, as well as the relevant response measures. The
decisions made are then submitted to and implemented in the relevant departments
Internal audit and internal control
The Auditing Office is responsible for PChome's internal audits and internal control tasks and supervises and reviews these to ensure the effective operation of the internal control system. The internal audit supervisor effectively fulfills the functions of the Audit Committee and must regularly report to this body based on the Annual Audit Plan. A routine annual risk assessment exercise is conducted by the Auditing Office, and the outcome is reported to the Board. The internal audit supervisor must also submit an audit report.
(1) General audits: To understand and report the actual status of all business tasks in the audited department. The auditee is subjected to at least one general audit per year.
(2) Special audits and investigations: To understand and report the status of the audited department in handling a particular business task or general task. A special investigation is conducted immediately when necessary.
(3) Follow-up audits: To supervise the audited department in redressing the drawbacks highlighted in the two previous audits. Follow-up audits are conducted from time to time.
During the 2021 internal audit, 57 internal audit proposals were submitted to the Board of Directors for approval, and no major irregularities or deficiencies were noted or reported.


The Legal Department handles all affairs pertaining to PChome's legal compliance mechanisms and legal risk management. It also assists the senior management and other business departments in understanding statutory revisions and regulatory assessments while organizing and formulating relevant legal training to enhance legal compliance within the organization and execute ethical and transparent corporate governance measures. As PChome is a customer-oriented business, customer information is handled in accordance with stringent internal procedures and through multiple inspections. In 2021 there were no cases of breaches of privacy in respect of customer information or complaints of missing data.
There were no violations of labor-related laws at PChome in 2021. Other violations of social and economic regulations at PChome in 2021 are as follows: There were 20 violations of regulations and voluntary protocols related to marketing communication (including advertisements, promotions, and sponsorships), four of which resulted in fines and 16 in a warning being issued. Upon receiving notices of false advertising from the Fair Trade Commission, PChome promptly notified the vendors and corrected the product descriptions or recalled the products in question. There was one reported violation of product and service information labeling requirements in 2021, which resulted in a warning being issued. Upon receiving the notices of violations, PChome promptly notified the vendors and requested they correct the product labeling. In 2021 there were 31 reported health and safety violations concerning products and services, all of which resulted in a warning being issued, and PChome promptly notified the vendors and corrected the product descriptions or recalled the products in question. The following is an overview of the aforementioned social and economic violations.
The following is an overview of the aforementioned violations of social- and economic-related regulations
Type of violation
Number of cases
Type of penalty
Subsequent corrective actions
Violation of regulations regarding
marketing communications (including
advertisements, promotions, and
sponsorships)
20
・Warning
・Fine (NT$600,000)

・Description corrected
・Description removed
・Product recalled

Violation of regulations regarding the
information labeling of products and
services
1
・Warning
・Description corrected
・Product recalled

Violation of regulations regarding the
health and safety of products and
services
31
・Warning
・Description corrected
・Product recalled

To improve our employees' general knowledge about law and implement ethical and transparent governance mechanisms, PChome regularly organizes internal lectures and courses on knowledge and practice in various fields of law. By doing so, we ensure that our services and overall operations are deemed reliable by the market and meet industry standards. Newcomers to the E-Commerce Business Group must undergo legal compliance training of a specified length. There were two two-hour courses held in 2021 for newcomers in each department of the Company (including the Products, Information, Business Management, and Engineering Departments and the Customer Service Center). The courses were held on March 22 and April 27 and covered the provisions of the Copyright Act and the Commodity Labeling Act. The participants were directed to comply with relevant laws during their daily routines and understand basic laws so as not to infringe on the rights and interests of others while reducing the Company's operational risks. The participants were subjected to a multiple-choice examination and evaluation.
Intellectual property management
PChome officially introduced the Taiwan Intellectual Property Management System (TIPS) in late 2020 and received the TIPS verification from the Industrial Development Bureau in the Ministry of Economic Affairs on January 24, 2022.
Our first application was successful, and we are the first Taiwanese e-commerce company to receive the Grade A TIPS certification. This reflects the high level of importance we attach to the quality of our intellectual property management and corporate governance. Through the establishment and enforcement of the TIPS, we expect to not only strengthen our corporate value and market competitiveness but also improve customers' trust and increase our partners' willingness to cooperate with us. This allows us to effectively achieve our business goals of creating robust business growth and reducing operational risks.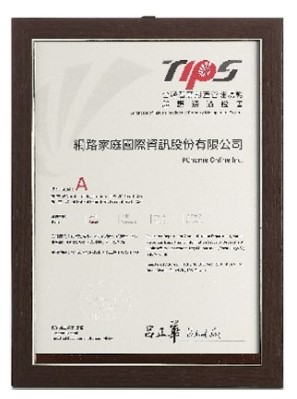 Intellectual property management and protection measures
PChome's intellectual property management strategies are primarily directed toward optimizing the intellectual property management system, creating an organizational culture that emphasizes innovation and securing patents, focusing on customer relations and sustainable operations, and protecting the confidentiality of customers' payment information. At the same time, the Company's leading position in R&D outcomes and techniques is sustained through suitable evaluation and reward schemes, in-service education, and talent development.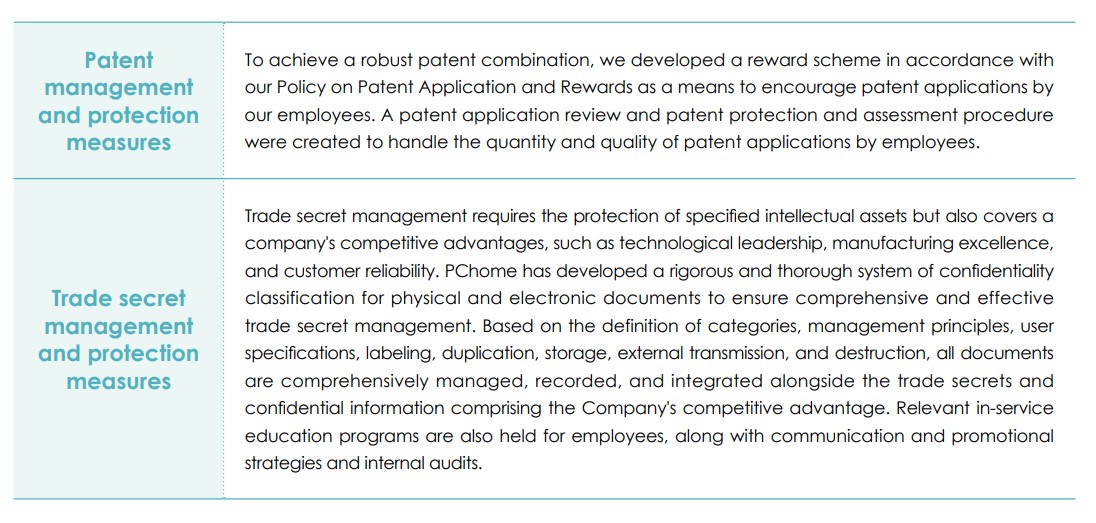 Intellectual property risks and responsive measures
With the goals of enhancing our employees' knowledge of intellectual property management, protecting the information and documents provided by customers, achieving continuous improvement of our intellectual property management system, and creating an organizational culture that stresses innovation, PChome has adopted the following internal strategies.


Intellectual property management outcomes
Since 2020, PChome has enthusiastically implemented an intellectual property management program that includes the following measures:

As of late 2021, PChome has secured a total of 44 patents and 578 trademarks. Our achievements over the past three years are as follows.


In-service training programs on intellectual property and patents