A Caring Partner in Society
Embracing society and charity
In addition to our business operations, PChome also has concern about the social context and groups in need. We hope to infuse positivity in society using our role in the e-commerce industry. In 2021, we continued to promote charity events through the influence of our e-commerce platform, such as the PC Hug Me Bear event. We also debuted our PChome E-Commerce University online course to share our knowledge of and experience in e-commerce business operations to allmembers of the public.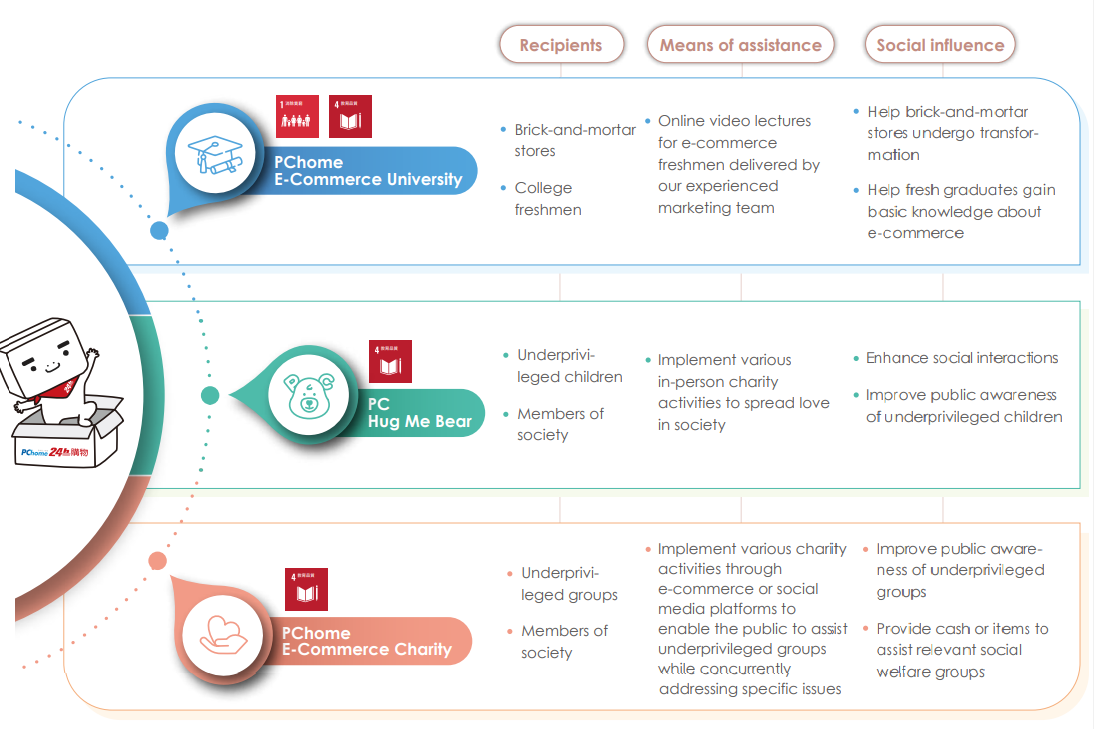 PChome E-Commerce University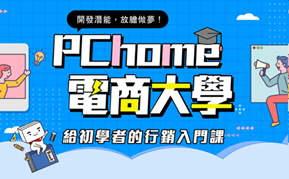 The COVID-19 pandemic has driven digital transformation in many companies.However, some physical merchants and college freshmen remain hesitant to engage in digital transformation in spite of their curiosity. As a major e-commerce platform in Taiwan, PChome launched the free PChome E-Commerce University online course in September 2021 in which participants register through an activity webpage. Video lectures were presented by our experienced marketing team to help participants establish basic knowledge about e-commerce and to share their experiences with members of the public. This broadens our engagement with consumers who are interested in the e-commerce business.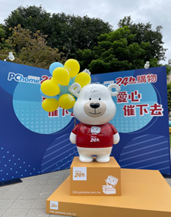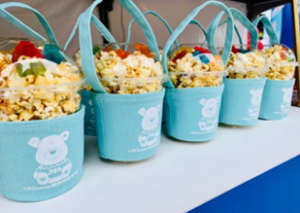 We created the PC Hug Me Bear brand as a means of assisting underprivileged children in society through brand power. The PC Hug Me Bear is seen in our charity events to showcase our commitment to helping these children. The PC Hug Me Bear concept understands children are the basis of society and are crucial for a nation's future development. In today's society, many social issues are associated with a child's education and environment while growing up. PC Hug Me Bear stresses child-related welfare issues and hopes to steer underprivileged children in a positive direction through the influence of brand power, thus improving social harmony as a whole going forward.
In early 2021, PChome entered a cross-industry partnership with KKBOX and debuted the PC Hug Me Bear Zone at KKBOX's Turn Up Fest. Together with the Eden Social Welfare Foundation, we showcased our charitable actions and invited members of the public to lend a helping hand to schooling children in rural areas. During the event, we invited director Leo Liao and YouTuber Alexander (@alx.112) to be ambassadors to promote our causes during the music festival. This measure not only improved our brand reputation, but also attracted donations from around 500 members of the public. We received NT$50,000 in donations within two days, all of which were given to the Eden Social Welfare Foundation to improve learning environments and capabilities of schooling children in rural areas, enhance their self-worth, and strengthen their determination to fulfill their dreams.


The pandemic has not only impacted humans, but also increased the number of stray animals. In light of this issue, PChome 24h Shopping joined hands with Dog Home to launch the Strays for Stay online campaign, which was supported by a fan page, Instagram filters, a limited edition box with stray animal motifs, official Instagram and Facebook posts, and Instagram influencers' posts and stories. Consumers were invited to purchase outdoor sports equipment and receive a limited edition box with stray animal motifs and make a donation by liking the Facebook page and posts. When consumers develop a charitable mindset toward stray animal welfare, PChome shall donate NT$24 to Dog Home. We encourage consumers to adopt the strays and spread positivity and right-minded concepts of pet adoption to every corner of society.


Taiwan was greatly affected by the COVID-19 pandemic in 2021. It was also a harsh year for social welfare organizations to acquire the resources they need. To this end, PChome joined hands with iGoods in December 2021. First, we asked social welfare organizations about the goods they needed, and then we asked our sponsor vendors to donate a batch of new products. By applying our influence and appeal, we rolled out a donation drive on our website to help spread charitable concepts among the general public. To expand the scope of this heartwarming act, PChome 24h Shopping employees cooperated with our professional PChome Express logistics staff to sort, clean, arrange, and pack the goods donated by consumers to the iGoods warehouse. We also donated some of our own items to social welfare organizations to share a warm and festive Christmas with them.


Year of the Tiger, year of prosperity and happiness
The Year of the Tiger is here! PChome 24h Shopping offers limited edition tiger year-themed couplets to help consumers enjoy a prosperous new year. In collaboration with Taipei Xiahai City God Temple and the illustrated Happy Tiger mascot, we launched three limited edition co-brand spring couplets. 10% of the sales revenue was used to purchase goods needed by elementary school children in rural areas. All goods were handed out by Taipei Xiahai City God Temple to help underprivileged children enjoy a joyous Chinese new year.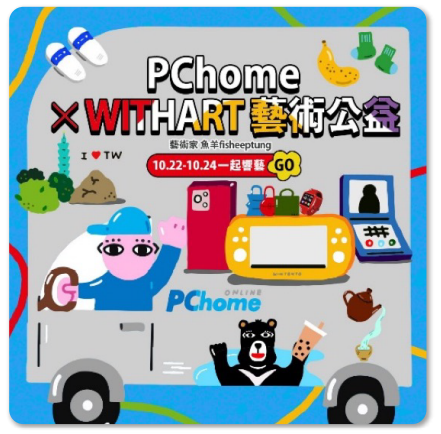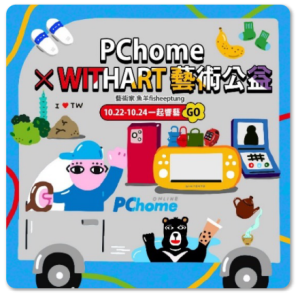 PChome X WITHART charity collaboration
PChome 24h Shopping has collaborated with the art platform WITHART and invited an emerging local NFT artist, Fisheep Tung, to design a co-brand desktop wallpaper. Netizens get to show their support for Taiwanese art by liking, sharing, and downloading the wallpaper on Facebook. By leveraging the power of art, we help to convey local artistic and cultural concepts to a broader audience and give back to loyal fans of PChome and WITHART.