A Reliable Partner in the Workplace
Attractive remuneration and fringe benefits
PChome is dedicated to building friendly workplaces where employees feel happy. Our employee benefits surpass industry standards. These include providing an employee with leave and a vaccination leave system that are more favorable than the minimum requirements in the Labor Standards Act as well as epidemic prevention policies, flexible work hours for all three shifts, subsidies for taking language courses, employee discounts from time to time, and welfare activities. Moving forward, PChome will continue our efforts to establish a wider variety of benefits and create cheerful and welcoming workplaces so our employees can focus on their professional tasks and subsequently infuse youthfulness and vitality into the e-commerce industry. We aim to achieve our goal as a leading e-commerce brand with innovative developments.
Attractive remuneration scheme
Our employees have always been the pillars of growth. PChome's approach to attracting and retaining talented employees is to offer remunerations that are competitive when compared to current industry averages. How much an employee receives is dependent on their educational background, professional knowledge and skills, tenure and practical experience, as well as individual job performance. We do not discriminate on the basis of gender, age, race (nationality), religion, marital status, and political belief. PChome strictly complies with the law by providing minimum wage, overtime pay, insurance coverage, and workplace pension plans to our employees. At the same time, we continue to enhance our fringe benefit scheme by understanding the needs of our employees. We commit ourselves to creating competitive and attractive remuneration and fringe benefit schemes for our employees.
PChome's remuneration structure primarily consists of minimum wage and compensation. Minimum wage refers to the minimum fixed remuneration employees receive for performing their work. Compensation refers to the additional payments given to employees, such as bonuses (cash or stocks/shares), fringe benefits, overtime pay, and other subsidies (in transportation and childbirth).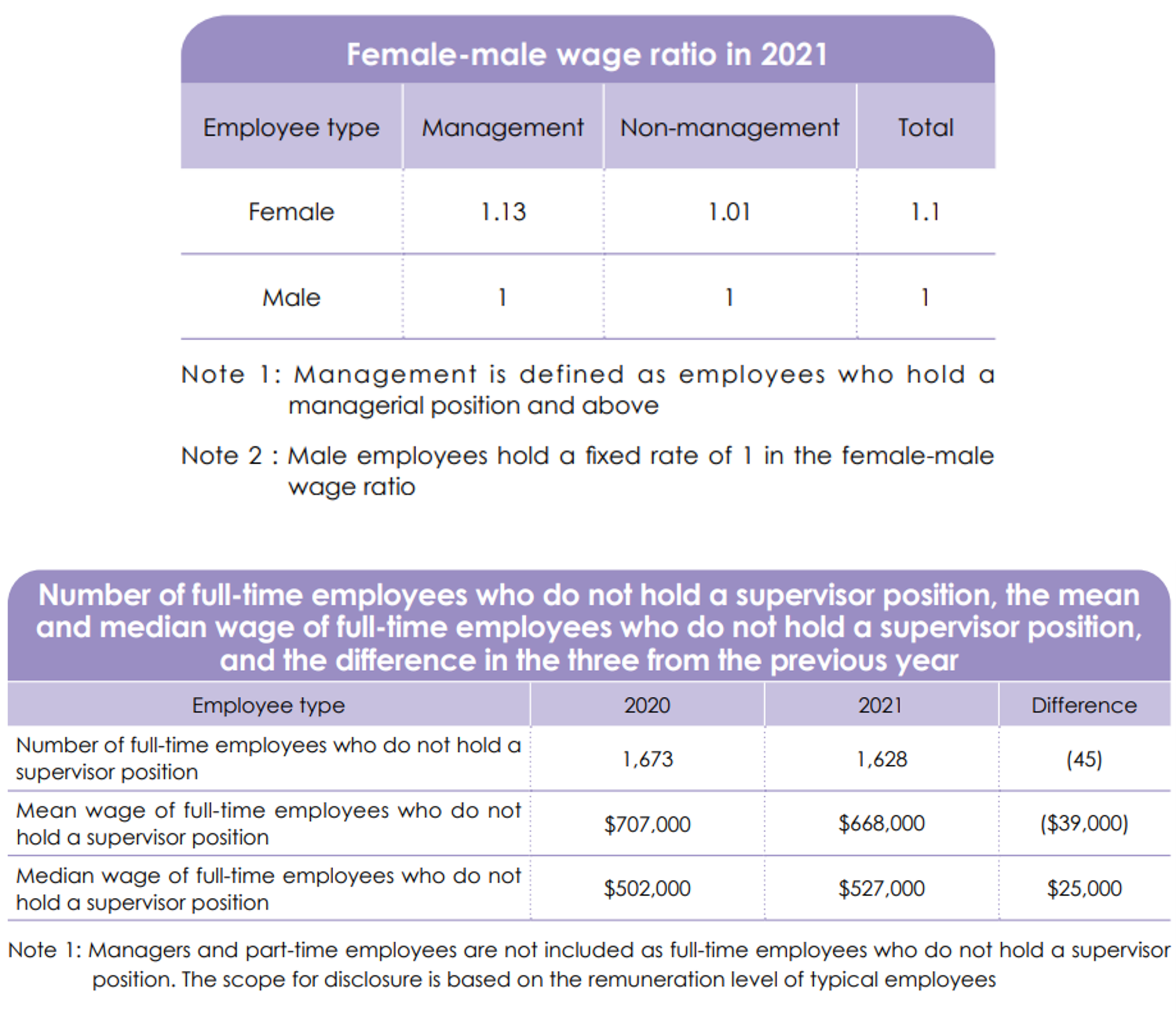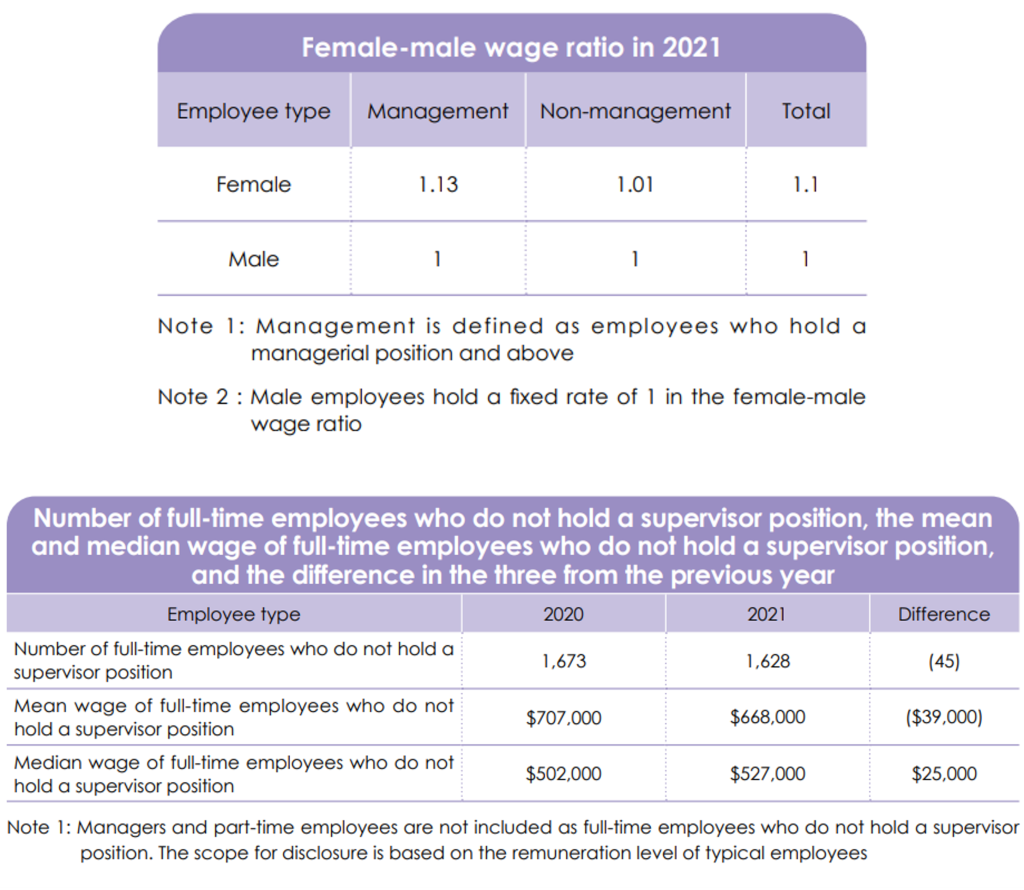 Performance appraisal and management
PChome has created an employee performance appraisal system in accordance with our human resources management standards. As an effective means of tracking an employee's work status, PChome sets annual work goals at the start of the year and conducts mid-year and year-end appraisals to check the progress toward goal achievement. Additionally, an employee's performance appraisal ratings are linked to their remuneration and bonuses, so they can grow together with PChome. In 2021, all employees on probation were subject to an appraisal, and those still in their probationary periods were subject to another appraisal. Interns are excluded from our employee performance appraisal; instead, their appraisals are completed by their respective universities, and they also enjoy a year-end bonus after completing their first three months on the job.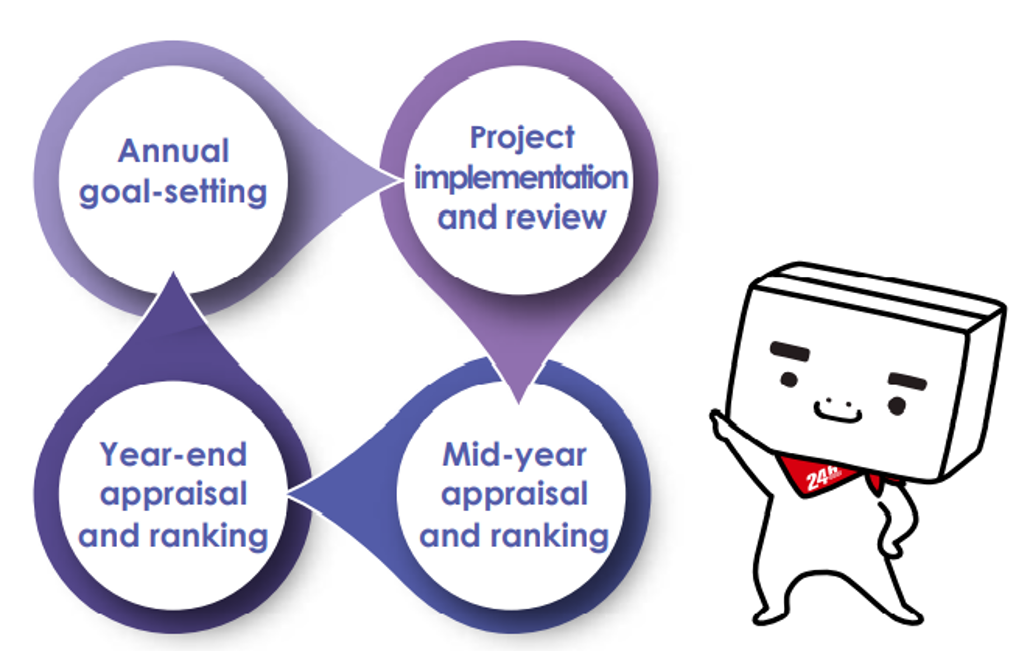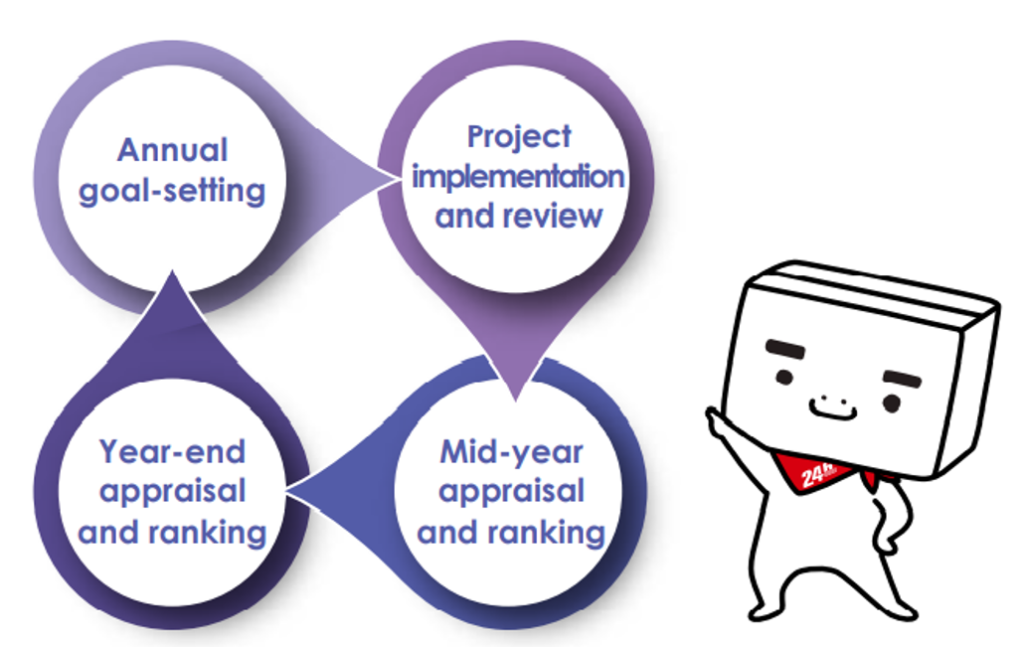 Wide variety of fringe benefits
In line with the Ministry of Labor regulations, PChome has an Employee Welfare Committee in charge of allocating monthly funds and routine handling various fringe benefit-related activities on a regular basis. In terms of employee benefits planning, per the relevant regulations, we attend to the needs of employees by providing appealing and desirable benefits such as festive activities, birthday bashes, annual dinners, etc. By establishing numerous work social clubs, and providing health checkups as well as labor, health, and group insurance coverage, we create supportive work environment that helps our employees achieve a work-life balance and have more opportunities to interact with one another during their spare time.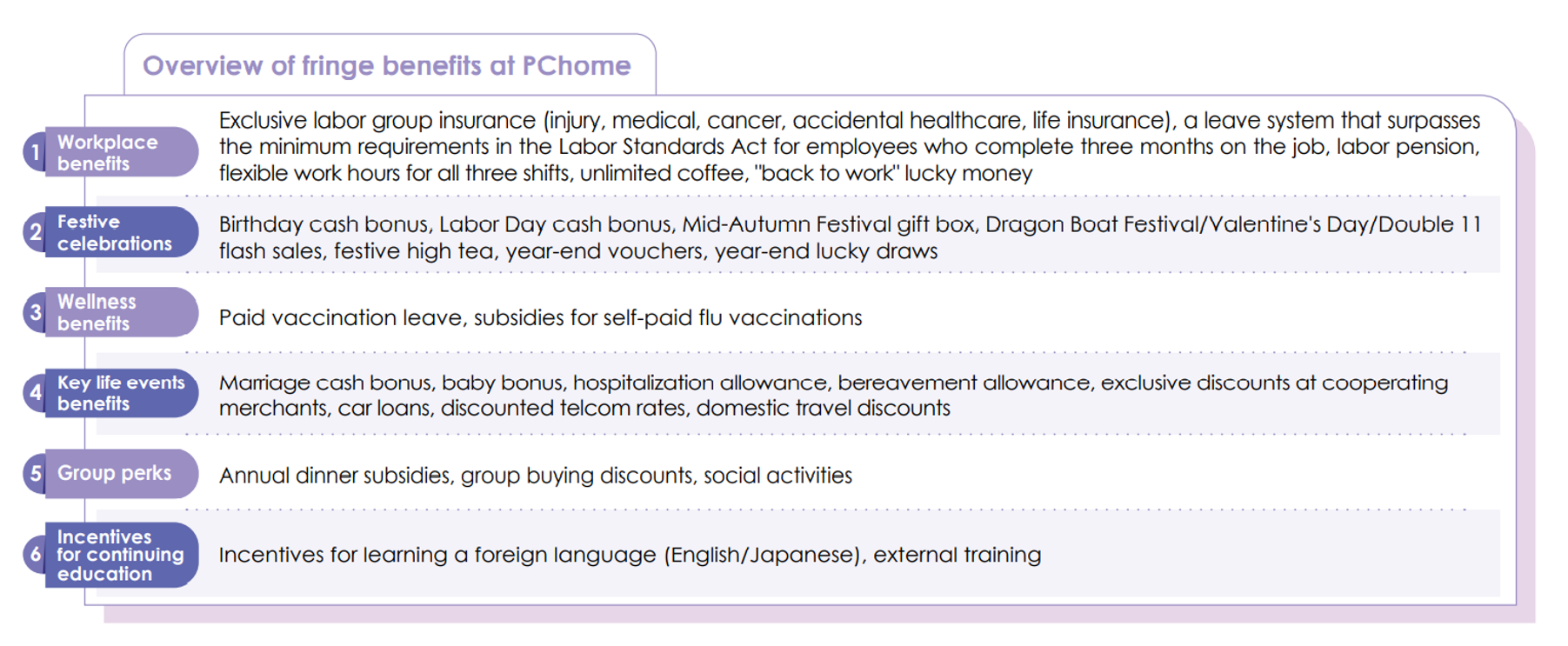 Wide array of social events
At PChome, we encourage our employees to establish and join work social clubs or relevant associations so as to build a warm and collegial workplace. To date, there are 11 social clubs that encompass sports, livelihood, learning, and entertainment, offering diverse options for employees to relax during their spare time. We encourage our employees to maintain a healthy work-life balance, relieve their stress, and broaden their interests and expertise by joining these social clubs.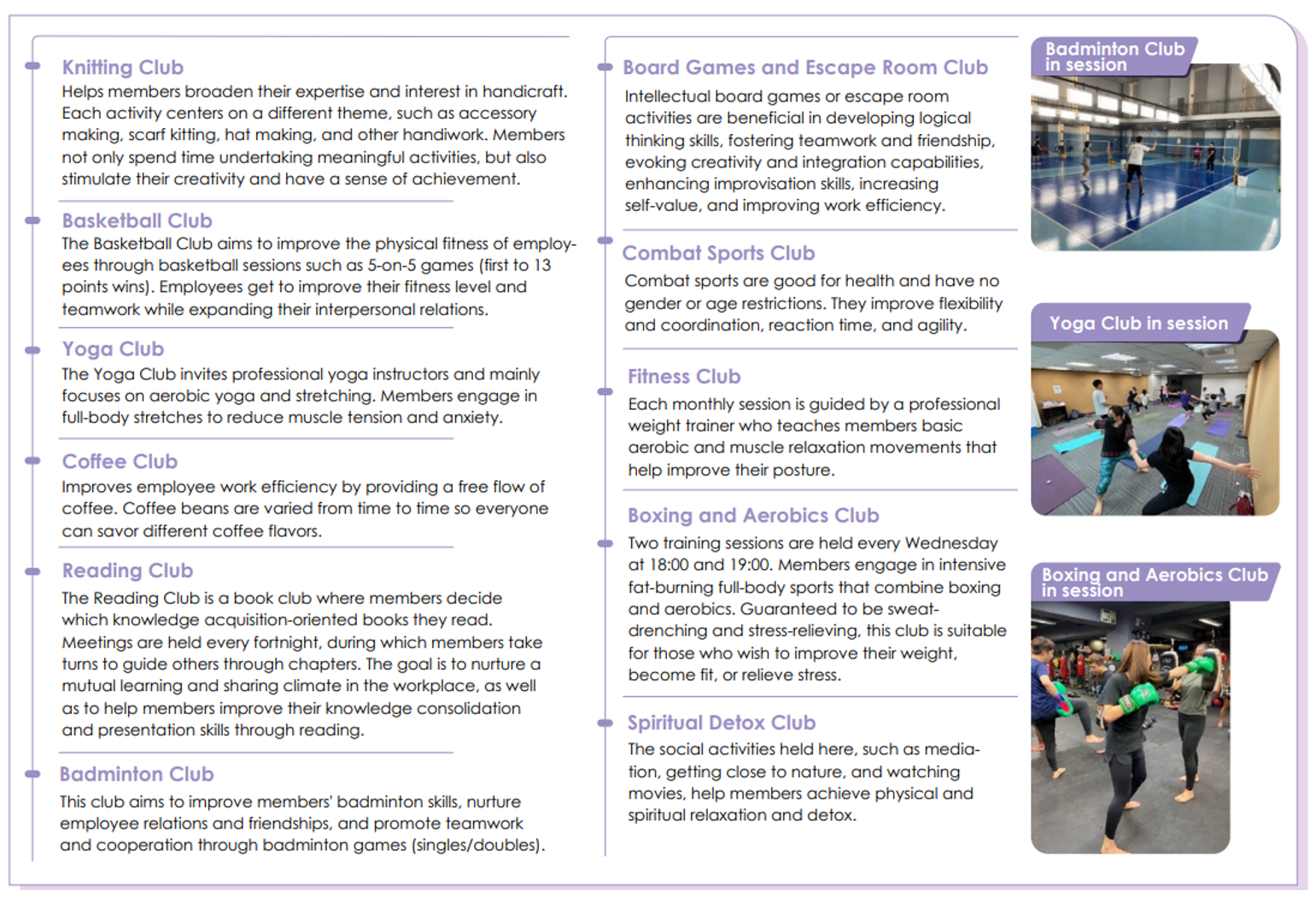 Flexible three-shift work hours
PChome in 2021 began to implement a flexible three-shift schedule in which each shift lasts for 8 hours. Based on their individual needs and the requirements of their department, employees can choose to clock in at 08:30, 09:00, or 09:30 after gaining approval from their supervisor. They are also allowed to change their clock-in time once every three months. The implementation of a flexible work hour schedule improves employees' work efficiency and flexibility.
Language learning incentives
To encourage our employees to learn foreign languages and take part in the TOEIC and JLPT language tests, PChome has developed an incentive and reward scheme for continuing education. In order to receive PChome's language learning incentives, an employee must attain a certain level in their English/Japanese proficiency test and meet the specified requirements. Employees who apply for continuing education by meeting the relevant policy regulations receive subsidies of up to NT$30,000 per semester. We take action to support our employees to continuously sharpen their language skills and job competences.
Employee remuneration distribution and issuance of employee stock subscription
PChome's employee profit-sharing scheme gives our employees an opportunity to engage in the Company's operations, jointly reap the performance outcomes, and integrate their performance with the Company's business goals. According to PChome, if the Company has profit after tax, it should allocate 1%~15% of the profits as employee remuneration. Additionally, when new shares are issued via equity capital raising, the Company will allocate a specified percentage of shares for employee subscription; the employees themselves can decide whether they want to subscribe or not.
Employer-employee relations and communication
To promote harmony and long-term developments in our employer-employee relations, PChome strives to establish work environments which value human rights, are free of discrimination and harassment, and safeguard employees' rights and interests. Grounded in our beliefs in merit-based hiring and utilizing employees to the best of their abilities, we allow our employees to express their capabilities to the fullest in a work environment characterized by inclusivity, equality, and diversity. PChome strictly complies with relevant laws and provides employees with remuneration, fringe benefits, and leave packages that are more favorable than legal requirements, in addition to providing healthy work environments. No human rights-related complaints were made in 2021 at PChome, and we will continue our efforts in safeguarding the human rights of our employees, establishing diverse employer-employee communication means, and creating work environments conducive to employer-employee prosperity.
Harmonious employer-employee relations at PChome


Diverse employer-employee communication channels
In addition to providing remuneration packages and fringe benefits that exceed industry standards, PChome. also attaches equal importance to the opinions and feelings of every employee through effective employer-employee communication. Per the Regulations for Implementing Labor-Management Meeting, PChome also organizes regular employer-employee meetings on a quarterly basis. Four meetings were held in 2021, during which employee representatives provide their opinions on different issues, and both parties thoroughly discuss concerns among employees. These meetings ensure that employees and employers achieve consensus and move forward together as a team. To date, there have been no internal conflicts as we maintain a harmonious employee-employer relationship. This demonstrates positive developments in our employee-employer relationship over the years.

In addition to employee-employer meetings, PChome also organizes regular management meetings in which employees' opinions are collected on a larger scale and appropriate improvement measures are devised. Employees are welcomed to send their opinions in writing to the HR Department or directly to the HR supervisor. Meanwhile, we also have a dedicated email address on our website and on our internal web system that allows employees to communicate directly with higher-ranking supervisors and express their opinions or make complaints. Employees who wish to provide suggestions about company operations or perceive that their rights and interests have been violated can use the aforementioned means to give their opinions and feedback. We also plan in future to develop an employee satisfaction scale in order to systematically understand the physical/mental health and work status of our employees, and to resolve problems encountered by our employees in a timely manner.